Your Ring Could Be Worth Thousands: How To Spot Valuable Jewelry Markings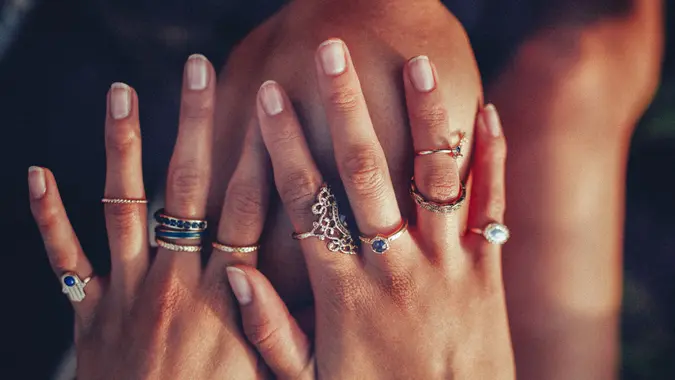 wundervisuals / Getty Images
You might have a lot of money on your hands — literally. If you don't know if your ring is worth money, it's always a good idea to further investigate.
Even if you never plan on selling it, knowing if you're wearing costume jewelry or a valuable heirloom is both interesting and important. This will allow you to provide the piece with the right kind of care, because you'll know exactly what you're working with.
How To Spot Valuable Jewelry Markings
Chances are, you don't have a background in the jewelry industry. You might think you need one to understand even basic jewelry markings, but you don't. While some rings are more complex to decode than others, you can likely get at least a general idea of its origin without knowing a single thing about topics like silver and gold markings.
Use the following seven steps to help you decode the markings on your rings and jewelry:
Look at the hallmarks
Research maker's marks
Estimate its weight
Examine the prongs
Check for signs of wear
Conduct the magnet test
Seek expert advice
Look at the Hallmarks
How do you read gold hallmarks? First, you need to know what they are.
The hallmarks — i.e., jewelry markings — on your ring tell its story. Located on the inside of the band, they reveal your ring's country of origin and metal content — typically in two separate marks.
If no hallmarks are present, this means it's either more than 100 years old, not made from a precious metal or has been worn off after years of use. As markings tend to be small, you may need special tools to see them.
Make Your Money Work Better for You
So, what about the letters stamped on gold? You'll look for 22K, 18K, 10K, 916, 750, 585 or 375. If your piece is platinum, you should see 950, 900, Platinum or Plat. For silver, you'll find 925, 800, silver or sterling.
Here are a few key takeaways to help you interpret some jewelry stamps:
Sterling silver with a 925 stamp is 92.5% silver.
A 585 gold stamp means 14-karat gold.
750 gold stamp means 18-karat gold.
A "GF" or "HGP" stamp means the ring is gold-plated, instead of pure gold.
You'll also find "Vermeil" on a sterling silver ring with gold plating.
Research Maker's Marks
It's possible your ring will be emblazoned with a maker's mark. If so, learning more about the company that made your ring can help you uncover its origins.
Some maker's marks will be easier to uncover than others. For example, some rings contain the actual name of the company, while others simply include one letter or initials.
Conducting an online search can help you figure out the name of the maker. You could also take it to a jeweler for assistance.
Estimate Its Weight
It's possible your ring does not contain any jewelry markings. If this is the case and it looks like an antique, try to estimate its weight against other pieces of jewelry.
If the piece seems heavy, there's a better chance it's valuable. Typically, precious metals — i.e., silver, gold, etc. — are heavier than metals like pewter and brass.
Make Your Money Work Better for You
Examine the Prongs
On the surface, prongs might appear to have the sole purpose of holding a stone into place, but they can also relay telling information. For example, while some costume jewelry has prongs, stones are often glued into place.
A lack of prongs also sends a message. You might think a ring is valuable, but if it has a stone that appears to be held in place with glue and no prongs, it likely isn't worth much.
Expensive pieces are crafted with care. Each stone will be set in a prong or detailed bezel. Pearls are one of the few exceptions to this rule.
Check for Signs of Wear
In addition to telling gold markings, gold jewelry can also reveal its worth by its wear.
For example, solid gold is consistent throughout the piece, so if part of it is darker or silvery, it is likely gold-plated and not worth much. Solid gold — white gold not included —  and platinum jewelry should remain the same color, even when it's worn down.
Another tell that can be used on gold jewelry, is green specks. When they are present on the ring, it should be a red flag that it isn't valuable. This is a sign of a corroding copper or brass underlying base metal.
Essentially, well-made pieces are designed to sustain heavy wear throughout their lifetime. On the other hand, cheaper jewelry has a shelf life that is pretty easy to spot.
Make Your Money Work Better for You
Conduct the Magnet Test
The magnet test is an easy way to find out if your ring is made of real metal. Gold and silver aren't magnetic, whereas gold-plated jewelry has metal underneath.
Find a strong magnet and place it on your ring. If the magnet sticks, you can feel confident the metal is fake.
Simulated gold and silver jewelry is actually made from brass, copper and other base materials. These are not magnetic, however, some gold-plated and sterling silver rings may still be worth money.
Seek Expert Advice
Identifying silver and gold markings can be difficult. It can also be hard to know what any visible wear on your ring means.
If you're having any difficulty determining if your ring has value, take it to an expert. Your local jeweler should be able to assist.
Having an expert check your ring out will give you peace of mind in knowing exactly what it's worth. This can help you properly insure it, sell it for a fair price or simply motivate you to take better care of it.
Final Take
You've probably noticed jewelry markings on your ring a thousand times before but had no idea what they meant. While they might seem like meaningless numbers, letters and words, they're anything but. These jewelry stamps — or lack thereof — will provide you with telling background knowledge about the ring.
Knowing these markings can help protect you from fraud — when buying a new ring in the future — or simply allow you to bask in the glow of knowing you're literally waving around a valuable piece.
Make Your Money Work Better for You
Our in-house research team and on-site financial experts work together to create content that's accurate, impartial, and up to date. We fact-check every single statistic, quote and fact using trusted primary resources to make sure the information we provide is correct. You can learn more about GOBankingRates' processes and standards in our editorial policy.