From Dusty Shelves to Profit: How To Identify Rare Books and Make Money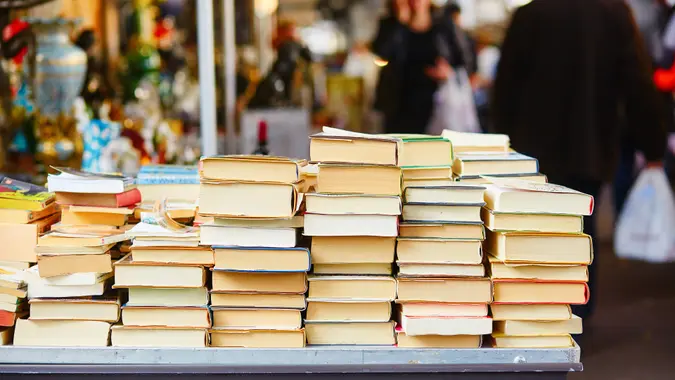 encrier / Getty Images/iStockphoto
Do you love reading? Or, more to the point, do you love old books? You could earn a side income buying and selling classic collectible books. Maybe you aren't a bibliophile, but you just inherited your childhood home and your parents' shelves of books. There could be more money than you might imagine between those covers.
But selling old, collectible books for money takes more work than setting up a garage sale table with old dime-store novels. You'll need to research the value of each book, have it appraised by a professional, and finally, find a buyer. Keep reading to learn more.
How To Identify Rare Books
Here are some key takeaways to know when trying to identify rare books:
Some classic names, like Shakespeare and Chaucer, have several books that are considered collectibles today.
Check the publishing date. Older or antique books are likely to be worth more, with exceptions being a few modern bestselling authors like J.K. Rowling, Anne Sebold and Stephen King.
If a book is signed by the author, it is worth more than an unsigned edition. "Twilight" author, Stephanie Meyer, did not sign many copies of her bestselling series, so they can go for a few thousand, especially if they are first editions.
If a book from a contemporary author is worth money, the title was a bestseller in its heyday. A few examples are the first editions of "Lovely Bones" and "No Country for Old Men."
Most rare books are first editions. If your book isn't a first edition, it probably isn't worth much.

You can check the title page to see if it says "First Edition." If it doesn't say that, look to see how many publication dates are listed. If there's only one, it could be a first edition.
If there is more than one publication date, or it says "second printing," it's obviously not a first edition.
If you see a sequence of numbers, the lowest number indicates the printing date. So, "3, 4, 5, 6, 7, 8, 9" would indicate a third edition, which wouldn't be worth much money.
Make Your Money Work Better for You
What Is Considered a Collectible Book?  

Collectible books are anything that holds value in the marketplace. They must be in good or excellent condition to command top dollar. Your hardcover book should still have its dust cover in good condition, otherwise, it won't be worth as much.
Where To Buy and Sell Old Books
You can scour garage sales or used bookstores to find old books that may have some value. But the best place to find rare books to buy and sell are online search engines devoted to antique and rare book sales. Once you find a book on a search engine, you would contact the dealer to buy it. Other sites allow you to buy and list books and make purchases through their site.
Collectors, dealers and people like yourself use these sites to find the value of rare books, list them for re-sale or find their next investment. Here's a look at some of the best rare book search engines and online marketplaces.  
AbeBooks
AbeBooks is a global online marketplace for used books, fine arts and collectibles. You can search for books by keyword, title, author or ISBN. The site has been around since 1996 and is a great place to start if you have books, children's books or artwork that you feel may be worth money.
ViaLibri
Hailed as the world's largest search engine for old, rare and second-hand books, if you are looking for an obscure title, viaLibri is the site to visit. You can't buy or sell on viaLibri, but it is great for finding rare books to purchase or evaluating titles.
Make Your Money Work Better for You
BookGilt
The rare book search engine, BookGilt, is similar to viaLibri, as it helps you find antiquarian or rare books. BookGilt has some robust features, allowing you to save your search preferences and build lists of books you find or books you want that aren't listed. When BookGilt comes across something on your want list, you'll get an email notification.
Top 3 Rare Books That Sell for Millions
There are slim odds you have one of these tomes lying around, but these are the top rare books worth millions. The chance you could find one might just be worth taking a weekend to clean out your attic.  
1. "The Canterbury Tales" by Geoffrey Chaucer
The first edition of this book sold for $11.2 million in 1998 at Christie's Auction in London.
2. "First Folio" by William Shakespeare
This collection of 23 Shakespeare plays, including titles like "Romeo and Juliet," was printed in 1623. It sold at Sotheby's in New York for $5.2 million in 2006.
3. "Alice's Adventures in Wonderland" by Lewis Carroll
Only 22 copies of the first edition of "Alice's Adventures in Wonderland" exist today. They sell for $2 to $3 million.
Final Note
It might be challenging to earn money off old books. But if you have found classics in your attic or basement, it's worth investigating to see if they could be worth hundreds, thousands or even millions, of dollars.
FAQ
Here are the answers to some of the most frequently asked questions regarding rare books.
What is the rarest book?

"The Canterbury Tales" by Geoffrey Chaucer, worth $11.2 million, is the rarest book on record, with only 12 still in existence.

What is the best search engine for rare books?

The world's largest search engine for rare books is viaLibri. This site is user-friendly and intuitive. Many rare book collectors consider it the best search engine for rare books.

Are old books worth collecting?

As with any money-making endeavor, there are risks to collecting old books and trying to sell them at a profit later. But if you have inherited or amassed a collection of rare books, it's worth trying to see if you can make money from them.
Antique and rare books can go for anywhere from hundreds to millions of dollars. You will want to find a reputable appraiser to see if your rare book is worth money and then work to find a buyer willing to pay the price it's worth.
Make Your Money Work Better for You
Information is accurate as of Aug. 17, 2023. 
Our in-house research team and on-site financial experts work together to create content that's accurate, impartial, and up to date. We fact-check every single statistic, quote and fact using trusted primary resources to make sure the information we provide is correct. You can learn more about GOBankingRates' processes and standards in our editorial policy.