How To Become a Background Actor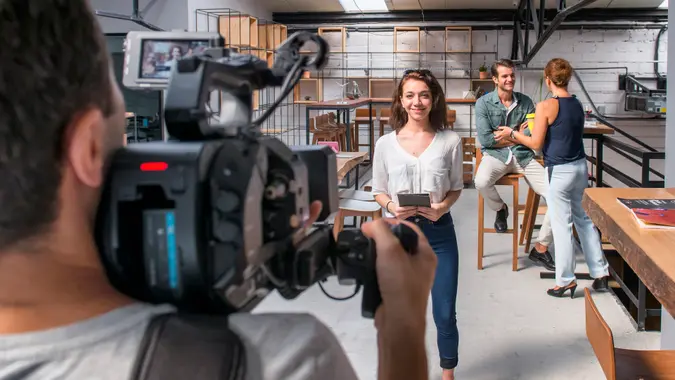 Gunay Mutlu / iStock.com
So you want to make a little extra cash and have the chance of seeing a celebrity at the same time? Welcome to background acting, or being a paid extra. It's not totally glamorous, but it will pay, feed you and who knows, you might be in a scene where you get to pretend to eat in front of Nathan Fillion, like I got to in an episode of "The Rookie!" It happened to me and I believe, with the right process, it can happen to you, too. Here is some answers to common questions about what it means to be an extra. 
Find Out: The Richest Celebrity From Every StateLearn More: 24 Celebrity Couples Worth Hundreds of Millions
How Much Does Being an Extra Pay?
This depends on the type of production. There are two types of projects: non-union and SAG-AFTRA. Pay for non-union productions depends on the state's minimum wage and the production's budget, as well as what's required of the extra. For example, if you're asked to get in a pool or get wet in some other way, that means more money for you. Same with if you have to cover your body in makeup, bring a costume or special prop or use your car on set. All of these asks put you in a different payment bracket as an extra. 
If you're an extra that doesn't have to do any special asks and are working on a non-union project in California, you'll most likely get paid the state's minimum wage, which is $14 per hour. The good news is most background acting jobs pay for a whole day (8 hours) even if you're only needed for a few hours. So in this same California example, you could walk away with $112 (before taxes) for an hour of work. In my experience, I've rarely had to be an extra for the full 8 hours. Typically, my jobs have lasted about 3-4 hours, but you're always asked to block out the full 8 hours just in case.
Make Your Money Work Better for You
SAG-AFTRA is the Screen Actors Guild American Federation of Television and Radio Artists union. SAG-AFTRA productions typically have a larger budget than non-union jobs, and are required to pay non-union extras $114 per day, plus rates for any additional asks of the extra.
Worth a Lot: 15 Highest-Grossing Actors of All Time
Do I Have To Be a Trained Actor?
The term "acting" is used very loosely when it comes to background work. As I noted above, the most you'll have to act like you're doing is talking or eating. You'll almost never have a line, though in very rare occasions, the production might need someone to say a line or two that they haven't cast for, and if you fit the description and deliver the lines in the way the director likes, you could get bumped up to a speaking role, which pays more than an being an extra. But this is a rarity. Most of the time, background actors are not screened and are sometimes the friends of the cast and crew. Drama classes are not required in the slightest. 
Can You Be an Extra Full-Time?
It's possible to get multiple jobs in a week, but it's not a dependable career. Because of COVID-19, productions have slowed down. That's not to say there aren't plenty of projects happening, but they're happening less frequently and aren't on as regular a schedule as they once were. Background work is also hard to plan for, since extras are often called the day before the production. At best, being an extra is a side job. 
Make Your Money Work Better for You
Where Can I find Extra Work?
Though I live in LA, many of the resources I use to find extra work serve productions all over the country. For example, Central Casting has gotten me many jobs. The process involves signing up online with a headshot, attending a training (which teaches you how to submit for jobs, how to get paid, and to always be nice to people on set), and then start booking jobs! Advanced Casting is another website you can use to get signed up. Both of these sites are free.
Backstage is one more sute you can use to look for jobs, but there's a fee to use it. The upside is that if you're serious about acting, you can find a variety of jobs there beyond background work to submit to. 
What's It Actually Like?
Though being on set is often exciting, it can also be a little boring. You spend a lot of your time sitting or standing, waiting to be asked to do something. Commonly, you'll be walking in an area to make it look like the scene is populated with people, or you'll be sitting pretending to have a conversation.
When you're not needed on set, you're in a room or under a tarp with lots of sugary snacks, coffee and water. However, on every production I've been a part of, I've met fellow extras who were super fun to chat and share stories with. They can also help you with tips and tricks of how to get cast on more projects. As corny as it sounds, there is always a little spark that runs through a group of extras that even though we're not The Stars, we're close enough to see them, which can feel very exciting. Plus, you get to see the set up close and note how fake some things in shows and movies are, while others are freakishly real.
Make Your Money Work Better for You
Though you're not the star of the show, or raking in a ton of cash, it's a fun way to spend the day, and you'll most likely get a story and a new Instagram follower out of it, and that's worth it to me.
More From GOBankingRates
Last updated: Oct. 15, 2021