This Creative Side Hustle Earns Passive Income For Those Who Want To Work From Home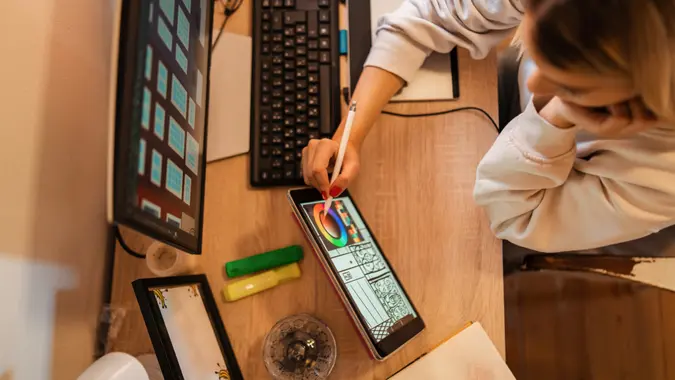 Timbicus / Getty Images
No longer a rarity, workers are embracing side hustles to counter growing financial concerns in increasing numbers. The decision to join the gig economy often comes from the prospect of earning passive income, but many people who start side hustles are looking for something different, something fun or branching further out into something they enjoy.
See the List: GOBankingRates' Best Banks of 2023
Prepare: As Recession Looms, Make 3 Retirement Moves To Stay On Track
Hurry: Earn $1,000 Just By Eating Cheese Every Night for 3 Months
According to a recent Fiverr survey of 2,000 workers, 73% of Americans are planning on starting a side hustle in 2023. Starting a side hustle can be as easy or difficult as you want it to be depending on your ambition and goals. Whatever your main incentive is for wanting to start a side hustle — increased flexibility, job satisfaction or earning potential — you will most likely need to stray from your comfort zone and put in a lot of work to be successful.
Make Your Money Work Better for You
For introverts, that's easier said than done. Luckily, there are many side hustles that don't require an outgoing presence and constant face-to-face networking. For hustlers who have taken up selling "printables," they have found a flexible and profitable side job that fits their reticent personalities perfectly.
Printables are popular digital downloads of documents sold online that consumers can print at home. These can range from planners, diaries, journals, lists, stickers, art prints and coloring pages.
Sound fruitless to you? Printables sellers like Rachel Jimenez are commonplace on Etsy. Jimenez, a 34-year-old mother of two, brought in almost $160,000 in secondary passive income in 2021 selling a printables assortment that includes Christmas scavenger hunts and digital planners, according to CNBC.
After taking a beginner's course on opening a printables store on Etsy offered by side gig course developer and entrepreneur Julie Berninger, Jimenez set about building her side business by carving out bits of time to work on her bigger-picture plan — even during lunch breaks at her regular job.
Take Our Poll: What Are Your Financial Priorities in 2023?
"I would spend 30 minutes eating, hanging out with [my coworkers], and then another 30 minutes working on my Etsy store," Jimenez said. "And I'd go to the library or go to a different table where I could be alone and just get it done."
Make Your Money Work Better for You
The idea of having a side hustle is easy — finding precious time to pursue it outside your regular work is trickier. It is necessary to think about how much time you can allow and how to best prioritize your side hustle, but both Berninger and Jimenez became extremely successful using every free minute they could afford wisely.
So just how do you find the time? "I think any time that you can put in, even if it's five minutes a day or reading articles or trying to advance your skills over time," Jimenez said. "When you're breastfeeding or something like that, you can watch a video," she added. "I would try to fill little pieces of time throughout my day just absorbing information."
Berninger built her $1 million business using whatever time she had to learn, and more importantly, think. "You can be doing the thinking part when you're out and about your day," she stated. "There was a lot of time where I was just up really late at night with [my daughter] and even during the day where I couldn't sit down on a desktop computer. But I could think."
Make Your Money Work Better for You
The printables business is so popular today because it is a creative endeavor one can do solo, regardless of your graphic design skills.
Side Hustle Tax Pitfalls: Embracing Gig Economy Could Haunt Gen Z in 2023
Find: This Company Will Pay You $1,500 To Go On 15 First Dates
"(D)ownloads are things that you don't have to be super talented to make," said entrepreneur, author and founder of Bridesmaid for Hire Jen Glantz. "I bought media kit templates off there. I've bought Instagram archive circles off of there. Things that I could have created on my own but I liked them and I bought them."
More From GOBankingRates
Make Your Money Work Better for You