How To Sell on Redbubble and Make Money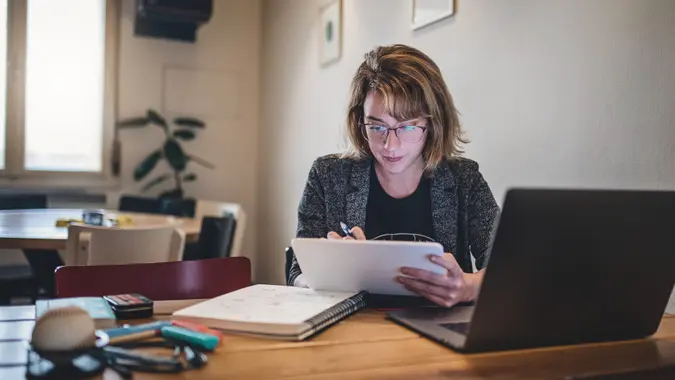 FluxFactory / Getty Images
Redbubble is a print-on-demand service that allows designers to create a line of products displaying their artwork. The site manufactures and ships the products and pays royalties on the sales.
Artists can develop a great side hustle with Redbubble. Using effective descriptions and tags, driving search traffic and creating a standout identity are the keys to earning a steady and significant income on the platform.
How Redbubble Works
There's no subscription required to access the Redbubble platform. The designer selects which products will carry the design. There are dozens available, from t-shirts to cups, stickers to posters. Once the design is published, Redbubble makes the products available for purchase. Products are only made once a sale is complete, hence the name "print on demand." The default royalty rate paid to the designer is 20% of the sale price. 
Here's a step-by-step guide to setting up your account and getting your designs on the platform.
1. Open Your Redbubble Account
To set up a Redbubble account, go to Redbubble.com, the site's home page. Click on the red "Sell Your Art" button at the top of the page. Now click on the red "Start Selling" button that appears. Make sure the "Artist Signup" button is highlighted, then fill out the form with your email address, desired username and password.
2. Set Up Shop
Now that you've opened your Redbubble account, you'll arrive at the site's main dashboard. You can set up your own Redbubble shop with an avatar, cover image and bio. One good way for users to promote their designs is to guide social media accounts to their Redbubble page.
Make Your Money Work Better for You
On the dashboard, link your Facebook and Instagram accounts to Redbubble. If you have a Twitter account, let your followers know about your new and upcoming designs.
3. Getting Paid
On the dashboard there is also a "Get Paid" box where you give the site your bank account information and other payment details. You can also set up your PayPal account to receive Redbubble royalties.
Good to Know

Redbubble pays via PayPal once a month, as long as your royalty earnings have reached at least $20. Artists can adjust the royalty rate on their work, but a higher royalty also means a more expensive purchase for the customer.
4. Upload Your Artwork
Click on the avatar in the upper right-hand corner of your profile to access the dropdown menu, then click "Manage Portfolio." Then click on the red "Sell Your Art" button to go to your Dashboard. From here, click on "Add Designs" in the box on the left. Finally, click on "Upload New Work" and pick the file on your computer you want to upload.
5. Describe Your Work
You can give each design a title, a series of tags and a short description. Once that's done, scroll down to have a look at the design as it would appear on the various products — t-shirts, cups, stickers and so on. Choose which products to enable for your design — you can also edit from there to suit the product's shape and size. Clicking the red "Save Work" button is the last step. Now your design is ready to sell.
Optimizing a Redbubble Account 
Before any sales, of course, customers have to find the product — and there are millions of products and designs available. This is where designers need to deploy effective search engine optimization and other strategies.
Make Your Money Work Better for You
Improving search rank will drive more customers to your product pages. For Google, it's best to have as many individual product pages as possible. Create designs that work well on a large number of products with varying shapes, sizes and dimensions. You can link your Redbubble account to a Google Analytics page to track how you're doing.
Writing clear and relevant Redbubble tags is a good search engine strategy. Think of the subject, the theme, the audience and the feel or style of the design and work with synonymous words or phrases. 
Use Redbubble's dashboard to keep an eye on sales data for each product. Consider putting the winners on more products, or create new designs compatible with your best-selling images or themes.
Try to develop your very own Redbubble brand. Be consistent with your graphics style and create a look that becomes familiar and brings satisfied customers back for more.
Is It Worth It?
If you put in the time and effort, selling on Redbubble is a great way to earn money from your talent. But you'll be in competition with many other talented designers with the same ambition. To stand out, you'll need to develop systems and strategies and create unique and appealing designs for the platform.
Other Ways to Make Money
Make Your Money Work Better for You
Editorial Note: This content is not provided by Redbubble. Any opinions, analyses, reviews, ratings or recommendations expressed in this article are those of the author alone and have not been reviewed, approved or otherwise endorsed by Redbubble.