10 Physician Side Gigs You Can Do for Extra Cash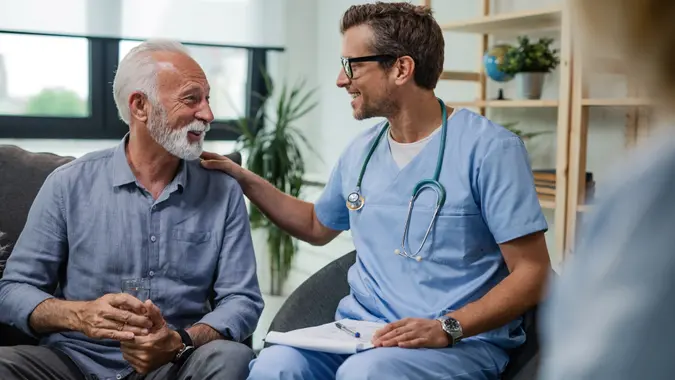 Drazen Zigic / Getty Images/iStockphoto
An increasing number of medical professionals are seeking ways to diversify their income routes and bolster their finances. Physicians are no exception, especially with increased competition and many ways to earn more money. Keep reading to learn how you can start generating income with your existing resources and experience.
10 Physician Side Gigs That Pay
Here is a look at ten of the best physician side gigs for earning some extra cash.
1. Become a Contributor or Medical Writer
Your knowledge is in high demand for websites and online publications that need accurate, updated and verified information for their audiences. Many pay top dollar for medical writing, especially for hot-button topics or if the publication has a high readership rate and authority.
To maximize your earning potential, identify your niche based on your expertise and interest in the medical field. Then, you can research reputable publications that frequently cover topics in your niche. Once you find a few you like, you can pitch your content to these publications and their editors.  
2. Technical Writing for Pharmaceutical Companies
Pharmaceutical companies frequently need physicians' services to assist with technical writing for their products. If writing is your forte and this niche interests you, many companies can benefit from your experience and background.
Searching their official websites, you can find technical writing roles in pharmaceutical firms or medical communication organizations. Alternatively, you can use job sites or search engines to find firms that seek to collaborate with physicians.
Make Your Money Work Better for You
3. Conference or Guest Lecturing
Guest lecturing lets you share your knowledge and experience with students, fellow professionals and community members. Whether it's a university or professional association, many institutions seek experienced physicians to deliver lectures or presentations.
One of the most powerful tools to get started is networking. Contact local universities and medical schools to inquire about guest lecturing opportunities. You can also submit proposals to present at conferences or medical workshops. Joining medical associations and offering services to non-profits can also lead to more lucrative opportunities later.
4. Selling Online Courses
Selling online courses is one of the best physician side gigs for doctors who don't have much time and want to generate passive income. Depending on your field and experience, you can create a course for upcoming doctors, students or patients seeking to improve their health.
The course may take some time to set up, but once you launch, it requires minimal effort and makes money on its own. If you seek a way to automate and digitize your experience, selling a pre-recorded online class can generate additional income that pays off in the long run.
5. Coaching Athletes
Professionals like athletes who are serious about their careers can benefit from the advice of a physician to keep them in optimal shape. Besides medical advice and support, you can also recommend nutritional plans and monitor their progress with their trainer over time.
You can work with multiple athletes and charge per session or hour with coaching. If you become popular and build a name for yourself, you will find that customers will seek you out for your services.
Make Your Money Work Better for You
6. Moonlighting
Moonlighting can be a lucrative opportunity to supplement your income as a physician and maintain your medical practice simultaneously. Before you consider moonlighting, check your institution's policies, as some prohibit the practice.
If you don't know where to start, try looking for moonlighting opportunities using Google. A simple search yields multiple opportunities in your local area. If you don't have restrictions, you can moonlight in urgent care clinics, emergency departments and hospitals.
7. Expert Medical Witness
If your medical license is up-to-date, you can make good money by being an expert witness. With your experience as a physician, you can provide expert testimony in court depending on your area of expertise.
Once you become a high-quality expert, you can participate in every stage of the litigation process. To become one, you must actively practice, have excellent communication skills and be familiar with the medico-legal process.
8. Self-Publishing Books
One of the more well-known physician side gigs that yield long-term benefits and enhances your reputation is publishing a book. You may become a best-selling author if you can connect with your audience and offer them life-changing insights.
Some may assume that getting the book published is a tedious process. With today's technology and platforms, you can self-publish your book without an intermediary and market on your terms. Amazon Kindle Direct Publishing is one platform that helps you do so.
9. Creating a YouTube Channel
If writing is not your strong point, you can start a YouTube channel and connect with audiences. The more helpful, engaging and impactful your content is, the more people will subscribe and view your videos.
Make Your Money Work Better for You
Having a YouTube channel may take some time to grow and set up. But as long as you are serious about making it work, you will notice that your audience will grow — and so will your passive income.  
10. Social Media Influencing
Although the market is highly saturated, you can still become a successful medical influencer with the right tools and resources. Some doctors have millions of followers and quickly grow their audience. Examples include Dr. Mike Varshavski, Dr. Sandra Lee and Dr. Josh Axe.
If you are extroverted, like being on camera, and can connect with your audience, your reputation and followers will grow. Over time, you can grow to become a macro or mega influencer who makes $5,000 to $10,000 per post.
Final Take
Although being a physician is rewarding and lucrative, having a source of passive income or a side gig can increase your earning potential. The best physician side gigs allow you to make more money by applying what you already know without taking time from your practice and personal life.
FAQ
Here are the answers to some of the most frequently asked questions about physician side gigs.
Can doctors have side jobs?

Yes, doctors can have side jobs and make passive income as well. However, always check with the institution you work with for specific guidelines or conflicts of interest.

How can doctors make money on the side?

Doctors can make money on the side by moonlighting, authoring books, using social media and applying their experience in medical writing.

What side hustles do doctors have?

Side hustles for doctors include writing, creating online courses, social media influencing, working as guest speakers and collaborating with athletes.

What side gigs pay the most?

The pay for side gigs will vary depending on your experience, skills and the time you are willing to put into it. The more you focus on your niche, the higher your passive income.
Make Your Money Work Better for You
Information is accurate as of April 12, 2023. 
Our in-house research team and on-site financial experts work together to create content that's accurate, impartial, and up to date. We fact-check every single statistic, quote and fact using trusted primary resources to make sure the information we provide is correct. You can learn more about GOBankingRates' processes and standards in our editorial policy.