15 Best Websites for Selling Your Photos Online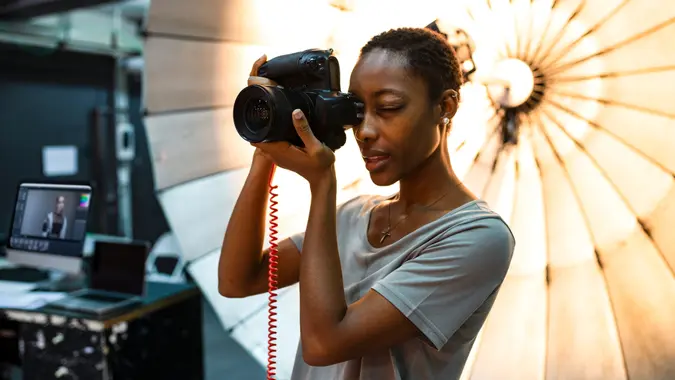 ©Shutterstock.com
With the ever-expanding and evolving world of social media, many people have made a side hustle or a budding career out of photography. If you are looking to make some extra cash off of your shots, the good news is that there is no shortage of stock photography sites or other platforms where you can do so. It's time to tap into your inner shutterbug and start exploring the bigger picture. 
See: How To Build Your Savings From Scratch
15 Best Sites Where You Can Sell Photos Online
Many stock photo websites or online marketplaces buy pictures from photographers to sell stock photos online. However, some stand out in terms of price, quality and efficiency. You do not have to be a professional to make money from your pictures. Select a website that you want to use, upload your photos and start making money.
Here are 15 photography businesses, stock photography websites and other great options where you can start selling your physical prints or digital images: 
Shutterstock
Getty Images
SmugMug
Picfair
Foap
Alamy
500px
Adobe Stock
Dreamstime
iStock
Etsy
Stocksy
Can Stock Photo
Depositphotos
Envato Elements
1. Shutterstock
At Shutterstock, your earnings rate increases as more of your content is licensed. As a level one contributor, Shutterstock pays a 15% commission for up to 100 licensed photos, illustrations and vectors. At level six, you get paid up to 40% commission over 25,000 licensed photos, illustrations, vectors and videos. However, the base rate contributors can earn is 25 cents per download or up to $120 per image, depending on the image price, portfolio size and performance level.
Make Your Money Work Better for You
2. Getty Images
The Getty Images brand serves over 1.5 million customers. For each license purchased, you earn a royalty, which is a percentage of the price paid by the customer.
They only accept applications through the Contributor by Getty Images app. To apply, you'll need to follow these steps:
Download Contributor by Getty Images from the App Store or Google Play.
Upload up to six images, illustrations or videos via YouTube links.
Wait to be notified if you made it within seven days.
3. SmugMug
SmugMug allows you to sell photos at your price and personalize your seller website on the platform to take care of private galleries and personal events. Plans range from $7 to $42 a month, depending on the features offered. SmugMug claims your profit is calculated as 85% of the difference between the price you set and SmugMug's default print prices. They also offer a free 14-day trial.
4. Picfair
Picfair gives you a store with a personal domain, where users can purchase printed products and digital downloads for multiple uses. Picfair also helps improve your skill by giving you access to Focus — a collection of articles written by photography experts. To increase your account's features, upgrade to Picfair Plus for $5.99 a month.
The website adds 20% of your price on top to come up with the selling price. After your photo sells, they keep the 20% and you get the price you set.
5. Foap
On Foap, you upload your videos and photos and earn cash. When someone purchases something from your online Foap portfolio, Foap splits the profit with you 50-50. Everything is done through the Foap app.
Make Your Money Work Better for You
6. Alamy
Alamy pays out 50% commission to exclusives and 40% to non-exclusives. Alamy buys photos from photographers, amateurs, museums, news agencies and other stock agencies. There are currently over 250 million stock photos, vectors and videos on the platform.
7. 500px 
500px allows you to have a nonexclusive license, which means you can sell your images elsewhere. An Awesome membership is charged at $6.49 per month, while a Pro membership goes for $12.99 a month.
A standard 500px Prime license will go for $250. It's free to contribute your photos to 500px Licensing, and you earn 60% of net sales on images you've submitted exclusively for licensing.
8. Adobe Stock
Adobe Stock allows you to become an Adobe Lightroom artist with your Adobe ID for free and start uploading. Earn 33% royalties when you sell images on Adobe Stock, such as photos, vectors or illustrations, and 35% for videos. That means the breakdown would come out to around 33 cents to $26.40 per image download and $2.80 to $70 per video download.
9. Dreamstime
Dreamstime sells photos from around 35 cents to $3 for beginners. Prices go up as your photo gets more downloads. Dreamstime will pay up to 60% of the selling price for your images, videos and audio files. You can check the possible earnings on the Sell Stock Photos page of their website.
10. iStock
For content or photo prints licensed through iStock, royalty rates start at 15% for photos and 20% for videos and illustrations. Exclusive contributors can earn between 25% and 45%. 
11. Etsy 
Etsy is known for selling all kinds of homemade wares and other forms of art. Photography is no different as Etsy charges only 5% of the transaction price, which includes the shipping cost you set. You may also have to pay an additional 3% plus a 25 cent payment-processing fee after a print is sold through Etsy Payments. 
Make Your Money Work Better for You
12. Stocksy 
Stocksy pays you a 50% royalty on standard licenses and 75% on extended licenses and market freezes. They have a pricing list on their website so you can verify your options. If the co-op has a surplus, contributors can potentially also receive profit-sharing. 
13. Can Stock Photo 
Not only is Can Stock Photo a royalty-free agency, but you also have the potential to earn between 25 cents to $5 per sale. It also adds, on average, 24,000 images each day from photographers, so there is ample opportunity for you to sell your photography. 
14. Depositphotos
You can earn royalties ranging between 30% to 38% if the images are sold on demand through Depositphotos. You earn 25 cents to 33 cents per picture if you have a subscription plan. The money you make varies depending on the number of files you sell over a period of time, and the more you sell, the more you increase your contributor level and earning potential.
15. Envato Elements
Envato Elements examines your work and determines what share of 50% of the revenue you will earn based on their estimation of your photos or images. This is highly subjective and not your typical marketplace model, so be aware that what you earn will vary greatly. 
Tips To Make More Money From Your Photos
To put your best foot forward, it's always best to align your work and photography with what websites tend to buy. Here are some tips for how to get started selling your photos and hopefully making a profit:
Take quality photos. High-quality pictures will sell more and at a higher rate than low-quality ones.
Upload pictures to multiple websites. Sell more copies of your photos by uploading to more than one stock photo site.
Use keywords. Ensure that you use relevant keywords when you upload your photos.
Sign up for newsletters. Getting newsletters from different websites will keep you informed on which types of pictures are in demand.
Make Your Money Work Better for You
Final Take To GO
Although you can make money by selling all types of images, some factors increase the chances of making money fast. Event photography, beautiful sceneries and photos tied to a certain cause — such as terminal illness awareness or freedom of expression — are in high demand.
Be sure to check out tips and guides from stock photo websites. Most will be gracious enough to give you clues as to what their customers are looking for.  It's also good to note that royalty-free licensing allows the usage of content for an unlimited amount of time in multiple projects.
Cyrus Wahome contributed to the reporting for this article.