How Rich Is Twitter CEO Jack Dorsey?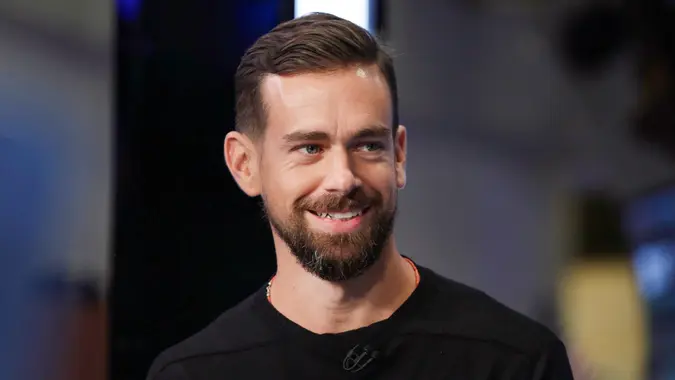 Richard Drew/AP/REX / Shutterstock.com
Jack Dorsey, the CEO and co-founder of both Twitter and Square, landed at No. 173 on Forbes' list of the richest people in the world in early July 2021. While his fortune is less than 10% of that of Amazon founder Jeff Bezos, having $13.6 billion to your name as Dorsey does is nothing to scoff at. Over the past five years, Dorsey's wealth has soared from $1 million in 2016 to today's value, Forbes reported.
Check Out: Who Is the Highest-Paid CEO in Your State?
Learn More: 16 Money Rules That Millionaires Swear By
Jack Dorsey Net Worth
Dorsey sent out the world's first tweet on March 21, 2006. His Twitter handle, @jack, boasts more than 5.5 million followers. Seven years after its launch, Twitter went public and minted its co-founder Dorsey a billionaire in the process. His fortune now is estimated to be $13.6 billion by Forbes.
The billionaire's wealth mainly comes from his shares of the social media companies, but he isn't sitting back and counting his money. In 2016, he gave a third of his Twitter shares to employees, according to Forbes. Last year, he tweeted that he'd be making a substantial donation to COVID-19 relief. "I'm moving $1B of my Square equity (~28% of my wealth) to #startsmall LLC to fund global COVID-19 relief. After we disarm this pandemic, the focus will shift to girl's health and education, and UBI [Universal Basic Income]," he posted on April 7, 2020.
Make Your Money Work Better for You
He came up with a unique way to fund additional donations. In March 2021, he turned that first tweet from 2006, which read "just setting up my twttr," into an NFT. It sold for nearly $2.9 million, which Tech Crunch reported was donated to the efforts to fight COVID-19 in Africa.
See: These 15 Billionaires Got Richer During the Pandemic
Jack Dorsey's Notable Moments
Dorsey's career hasn't been a smooth ride. He was fired from Twitter in 2008 but returned in 2015. In September 2018, he made his debut on Capitol Hill, testifying to committees in both houses of Congress, about Russian interference in U.S. elections in one instance and whether Twitter was against conservatives in another.(He tweeted some statements he made to the committee, followed by a screenshot showing his elevated heart rate during the event.) That was just the beginning of his days in Washington. Since then, he has been summoned to testify before House and Senate committees at least three times as elected officials have questioned the policies of Twitter and other tech companies.
Here a few quick facts about Jack Dorsey:
Birthday: Nov. 19, 1976
Hometown: St. Louis  
Residence: San Francisco
Education:

Attended but never graduated

from the

University of Missouri-Rolla

(now called Missouri University of Science and Technology) and New York University

Occupation: CEO and co-founder of both Twitter and Square
More from GoBankingRates
Make Your Money Work Better for You
Stephanie Asymkos contributed to the reporting for this article. 
Last updated: July 7, 2021
Make Your Money Work Better for You