How Much Is Julia Louis-Dreyfus Worth?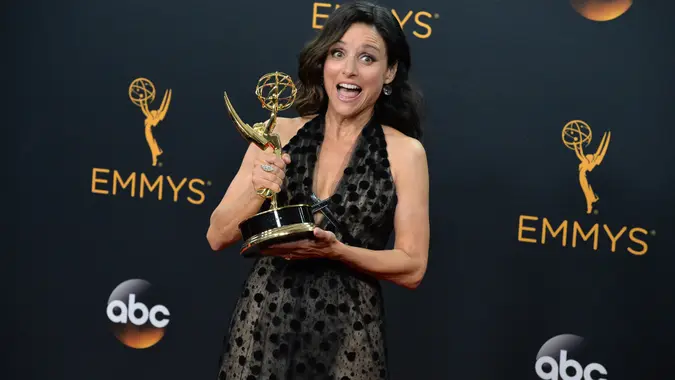 Featureflash Photo Agency / Shutterstock.com
Julia Louis-Dreyfus is worth $250 million. Though she is probably best known for playing Elaine Benes on "Seinfeld" — in which she made about $45 million in total — she has continued acting in shows like "The New Adventures of Old Christine" and "Veep."
Louis-Dreyfus Was Born Into Billions
Louis-Dreyfus was born on Jan. 13, 1961, in New York City and is the oldest daughter of billionaire financier Gerard Louis-Dreyfus. Gerard is the chairman of the Louis-Dreyfus Group and worth $4 billion. Julia's great-great-grandfather, Léopold Louis-Dreyfus, founded the Louis-Dreyfus Group in 1851.
Exclusive: Americans' Savings Drop to Lowest Point in Years
From College Dropout to 'Saturday Night Live'
Louis-Dreyfus attended Northwestern University but dropped out to pursue acting. At the age of 21, she was cast on "Saturday Night Live." She stayed with the show from 1982-1985. After she left, she was in hits like "Christmas Vacation" and "Hannah and Her Sisters."
In 1987, Louis-Dreyfus married comedian Brad Hall. They went on to have two children together.
Important: Biden Wants to Shut Down Credit Bureaus – What Would That Mean for You?
Make Your Money Work Better for You
How Louis-Dreyfus Landed 'Seinfeld'
Though it seems impossible to imagine now, Louis-Dreyfus' character, Elaine, wasn't originally supposed to be featured in "Seinfeld." After the pilot aired in 1989, executives at NBC said the show had too many men and asked creators Larry David and Jerry Seinfeld to add a role for a woman. David had met Louis-Dreyfus on "SNL" and remembered her when it came time to cast for the role of Elaine. She won the role and wowed audiences so much that she won an Emmy in 1996.
In 1993, Louis-Dreyfus and the rest of the supporting cast negotiated raises to earn $150,000 per episode. In 1997, the supporting cast asked for $1 million per episode. The network countered with $200,000, then $400,000. The final deal was $600,000 per episode for the show's final season or $15 million in total per cast member.
Avoid: 30 Things You Do That Can Mess Up Your Credit Score
Louis-Dreyfus Finds More Fame on the Small Screen
Louis-Dreyfus' next big project after "Seinfeld" came when she landed the guest role of Maggie Lizer on "Arrested Development" in 2004. In 2005, she snagged her first starring role as Christine in the sitcom "The New Adventures of Old Christine." She won yet another Emmy for her critically acclaimed performance. The show ended in 2010.
Make Your Money Work Better for You
From 2012 to 2019, Louis-Dreyfus played Vice President Selina Meyer on "Veep." Louis-Dreyfus was paid $500,000 per episode. Yet again, Louis-Dreyfus scored not one but six Emmys for her performance. With endorsement deals and other income sources, she earned around $8 million annually in recent years, making her one of the five highest-paid TV actresses in the world.
In 2020, Louis-Dreyfus signed a deal with Apple TV+ where she will be developing new content for the streaming service.
More From GOBankingRates
Net worth estimates were sourced from Celebrity Net Worth and are accurate as of Sept. 9, 2021.
Make Your Money Work Better for You