How Much Is Sarah Jessica Parker Worth?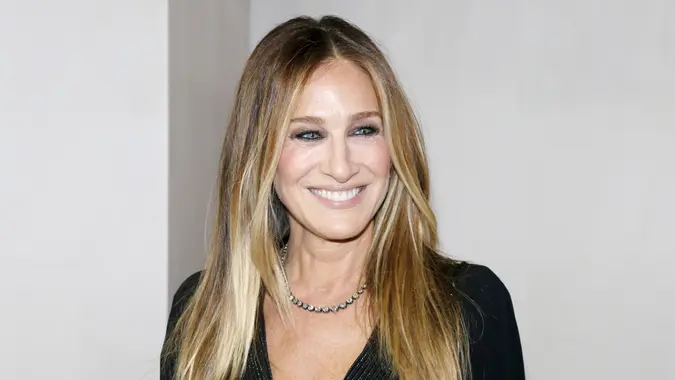 Tinseltown / Shutterstock.com
Sarah Jessica Parker is worth $150 million. Most of her wealth comes from her iconic role as Carrie Bradshaw in the series "Sex and the City" and the spinoff films. Her salary on the show is the highest-per-episode salary in TV history at $3.2 million an episode. Parker married fellow actor Matthew Broderick in 1997 and they went on to have three children together. Together, they have a combined net worth of $200 million.
Find Out: Here's How Much Jennifer Aniston and Other Actors Get Paid for Their Reruns
How Parker Got Her Start
Parker was born on March 25, 1965, in Nelsonville, Ohio. She started singing and dancing at a young age and got a role in "The Innocents" on Broadway in 1976, after which her family moved to New Jersey for Parker's career.
Exclusive: Americans' Savings Drop to Lowest Point in Years
Parker Scores the Ultimate Break
Parker's monumental big break came in 1998 when she was cast as Carrie Bradshaw in "Sex and the City." She earned roughly $50 million over the first three seasons, and renegotiated her salary after season three, earning $147 million over the final three seasons, bringing her total earnings from the show to roughly $200 million. The role earned her four Golden Globe Awards, three Screen Actors Guild Awards and two Emmy Awards.
Make Your Money Work Better for You
Parker also raked in big money for the "Sex and the City" films following the series finale. She earned $15 million for "Sex and the City: The Movie" in 2008 and $20 million for "Sex and the City 2" in 2010.
Important: Biden Wants to Shut Down Credit Bureaus – What Would That Mean for You?
Parker's Life After 'Sex and the City'
In addition to her income from "Sex and the City," Parker also launched a fashion line, Bitten, in 2007 in partnership with Steve & Barry's. Parker also has designed clothes with Halston, and has a fragrance line that brought in $18 million in 2010 alone. In 2014, Parker launched SJP, a shoe line with Nordstrom.
Her film career continued as well, including roles in "The Family Stone" and "Escape from Planet Earth."
Avoid: 30 Things You Do That Can Mess Up Your Credit Score
The Homes of Parker and Broderick
In 2016, Parker and Broderick spent $34.5 million on two side-by-side NYC townhouses with the plan to combine the two for a 14,000 square foot mansion. While the renovation was going on, the couple lived in a nearby townhouse they purchased in 2000 for $2.995 million. They ultimately sold this townhome for $15 million in 2020.
Make Your Money Work Better for You
Read: Oprah and 24 More Celebrities With Secret Business Empires
The couple also owns residences in the Hamptons neighborhood of Amagansett that they bought for $6.6 million total in 2006, in addition to owning property in Ireland.
More From GOBankingRates
All net worth estimates are sourced from Celebrity Net Worth and are accurate as of Feb. 17, 2021.
Make Your Money Work Better for You