Tiffany Trump's Wealth Is a Fraction of Ivanka's and the Other Trump Kids' Fortunes

8 min Read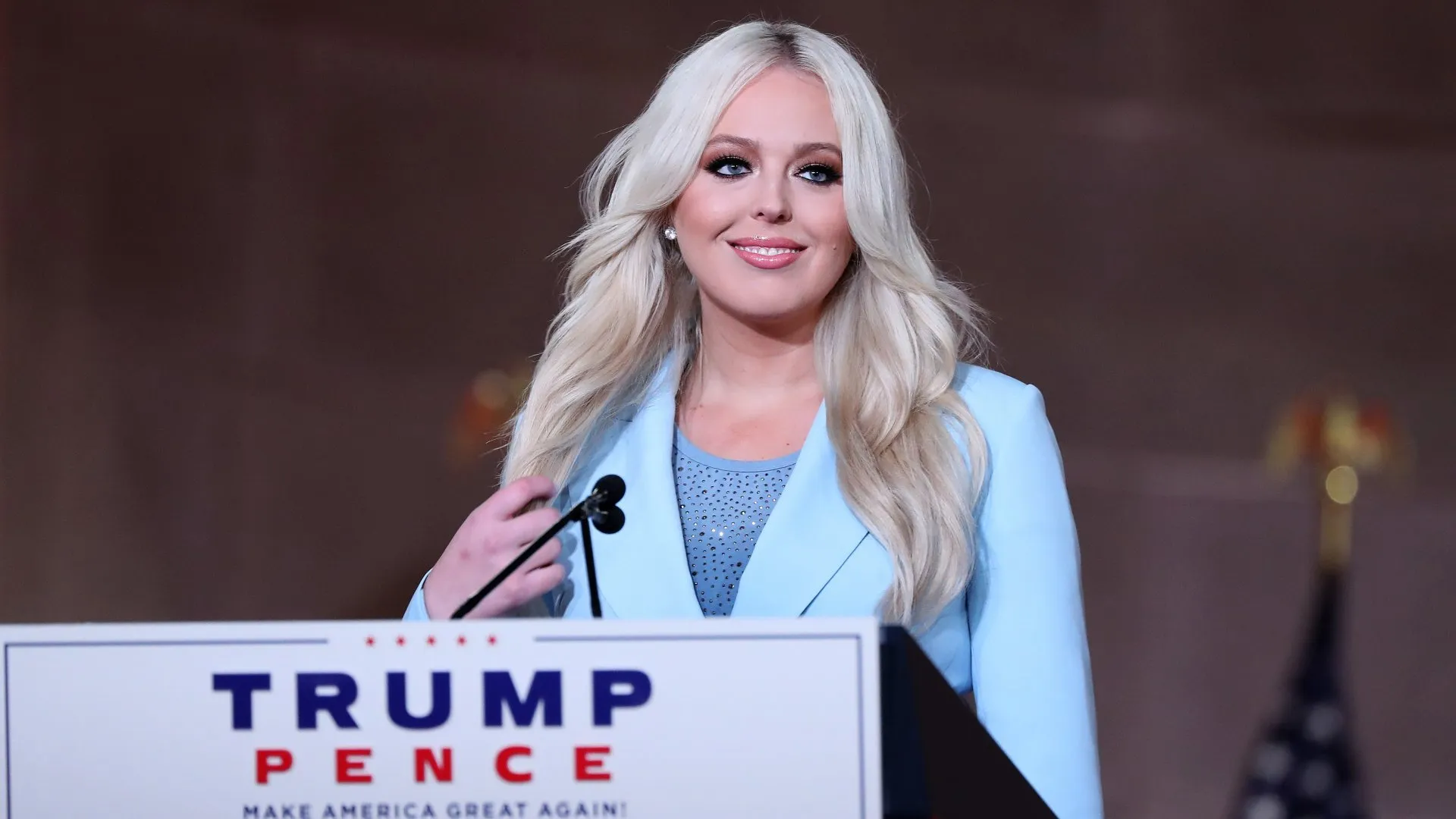 When Donald Trump began campaigning for the 2016 Republican nomination for president, his three oldest children entered the spotlight as his trusted and closest advisors in business and politics. Donald Jr., Ivanka and Eric Trump have been fixtures on the campaign trail as the 2020 presidential election draws near, and they can spread their messages through their combined 19.8 million Twitter followers. Much less visible are the president's other two children.
While his youngest son, Barron, is 14 and largely stays out of the spotlight, Trump's fourth child, daughter Tiffany, isn't as well-known as her older half-siblings, either. Her mother is Trump's second wife, Marla Maples, and the couple married in December 1993, two months after Tiffany's birth. After they split up and ultimately divorced in 1999, Maples raised Tiffany in the Los Angeles area — on the opposite coast from Trump and the other children. Rumors abounded over the years that Tiffany's relationship with her father was strained, and her role in the family has been unclear. However, the recent law school graduate has been putting herself more in the public eye and has said she might want to use her legal skills in a position in the Trump family business.
Find out how Tiffany measures up against the other Trump children.
Make Your Money Work Better for You
Tiffany Trump's Net Worth
Tiffany Trump, now 27, has a net worth of $10 million, according to Celebrity Net Worth. She largely was raised out of the spotlight by her mother, actress and model Marla Maples, but has become of a more public figure since her father was elected president in 2016. She spoke at the Republican National Convention in both 2016 and 2020, and she has made some campaign appearances this fall.
Like her two oldest siblings, Tiffany earned her undergraduate degree from the University of Pennsylvania. She graduated in May from Georgetown Law School. President Trump is much closer to Ivanka than to Tiffany — Ivanka serves as a senior advisor in the White House — but Tiffany is believed to share a close bond with her half-sister. Her 1.3 million Instagram followers also can see that she has a fondness for her brothers.
How Tiffany Trump Earns Money
In her teens, Tiffany aspired to be a singer, releasing one single, "Like a Bird," though as she's gotten older, she's pivoted away from music. She also interned at Vogue. Tiffany does not appear to have secured a job since her graduation from law school, but tabloids speculate that she will join the family business.
When asked in 2016 if she was interested in joining The Trump Organization, Tiffany told "Good Morning America": "Of course I'm interested. I'm applying to law school, though, so I'd like to bring a different kind of skill set to the company."
Barron Trump's Net Worth
Donald Trump's youngest child, 14-year-old Barron Trump, lives with his parents at the White House. As a minor, he doesn't have access to any funds that might have been set aside for him. Melania Trump, who is the president's third wife, reportedly has taken strides to ensure that he is factored equitably into his famous father's inheritance. According to a book by Washington Post reporter Mary Jordan, "The Art of Her Deal: The Untold Story of Melania Trump," the first lady used her move from New York to Washington, D.C., when Trump was elected president as leverage to renegotiate her prenuptial agreement.
"She wanted proof in writing that when it came to financial opportunities and inheritance, Barron would be treated as more of an equal to Trump's oldest three children," Jordan wrote.
Make Your Money Work Better for You
Barron Trump's Life in the White House
Barron Trump is the first male child of a president to live in the White House since John F. Kennedy Jr. did nearly 60 years ago. When not wandering the halls of the most famous home in the country, Barron attends the private St. Andrew's Episcopal School in Maryland, where he is in the ninth grade. Due to the coronavirus pandemic, however, his school started the academic year with online learning. He speaks his mother's native language, Slovenian, and plays soccer. Barron has yet to reveal his aspirations for college or a career.
Former first children have been quick to defend him whenever Barron has been criticized. "It's high time the media and everyone leave Barron Trump alone and let him have the private childhood he deserves," Chelsea Clinton tweeted in 2017.
Eric Trump's Net Worth
Eric Trump, 36, is the youngest of the three children born to Donald Trump and his first wife, Ivana, who were married from 1977 to 1992. Eric's net worth is $300 million, according to Celebrity Net Worth.
Eric works as an executive vice president of The Trump Organization. Donald and Ivana Trump split after his affair with Marla Maples became public knowledge, and Ivana won sole custody of all three of her kids. She has called her youngest son "wise, loyal, generous, open, smart, polite, a master conversationalist, and full of energy and enthusiasm." By all accounts, Eric and his older siblings were close growing up, and his time spent with Tiffany was limited. He and Tiffany appear to have grown closer as adults, however.
How Eric Trump Earns Money
Eric's wealth is largely a product of the salary his father pays him as an executive in The Trump Organization, Forbes reported. Each of the Trump siblings who work for their father have earned approximately $35 million in salary, commissions and bonuses during their careers. While Forbes could not find any evidence that Donald Trump has given his children big cash payouts outside of their salaries, the publication stated, "the lack of detailed financial records, including Trump family tax returns, make it difficult to fully trace how much wealth has trickled down to the president's children."
The Wall Street Journal credited Eric's leadership for guiding the company through the coronavirus pandemic. Outside of the office, he has been active in his father's re-election campaign. He and his wife, Lara Trump, have spent time over the past few months talking with prospective voters. They are the parents of two young children.
Make Your Money Work Better for You
Donald Trump Jr.'s Net Worth
The oldest of Donald Trump's children, Donald Trump, Jr. is 42 and has a net worth of $300 million, per Celebrity Net Worth.
Don Jr. spent some time at odds with his father after his parents' divorce, but he been a staunch supporter of his father's presidency and re-election campaign. Don Jr. has taken an active role in fundraising and promoting the president's agenda.
Don Jr. was almost 17 when Tiffany was born, and they lived on opposite coasts, so their interaction likely was limited. At one point, according to an interview his father did with Howard Stern, Don Jr. even wanted to cut Tiffany out of her inheritance. Based on photos and their public appearances, Don Jr. and Tiffany appear to be cordial.
How Donald Trump Jr. Makes Money
As the oldest child, Don Jr. was the first of his siblings to go into business with their father. Currently an executive vice president at The Trump Organization, where he focuses on managing real estate, he is said to have made about $35 million in his career with the family business.
Before the COVID-19 pandemic hit, Don Jr. made frequent appearances at Trump rallies, energizing Trump's base. He moved to virtual fundraisers and events with voters in support of his father but has returned to the campaign trail in the waning weeks of the election.
Don Jr. shares five children with his former wife, Vanessa Haydon Trump.
Ivanka Trump's Net Worth
Ivanka Trump is the second child born to Donald Trump and his first wife, Ivana. Celebrity Net Worth pegged Ivanka Trump's fortune at $800 million when combined with the assets of her husband, Jared Kushner, a real estate developer and entrepreneur. Ivanka, who turns 39 on Oct. 30, married Kushner in 2009. They have three children.
Though Tiffany did not spend much time with Ivanka as a child, and rumors of jealousy and hostility between them have made the tabloids, they have become closer as adults and Tiffany refers to Ivanka as her "best friend." On Tiffany's birthday on Oct. 13, her half-sister sent her a message on Twitter that read, "Hope this year marks your best turn yet around the sun! Love you so much!"
Make Your Money Work Better for You
How Ivanka Trump Earns Money
Of all of Donald Trump's kids, Ivanka has been the most successful at enterprises not directly connected to her family business.
She started a jewelry line, Ivanka Trump Fine Jewelry, in 2007 and branched out into clothing, handbags and footwear. Her retail line raked in upward of $100 million per year. She closed down all fashion and accessories business as of 2018 due to flagging sales and public outcry driven by an anti-Trump campaign called #GrabYourWallet that suggested people boycott her products. She also worked for The Trump Organization, overseeing acquisitions and development of properties before leaving in 2017 to focus on her father's transition to the White House.
Ivanka's personal trust earns around $5 million per year from various sources.
Ivanka is perhaps Donald Trump's most trusted advisor among his children, and she holds an official government job in that capacity, though she does not take a salary. However, a recent New York Times investigation into Trump's taxes found that he had paid Ivanka more than $700,000 in "consulting fees."
More From GOBankingRates
About the Author