How Much Is Elizabeth Warren Worth? A Look at the Presidential Candidate's Finances
Warren joins a crowded 2020 field.
Sen. Elizabeth Warren was one of 10 democratic candidates to participate in a debate on June 26.
Of the topics discussed, healthcare and immigration were the top issues. 
The Massachusetts senator announced her candidacy for president on Feb. 9.
Sen. Elizabeth Warren, D-Mass.,  advocated for universal healthcare at the first debate among the 2020 Democratic hopefuls on June 26. She, in sync with the other candidates, called for "fundamental change" to national policies. But when the candidates were asked who would abolish her own private healthcare plan in favor of a government-run plan, she was one of the few who raised their hands.
"Healthcare is a basic human right, and I will fight for basic human rights," Warren said.
She faced off against nine of the 24 other 2020 candidates: Bill de Blasio, Tim Ryan, Julián Castro, Cory Booker, Beto O'Rourke, Amy Klobuchar, Tulsi Gabbard, Jay Inslee and John Delaney.  According to a recent Economist/YouGov poll, Sen. Warren is polling at 16% — shadowed by former Vice President Joe Biden (26%) and eclipsing Senator Bernie Sanders, D-Vt., who is polling at 12%.
Make Your Money Work Better for You
Sen. Warren announced she was running for president in 2020 at a rally in Lawrence, Massachusetts on Feb. 9. As with most candidates, her finances will likely come under more detailed scrutiny after announcing her run. Here's a look at the senator's earnings.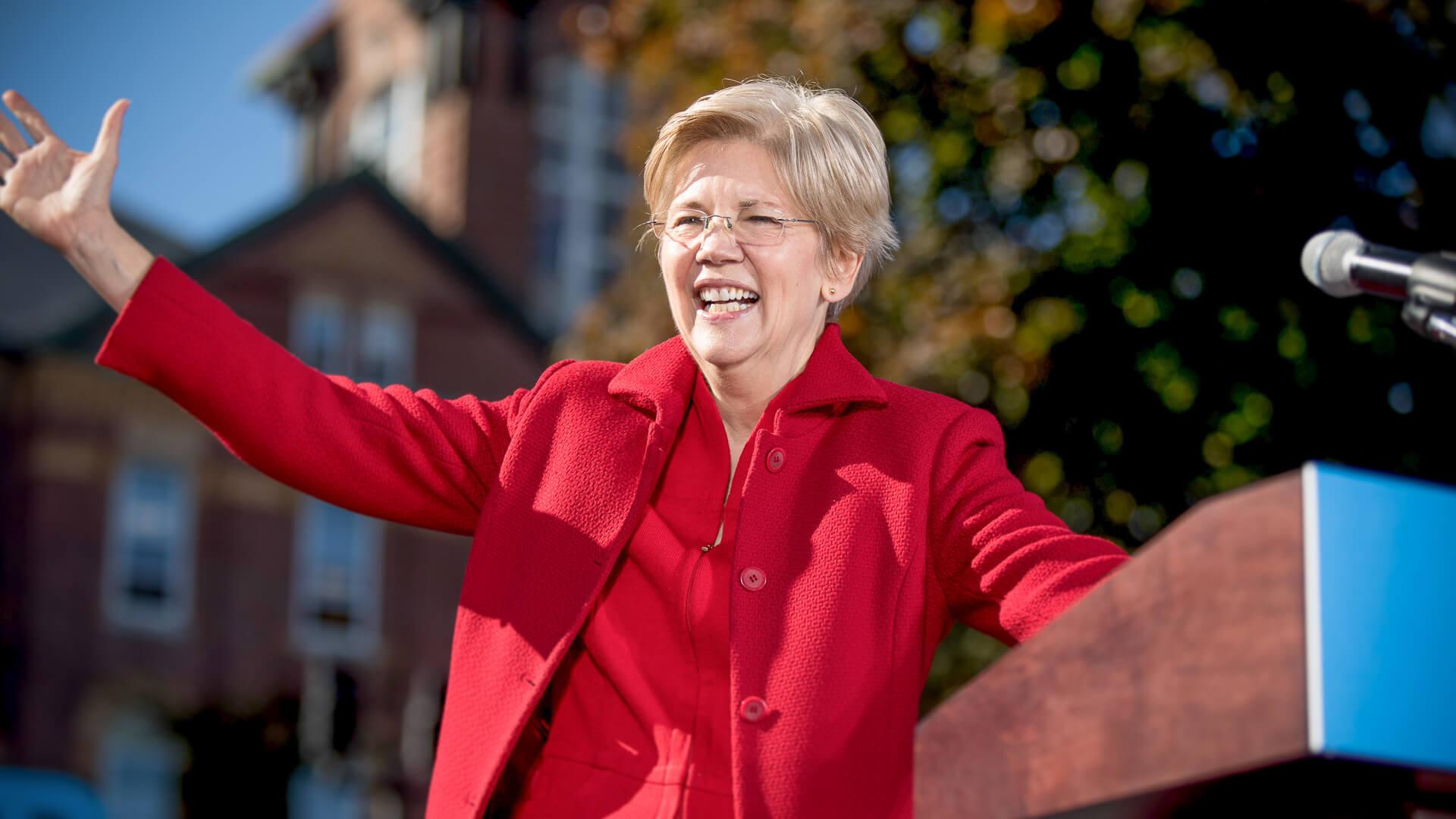 Elizabeth Warren Net Worth: $8M
Elizabeth Warren's net worth was estimated to be between $7.8 million, according to OpenSecrets, and $8.75 million, according to CNN, in 2015. Celebrity Net Worth currently pegs her in between those figures at $8 million.
As one of Trump's most vocal Democratic adversaries, Warren introduced the Anti-Corruption and Public Integrity Act in Washington in August 2018. The law would require all congressional candidates to release the two most recent years of tax returns. Warren herself released 10 years' worth of state and federal tax returns a day after proposing the new law. Her disclosure revealed a combined gross income of $913,000 in 2017 between her and husband Bruce Mann.
Make Your Money Work Better for You
Warren's reported salary as a U.S. senator is a modest $174,000 compared with the $430,370 she earned as a best-selling author. Also in 2017, the couple donated $82,000 — about 9 percent of their earnings — to charities.
Related: John McCain Donated Over $10M to Charity From Book Sales, Campaign
Warren's Middle-Class Background and Rise in the Senate
Before she was an elected official, Warren grew up in a family "hanging on by their fingernails to their place in the middle class," according to her official website. Saddled with family financial hardships, Warren received a scholarship to George Washington University but dropped out to get married at age 19.
She later returned to college and continued on to law school. Warren left her law practice and began teaching law at her alma mater, Rutgers Law School. From there, Warren and her husband, a Massachusetts native, moved to Cambridge, where Warren taught at Harvard Law School.
Make Your Money Work Better for You
Warren has served as Massachusetts' senior senator since 2013. During her tenure in the Senate, Warren has opposed big banks, fraudulent lenders and for-profit educational institutions.
Learn: How to Budget Your Paycheck Like Elizabeth Warren and Jean Chatzky
Here are a few quick stats on Elizabeth Warren:
Birthdate: June 22, 1949
Birthplace: Oklahoma City, Okla.
Residence: Cambridge, Mass.
Marital status: Married to Bruce Mann
Children: Amelia and Alex
Education: Attended George Washington University, University of Houston, B.A., Rutgers University, J.D.
More on Politicians' Net Worths
We make money easy. Get weekly email updates, including expert advice to help you Live Richer™.
Financial figures are accurate as of Oct. 15, 2018.