How Much Is Gov. Gretchen Whitmer Worth?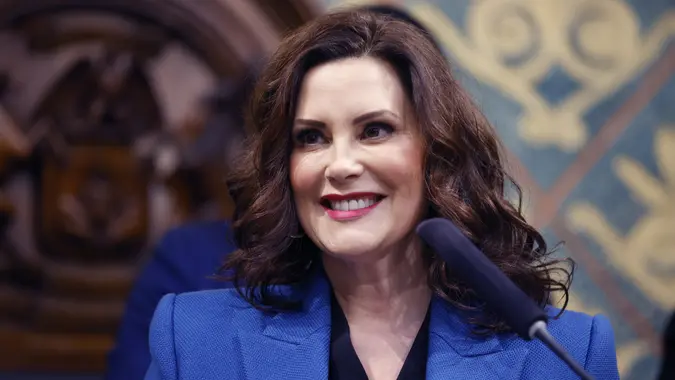 Al Goldis/AP/Shutterstock / Al Goldis/AP/Shutterstock
According to Whitmer's 2021 financial disclosure form provided by the State of Michigan website, Whitmer has an estimated net worth of $2.97 million. The financial disclosure does not provide further details on Whitmer's finances. However, the figure does include some joint assets with Whitmer's spouse, Dr. Marc Mallory, a now-retired dentist whom she married in 2011.
Most of Whitmer's current earnings come from her gubernatorial annual salary. Whitmer's 2021 income tax return, which she filed separately from her husband, reports her income as $151,173. Her 2021 financial disclosure form describes the source of this income as $130k from her salary, $16k from investment dividends, and $5k from capital gains.
Investments and Liabilities
Whitmer holds taxable and IRA assets worth ~$2.46 million at capital market company Cerity Partners LLC. Whitmer's financial disclosures do not provide additional details on Whitmer's investments, such as which companies she is invested in.
Whitmer and her husband also have a family vacation home valued at $394,800. Her financial disclosure does not indicate whether she has a mortgage on this home, which would reduce her projected net worth. Whitmer and her family have resided at the Governor's Residence in Lansing, Michigan, since she was sworn into office in 2019.
2024 Campaign
Whitmer has been vocal about the fact that she does not plan to run for the presidential seat in 2024. She stated in an interview with NBC News that she's supporting current U.S. President Joe Biden in 2024, should he run for re-election.
Make Your Money Work Better for You
Recently, Whitmer has been enlisted by Biden to be part of his national advisory board, a group of Democratic politicians that will assist Biden with his presumed 2024 re-election campaign.
How Much Money Has Whitmer Raised?
A report from Follow The Money indicated that during her gubernatorial campaigns in 2018 and 2022, Whitmer raised nearly $51 million. 
The majority of these funds came from individual contributors. In her reelection campaign in 2022, the top contributors were Illinois Governor J.B. Pritzker, sibling philanthropists and businesspersons Ronda and Pat Stryker, and businesswoman Stacy Schusterman.
Additionally, $990,000 of her campaign money in 2022 was attributed to public funds. Around $236,000 was contributed by the Michigan Democratic Party. Records also show that Whitmer self-financed around $135,000 for her campaign.
While Whitmer has not spoken about her stance on dark money, news reports have shown that dark money might have been involved in her political campaigns. An investigation by the Michigan Campaign Finance Network and The Detroit News found that at least $2 million was spent by a dark money group on Whitmer's 2018 campaign.
What Are Whitmer's Core Policies?
Whitmer's platform focuses on healthcare, jobs, and education. Among her most notable healthcare policies are her support for a public health insurance option in Michigan and the legalization of abortion in the state.
She also emphasizes the importance of education, offering the "Michigan Reconnect" program, which provides free college education to adults aged 25 and up at any community college in Michigan. According to the Michigan Government website, Whitmer has made the most significant educational investment in Michigan's history. Among her policies include no-cost childcare and affordable, high-quality preschools.
Make Your Money Work Better for You
How Whitmer's Fiscal Policy Could Impact You
Whitmer's fiscal policies are focused on job creation, economic development, and fiscal responsibility.
She has increased the state's minimum wage since the beginning of her term in 2019, and another increase to $10.10 per hour has just been made effective in 2023. According to the Michigan Economic Development Corp., Whitmer added approximately 22,700 jobs in key sectors in the state in 2022. More jobs are also anticipated in the coming years of her term.
Whitmer also aims to boost the income of low-income workers in Michigan with her Working Families Tax Credit, which will offer a refundable credit to eligible filers.
Gretchen Whitmer's Background
A Michigan native, Gretchen Esther Whitmer was born on August 23, 1971, to an assistant attorney general mother and an insurance executive father. She earned her bachelor's degree in communication and Juris Doctor at Detroit College of Law (now Michigan State University) in 1993 and 1998, respectively. After this, she worked at Michigan law firm Dickinson Wright.
Whitmer has a long track record in the political scene. She first attempted to enter politics in the 1990s but was unsuccessful. In 2000, she was elected as the representative of the 70th House district. She was re-elected in 2002 and 2004.
In 2006, Whitmer entered the state Senate after a special election to replace Virg Bernero when he vacated the seat to become mayor of Lansing. She held the state Senate seat until 2015, and was first female Democratic leader in the Michigan Senate from 2011 to 2015. In 2015, she became a lecturer at her alma mater, Michigan State University.
Make Your Money Work Better for You
In 2018, Whitmer announced her candidacy to become governor of Michigan. She was subsequently elected and sworn into office on Jan. 1, 2019. She was re-elected in 2022 after earning nearly 55% of the vote.
More From GOBankingRates