What Is House Speaker Hopeful Jim Jordan's Net Worth?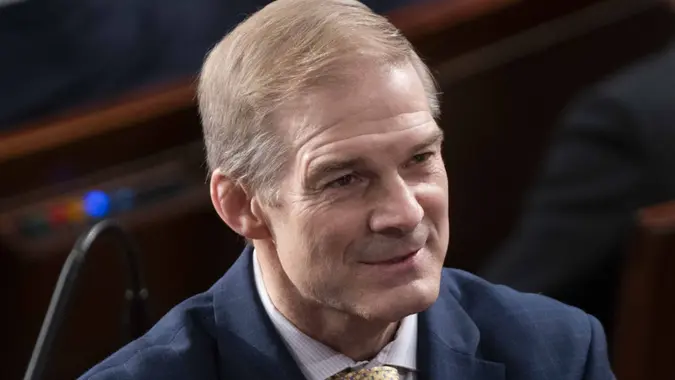 Bonnie Cash / UPI / Shutterstock.com
As the search for a Speaker of the House of Representatives continues, U.S. Representative Jim Jordan's put in a bid for the role. He failed to win in a second vote on Oct. 18.
A day later, Jordan said he would not seek a third vote, according to The Washington Post. Instead, he said, he would back a plan to give temporary speaker Patrick T. McHenry, a Republican from North Carolina, additional powers.
Jim Jordan, a Republican representative from the 4th congressional district in Ohio, is reported to have a net worth of roughly $30 million, according to Net Worth Club. Other sources, including StocksJack.com, peg his net worth this year at $21 million. However, according to OpenSecrets.org, his net worth as of 2018 was just $289,003. Celebrity Net Worth estimates Jordan's wealth at about $200,000.
Jim Jordan: His Net Worth Today
Federal congresspeople typically earn $174,000 per year. According to Net Worth Club, reporting on alleged leaked tax documents, Jordan ostensibly holds assets in three bank accounts tied to his Social Security number, including one from Huntington Bank with a balance of roughly $700,000 and one at Chase Bank with a balance of $2.5 million.
Jordan also has various business ventures and consulting jobs that earn him close to $1 million per year, per Net Worth Club. He supposedly has more than 10 rental properties, generating $710,000 in rental income annually. The properties are allegedly worth more than $8 million in total.
Jordan also invests in government bonds and in stocks, including blue chip names like Boeing, Intel, Tesla, Walt Disney and JPMorgan, Net Worth Club suggested. The website indicates that these assets may not always be tied to Jordan's name directly.
Make Your Money Work Better for You
StocksJack.com indicated that Jordan's assumed investment portfolio is worth roughly $8 million, although Net Worth Club claimed these supposed investments are worth just $5 million.
Background and Resume
Jordan has served as a U.S. representative in Ohio since 2007. He launched his political career in the 1990s as a legislative aide, and then served in the Ohio House of Representatives from 1995 to 2000. He served in the Ohio Senate from 2000 to 2006.
Prior to his political career, Jordan worked as an assistant wrestling coach at Ohio State University. This was a logical next step to his high school and college standings as a champion wrestler.
Jordan was a four-time state wrestling champion at Graham High School in Champaign County, Ohio, in the early 80s, graduating with a 150-1 record, according to his biography. He went on to win two NCAA wrestling championships at the University of Wisconsin, where he earned his bachelor's degree in economics. He also has a master's degree in education from Ohio State University and a law degree from Capital University in Ohio, according to his website.
His Family Life
Jordan has kept his family life mostly private, but Net Worth Club reported that he has been married to his wife, Polly, since 1986 and the couple has four children together.
More From GOBankingRates