How Much Is Vice President Kamala Harris Worth?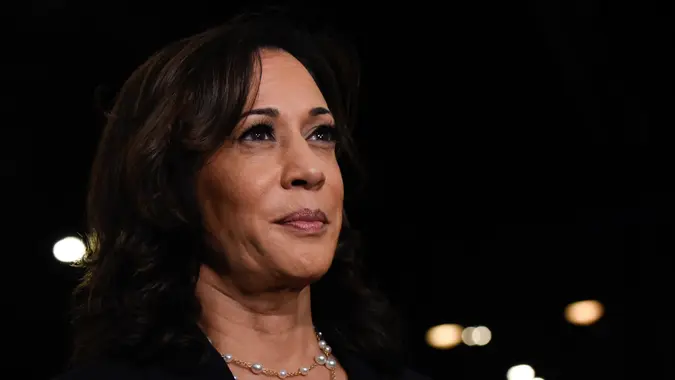 Michele Eve Sandberg/Shutterstock / Michele Eve Sandberg/Shutterstock
Vice President Kamala D. Harris holds the distinction of being the first female vice president of the United States and the first person of color to hold the office.
She was elected Senator in 2017, representing the California Democratic Party. While holding her U.S. Senate seat, she served on numerous committees. As a senator, she was an outspoken advocate for various causes, including improving maternal health care, the anti-lynching bill and advancing immigrant rights.
In 2020, Harris was President Joe Biden's running mate. She campaigned for the Democratic nomination and, following a successful election, was sworn in as vice president on Jan. 20, 2021.
While Harris has expressed her intent to run alongside Biden in the 2024 elections, she is considered by some to be a potential front-runner for the upcoming presidential election if he chooses not to run.
Birthdate: October 20, 1964
Net worth: $6.75 million to $15.29 million
Source of income: Vice presidential salary, book royalties
Career highlight: Current United States Vice President
How Much Is Kamala D. Harris Worth?
According to the White House's 2021 financial disclosure report, Harris' net worth is estimated to be between $6.75 million to $15.29 million. This includes both the assets and liabilities in her name as well as those in the name of her spouse, Douglas Emhoff, whom she married in 2014.
Earnings
Her annual salary as vice president is reported to be $235,100. She earns most of her income from book royalties from her 2019 book The Truths We Hold, earning a total of nearly $326,000 for the year 2021 alone. She also earned $130,000 in royalties for Superheroes Are Everywhere.
Make Your Money Work Better for You
Harris' 2021 joint income tax return with her husband, Douglas Emhoff, also reports a total combined income of $1.65 million.
Investments
Aside from her income, Harris holds a diversified portfolio of stocks and bonds, including Vanguard, iShares and BlackRock funds.
In 2021, the total value of Harris and her spouse's investments was estimated at around $2.25 million to $5.29 million. Additionally, she and her husband have between $1.5 to $3 million in cash, for a total of $3.75 million to $8.29 million. 
Harris owns multiple real estate properties in California, including a home in Brentwood, Los Angeles; a condominium in Oakland, California; and a townhouse in Washington, D.C. According to Zillow, the three homes are estimated to have an $8 million combined value. 
Including investments, cash, and real estate, Harris is estimated to have between $11.75 million and $16.29 million in assets. 
Liabilities
Harris' 2022 annual disclosure showed several liabilities that were paid off, including a commercial loan, promissory note, line of credit, and mortgage for a personal residence that was sold. These liabilities totaled $1.65 million to $6.35 million but were not included in Harris' net worth calculation because they were reported as paid off. 
She does have one existing liability of $1 million to $5 million for a personal residence mortgage. 
2024 Campaign
Harris has been vocal about her intent to run for a second term as vice president for the 2024 election alongside Biden. 
How Much Money Has She Raised?
Reports have shown that in the period between 2020 and 2021, Harris was able to raise a total of approximately ​​$7.9 million. Nearly 74% of the funds raised were attributed to small individual contributions of less than $200. Around 25% of the campaign funds were from large individual contributors.
Make Your Money Work Better for You
Additionally, only $75,287 was raised from PAC contributions. Harris did not self-finance at all.
Harris supports Biden's DISCLOSE Act, which is against the use of dark money on political campaigns. Harris's campaign has focused heavily on grassroots fundraising, which is evident from the impressive total she has been able to raise. 
What Are Her Core Policies?
Alongside Biden, Harris pushed to provide free vaccination for all Americans. She also has a strong focus on civil rights, criminal justice reform, immigration reform, and economic equality.
In February 2023, Harris addressed the issue of climate change at Georgia Tech. She highlights the current administration's Clean Water Act, which aims to ensure all Americans have clean drinking water. Harris also encourages the nation to invest in sources of renewable energy while continuing to research new technologies for sustainable energy.
How Her Fiscal Policy Could Impact You
Harris's fiscal policy focuses on creating job opportunities for Americans, increasing wages, and protecting small businesses from becoming bankrupt during economic downturns. 
She has proposed raising the minimum wage to $15 an hour and increasing taxes on large corporations while providing tax breaks to small businesses. 
In 2019, she was also a proponent of the LIFT (Livable Incomes for Families Today) the Middle Class Act, which proposed the creation of a $3,000 tax credit for families with children under six years old and those earning less than 100% of the federal poverty line. Harris has also called for increased investment in infrastructure to create good-paying jobs. 
Overall, Harris' views on fiscal policy aim to create more opportunity and security for American families while ensuring businesses remain profitable. By focusing on job creation, wages, and small business protection, Harris looks to provide greater stability for the U.S. economy.
Make Your Money Work Better for You
Kamala D. Harris' Potential Future Earnings 
At 58 years old, Kamala Harris has years ahead of her in politics and her potential earnings are difficult to predict. However, her current position as the vice president puts her in a viable position to be in the running for a future presidential bid. Should she win a future presidential election, Harris would earn an annual salary of $400,000 in addition to other benefits such as a housing allowance and travel reimbursement. 
Additionally, if Harris chooses to leave elected office, she has the potential to increase her lifetime earnings significantly thanks to additional book deals and speaking fees. In the four years between his time as vice president and being elected president in 2020, Biden and his wife, Jill Biden, earned about $16.7 million from speaking fees and a book deal.
According to CNN, former Vice President Mike Pence signed a two-book contract with publisher Simon & Schuster worth between $3 million and $4 million. Since leaving the White House, former President Barack Obama and former First Lady Michelle Obama also have inked deals with Netflix and Spotify for an undisclosed amount.
Kamala D. Harris' Background
Kamala Harris was born on Oct. 20, 1964, in Oakland, California, to a Jamaican-American father and an Indian mother. She attended Howard University, where she double majored in Political Science and Economics. Afterward, Harris earned her law degree from the University of California's Hastings College of Law.
Before she was elected vice president in 2020, she was the attorney general of California from 2011 to 2017 and served as U.S. senator for California from 2017 to 2021.
Make Your Money Work Better for You
Key Points to Know About Harris
U.S. Vice President Kamala D. Harris has an estimated net worth of $6.75 million to $15.29 million.
Her earnings are primarily derived from her vice-presidential salary of $235,100 and book royalties of over $325,000 in 2021. She and her spouse's combined income on their 2021 tax return was $1.65 million.
Harris holds investments in stocks and bonds plus cash assets worth an estimated $3.75 million to $8.29 million.
Along with her spouse, First Gentleman Doug Emhoff, Harris owns three real estate properties with an approximate value of $8 million. 
Harris has been vocal about her intent to run for a second term as vice president for the 2024 election alongside Biden. 
Harris raised approximately $7.9 million of campaign funds in 2020 and 2021.
Jami Farkas and Sam DiSalvo contributed to the reporting for this article.
More From GOBankingRates