Princess Diana's Net Worth on the 20th Anniversary of Her Death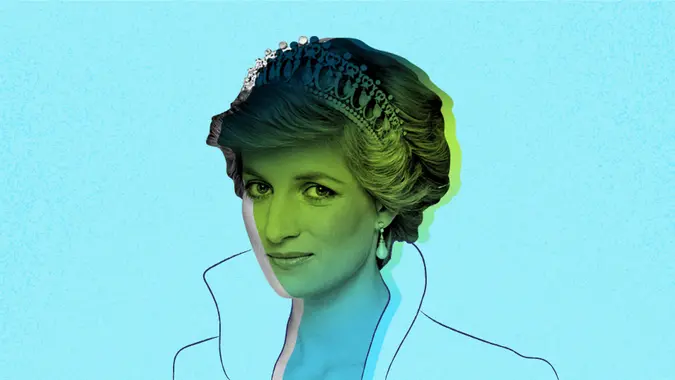 ©GOBankingRates
On Aug. 31, 1997, the world went into mourning upon learning Diana, Princess of Wales had died from massive internal injuries sustained in a high-speed car crash. On vacation in Paris with boyfriend Dodi Fayed, a high-speed chase with aggressive paparazzi — paired with their drunk chauffeur — caused the car they were riding in to crash in a tunnel. Of the four people riding in the Mercedes, Princess Diana's bodyguard Trevor Rees-Jones was the sole survivor.
It's been 20 years since "the people's princess" was tragically taken, but her memory is anything but forgotten. Take a look at Princess Diana's extraordinary life and fortune, and learn more about the royal family's riches.
Princess Diana Net Worth and Estate: $31.5 Million
At the time of her death, Princess Diana's net worth was $31.5 million, according to Forbes. Her mother and sister became executors of her estate, which originally called for her assets to be split evenly between her sons, Prince William and Prince Harry, with the money left in a trust until each boy turned 25 years old. Despite her wishes, the executors decided to delay the distributions until her sons' 30th birthdays.
The will of Lady Diana also included instructions that 75 percent of her jewelry and personal possessions be given to William and Harry, and the remaining 25 percent be split among her 17 godchildren. The executors also amended the will to give each godchild just one item from the estate, which effectively stripped all intended recipients of a share worth approximately $160,000, according to Forbes.
In Memoriam: The Wealth and Legacy of the Stars We Lost in 2017
Princess Diana's Family and Love Life
Born into English aristocracy, Diana Spencer grew up at Park House — a country home in Norfolk, England that her family leased from the Sandringham estate of the British royal family. As a young teenager, she developed a crush on Prince Charles, who initially dated her older sister Sarah.
Make Your Money Work Better for You
Despite a 12-year age difference, Diana and Prince Charles started dating in 1980. They became engaged in February 1981 and married on July 29, 1981, in front of 3,500 guests — including other wealthy world leaders — and 750 million viewers worldwide.
In June 1982, the royal couple welcomed their first child, Prince William. Their second son, Prince Harry, was born in September 1984.
Despite both being married, Prince Charles rekindled an affair with his ex-girlfriend and current wife Camilla Parker Bowles in the mid-1980s. The strain of the public eye, mutual infidelity and growing apart led Princess Di and Prince Charles to separate in 1992. At the urging of Queen Elizabeth, they finalized their divorce in August 1996.
Princess Diana's Income and Wealth Sources
As part of the divorce settlement, Princess Diana got a hefty chunk of Prince Charles' net worth. She received a rumored lump sum of $25 million, reported the Los Angeles Times. Prince Charles currently has an estimated $100 million fortune at his disposal, according to Celebrity Net Worth, with total assets reaching an all-time high of nearly $1.3 billion in 2016.
The settlement also allowed Princess Diana to keep her apartments in Kensington Palace. Prince Charles was required to foot the bills for William and Harry — and pay up to $600,000 per year for Diana's private office expenses.
The British royal family net worth is currently estimated at more than $70 billion. Prior to the divorce, Princess Diana's expenses — said to be up to $1.2 million per year — were paid by the royal family. Because she lived only a year after the split, she didn't have much time to manage her own money.
Don't Miss: How Rich is Queen Elizabeth and the Rest of the British Royal Family?
Princess Diana Memorabilia
Always glamorous, Diana Princess of Wales left behind a collection of lavish personal possessions, including the wedding dress she wore to marry Prince Charles in 1981. As directed in her will, her brother Earl Spencer looked after the items until Prince Harry's 30th birthday in 2014.
Make Your Money Work Better for You
During the 17-year gap between her death and Prince Harry's milestone birthday, the 150-object collection was on display for two months each year at Althorp, the Spencer family estate in Northamptonshire, England — Princess Diana's final resting place. Titled "Diana: A Celebration," the collection included her iconic wedding dress, two diamond tiaras, home movies, letters, photos and family jewels.
When it wasn't on display at Althorp, the collection traveled around the world, including a stop at the Cincinnati Museum Center in Ohio. According to the Spencer family, proceeds from the exhibition were donated to the "Diana, Princess of Wales Memorial Fund."
Since her death, plenty of commemorative memorabilia has also been created for fans, including the Princess Diana Beanie Baby. The value of this collectible is largely up for debate — first editions are currently for sale on eBay from $7 to more than $500,000. The maximum value of a first-edition Princess Diana Beanie Baby made in China is currently approximately $45, rising to $54 for those manufactured in Indonesia, according to collectibles information site Ty Collector.