Who Will Win the 2016 Election Money Race: Donald Trump, Bernie Sanders, Hillary Clinton or Jeb Bush?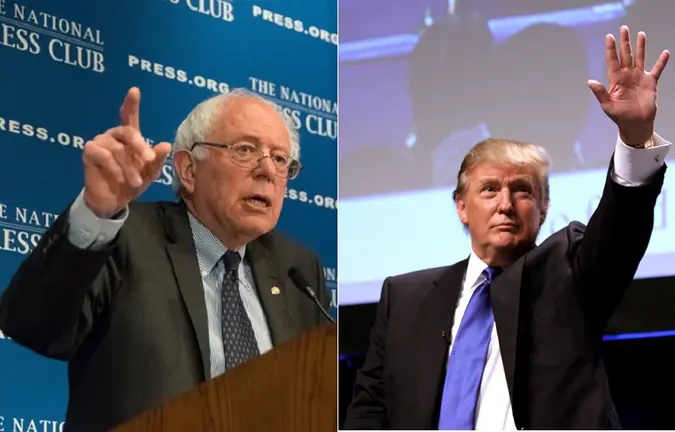 With presidential campaigns for the 2016 election well underway and the first primaries just months away, presidential candidates have begun releasing figures for their fundraising efforts.
For those seeking to clinch the presidency in 2016, money can help them get past many of the hurdles of a presidential campaign: running ads, hosting events for voters and getting their name and platform in front of voting Americans.
Among the front-running presidential candidates, a lot of money has been raised. Here's a look at the presidential fundraising for 2016 candidates like Jeb Bush and Hillary Clinton.
Infographic: How Much Does It Cost to Become President?
Jeb Bush Net Worth and $114 Million in Presidential Fundraising
Jeb Bush is out to prove he's the Republican presidential candidate for the 2016 election, and he's backing this with presidential fundraising on an unprecedented level that's totaled more than $114 million, reports the Los Angeles Times.
This huge sum was raised largely through super-PACs, Jeb Bush's aggressive presidential fundraising events and the strong Bush family network. More than $98 million of Bush's campaign funds are unspent.
As for Jeb Bush's net worth, his campaign said he is personally worth up to $22 million, reports CNN. In 2013, the most recent year for which he released financial disclosures, he made around $7.4 million in total income.
Hillary Clinton Net Worth and $45 Million in Presidential Fundraising
Hillary Clinton's campaign is among the strongest. It's backed by her presidential campaign fundraising, which had passed $45 million by July 1, reports CNN. Hillary Clinton's presidential fundraising and the $45 million figure is more than the $41.9 million raised by President Obama in 2011 and is well past the $26 million Clinton raised in the 2008 primaries.
Make Your Money Work Better for You
Then there is Hillary Clinton's net worth, which is estimated to be anywhere from $15.3 million up to $21.5 million. Clinton and her husband, former President Bill Clinton, have continued to make big bucks, earning $30 million in the 16-month period leading up to May 2015 when she filed the financial disclosures required of presidential candidates.
Bernie Sanders Net Worth and $15 Million in Presidential Fundraising
Bernie Sanders, a Democratic senator from Vermont, is a popular choice due to his progressive platform and no-nonsense approach to politics.
According to aides in the Bernie Sanders presidential campaign, he has raised $15 million in funding — as of early July — since he announced his candidacy in April. Unlike other presidential campaigns that had relied heavily on super-PACs and deep-pocketed donors, Sanders' presidential campaign fundraising has mostly resulted in small donations. CNN reports that 250,000 donors made 400,000 donations, with a $33.51 average donation. Ninety-nine percent of donations amounted to less than $250.
In terms of net worth, Bernie Sanders also lags far behind other presidential candidates. In fact, with $330,507 to his name according to CNN, Sanders could be worth far less than many retirees his same age.
Read: Bernie Sanders Promises to Fight Income Inequality With Presidential Run
Ted Cruz Net Worth and $47 Million in Presidential Fundraising
Republican presidential candidate Ted Cruz has raised around $10 million for his campaign, reports The Washington Times. Cruz is supported by an additional $37 million in super-PACs.
Ted Cruz's net worth is estimated to be just over $3 million, reports CNN.
Marco Rubio Net Worth and $32 Million in Presidential Funding
The Florida senator's presidential campaign has not disclosed its own fundraising numbers, but super-PACs supporting Marco Rubio have reported a combined $32 million of funds, reports The Washington Post.
Make Your Money Work Better for You
Marco Rubio's net worth is $443,500, according to CNN.
Ben Carson Net Worth and $10.5 Million in Presidential Campaign Funds
A leading Republican candidate for the 2016 presidential elections, Ben Carson has raised around $10.5 million in the first quarter of his campaign, reports Politico. Carson's senior adviser said the donations were made by 210,000 donors and average $50 per gift.
Ben Carson's net worth is $10 million, accrued through a successful career as a neurosurgeon, reports CelebrityNetWorth.
Donald Trump to Use His Own Money for Presidential Campaign
In the announcement of his presidential candidacy, Donald Trump said he would use his own money to fund his campaign. "I'm using my own money," he said. "I'm not using the lobbyists. I'm not using donors. I don't care. I'm really rich."
In the same speech, Donald Trump put his own net worth at nearly $9 billion, but much of that is tied up in real estate and licensing deals.
Despite Trump's statement that he would not use donations, a super-PAC called "Make America Great Again" — the slogan of Trump's campaign — popped up in early July, reports ABC News.
Keep reading: NBC and Macy's Fire Trump: What's Donald Trump's Net Worth Now?
Photo credits: Albert H. Teich / Shutterstock.com; Gage Skidmore / Flickr