A Peek Inside LeBron James' Lucrative Business and Investment Portfolio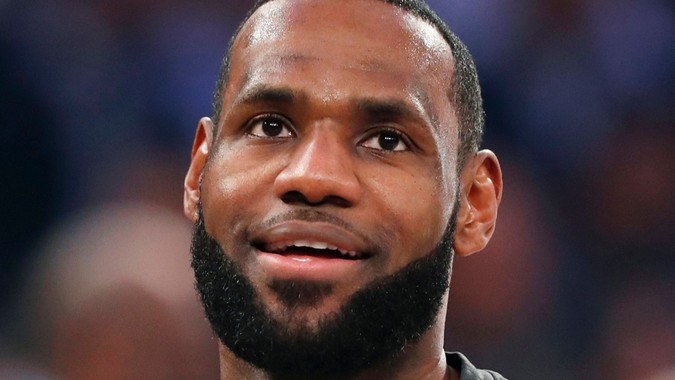 Kathy Willens/AP/Shutterstock / Shutterstock.com
LeBron James is best known for his skills on the basketball court, but he's just as skilled when it comes to his investing and business portfolio. In fact, although he is the top-earning player in the NBA, most of that money has been made off the court, Forbes reported.
Related: LeBron James and More of the Richest Athletes Younger Than 40
Here's a peek into how James earns millions outside of his basketball career.
He's Now a Part-Owner of the Boston Red Sox
James' most recent business acquisition was a stake in the MLB's Boston Red Sox. He acquired a 1% stake in March, Axios reported. That could prove to be a very valuable investment — according to Forbes, MLB valuations have skyrocketed over the last 10 years from $523 million on average to $1.85 billion.
That's Not the Only Sports Team He Has a Stake In
James previously acquired a 2% ownership stake in soccer club Liverpool FC, Forbes reported. The team is valued at nearly $2.2 billion, with $613 million in annual revenue as of 2019.
He Is the Founder or Co-Founder of Several Companies
James has his own production company, SpringHill Entertainment, and media company, Uninterrupted. According to SpringHill's website, its films and original series have appeared on Netflix, HBO, Disney+, Apple+, CBS, NBC, ABC and ESPN. The company produced the much-anticipated "Space Jam" sequel, "Space Jam: A New Legacy," which stars James himself.
Make Your Money Work for You
Sponsors of
Find Out: How Much LeBron James, Cristiano Ronaldo and Other Athletes Make for a Social Media Post
In addition to his own companies, James teamed up with Cindy Crawford, Arnold Schwarzenegger and Lindsey Vonn to launch the health and wellness company Ladder.
James Also Brings in Dough With Pizza
James owns 19 Blaze Pizza franchises in Chicago and South Florida, Forbes reported. He is also an investor in the company.
Other Sources of Income
Outside of his investments and business dealings, James brings in millions through endorsement deals. He recently ended a long-time deal with Coca-Cola — which he's endorsed since 2003 — and signed with PepsiCo in a new deal estimated to be worth roughly $4 million annually, Forbes reported.
Did You Know: How Rich Are Tom Brady and These Other Big-Name Athletes?
James' acting career is also lucrative. Forbes estimates he will take home at least $5 million to star in the new "Space Jam" film. And of course, there are also his basketball earnings. The four-time MVP signed a four-year, $153 million contract with the Los Angeles Lakers in 2018. Thanks to his various income streams, James earned $88.2 million in 2020, landing him at No. 9 on Forbes' Celebrity 100 ranking.
More from GOBankingRates
Make Your Money Work for You
Sponsors of