How Rich Is 49ers Quarterback Colin Kaepernick on His 29th Birthday?
See Colin Kaepernick's net worth as he celebrates his birthday.
Named the NFL's most significant player off the field by NBC Sports, 49ers quarterback Colin Kaepernick is probably more well known for refusing to stand during the national anthem these days than his football career. His protests — which spurred a national discussion about free speech, race and police tactics — even elicited a response from the president of the United States.
In spite of the recent drama, Kaepernick had one of the most promising early careers in NFL history, and his time on the field has been sprinkled with highlights. The 49er will celebrate his 29th birthday on Nov. 3, right in the middle of football season.
Here's a look at Kaepernick's lucrative career on the field — and how much he's made.
Related: The Richest NFL Quarterbacks This Season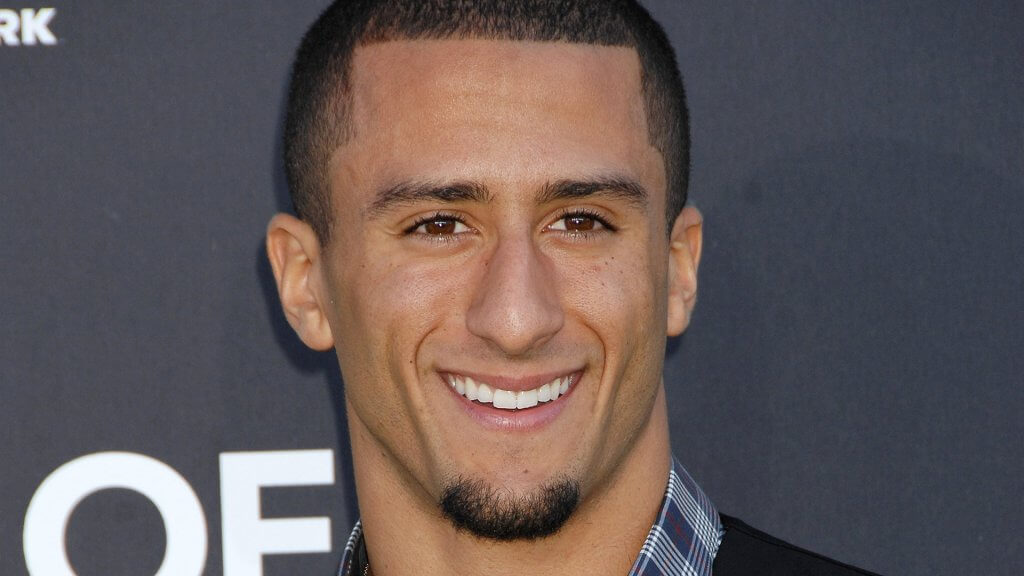 Colin Kaepernick Net Worth: $25 Million
From 2007 to 2010, Kaepernick was a standout quarterback at the University of Nevada. Voted No. 8 in the 2010 Heisman Trophy race, he was drafted into the NFL in the second round of 2011. Kaepernick signed a four-year, $5.12 million contract with the San Francisco 49ers that included a $2.23 million signing bonus for an average annual salary of $1.28 million, according to Spotrac.com.
In 2015, Kaepernick signed a six-year, $114 million contract that included a $12.33 million signing bonus. His base salary jumped from $645,000 in 2014 to $10.4 million in 2015 before climbing to $11.9 million in 2016.
Kaepernick is currently the highest-paid player on the San Francisco 49ers. His $16.77 million cap hit is more than double that of the next best-compensated player, Joe Staley, whose cap hit is $8.3 million. Kaepernick also boasts a net worth of $25 million, according to CelebrityNetWorth.com. That figure is a measure of wealth and takes into account assets and liabilities.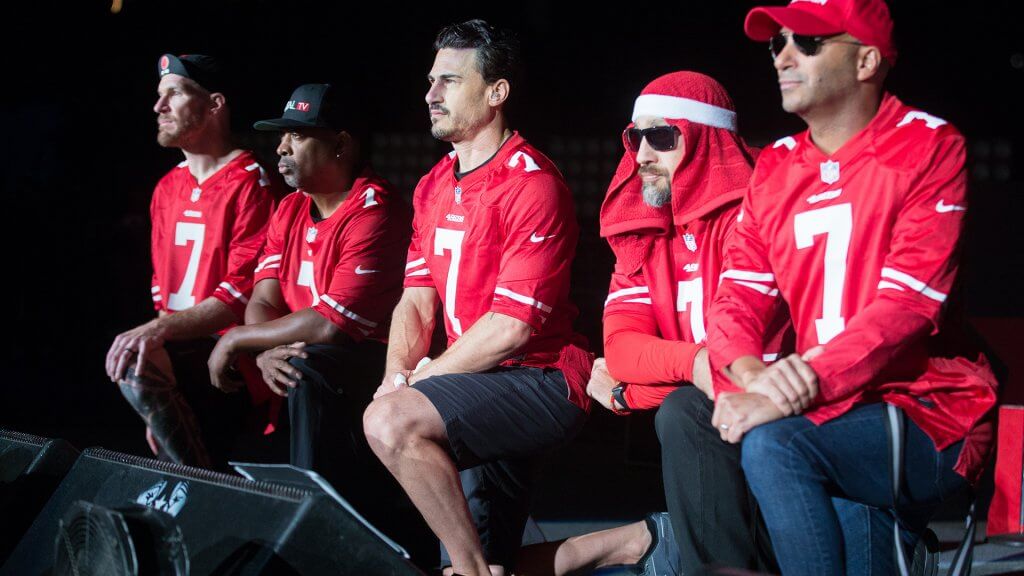 Colin Kaepernick Controversy
Kaepernick's name is now widely associated with political activism. In fact, the player's controversial pre-game protests have largely overshadowed his early career successes.
On Aug. 14 and Aug. 20, the first two games of the 2016 preseason, Kaepernick sat during the national anthem ceremony — and no one noticed. However, someone tweeted a photo of Kaepernick sitting during the third game while the rest of his team stood.
When asked about it, Kaepernick made a statement explaining that he had remained seated in protest of what he perceived as oppression of blacks and other minorities in the U.S., and police brutality. A national firestorm ensued.
Read: NFL Teams With the Cheapest Tickets
In the weeks that followed, Kaepernick was joined by some of his fellow teammates in taking a knee instead of standing during the national anthem. Other players stood with raised fists. Over time, the protests spread to other leagues, sports and even bands and cheerleaders.
While some lauded Kaepernick for peacefully exercising his freedom of speech on an important topic, others insisted that his gesture was disrespectful to the military and country in general. Either way, the sports world — and the rest of the nation — were talking about a quarterback whose best days seemed to be behind him.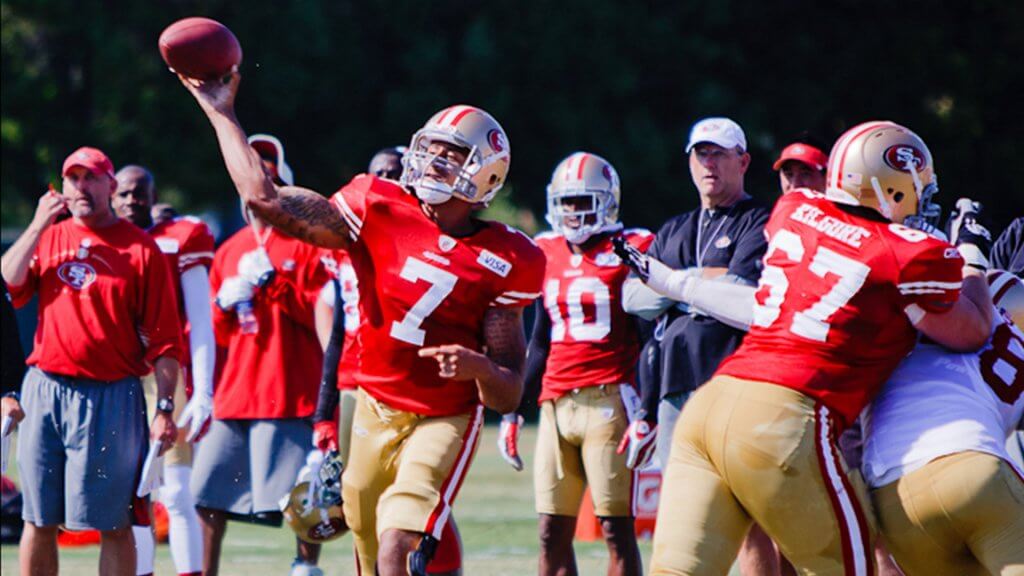 Colin Kaepernick Endorsement Deals
Kaepernick is as marketable as he is controversial. In 2016, the quarterback sold more jerseys than any other player in the NFL. Among his stable of corporate sponsors are Nike, Jaguar and Beats By Dre, all of which have thus far retained him as a spokesperson.
Kaepernick, however, seems aware that his stance could cost him lucrative corporate endorsements. After his original preseason protest, Kaepernick told NFL Media, "If they take football away, my endorsements from me, I know that I stood up for what is right."
According to AdvertisingAge, it is unlikely Beats By Dre will drop Kaepernick, but the future of his Electronic Arts contract remains uncertain. EA prominently featured Kaepernick as Al Pacino's character in "Scent of a Woman" in a promotion for the 2015 installment of its popular Madden franchise game.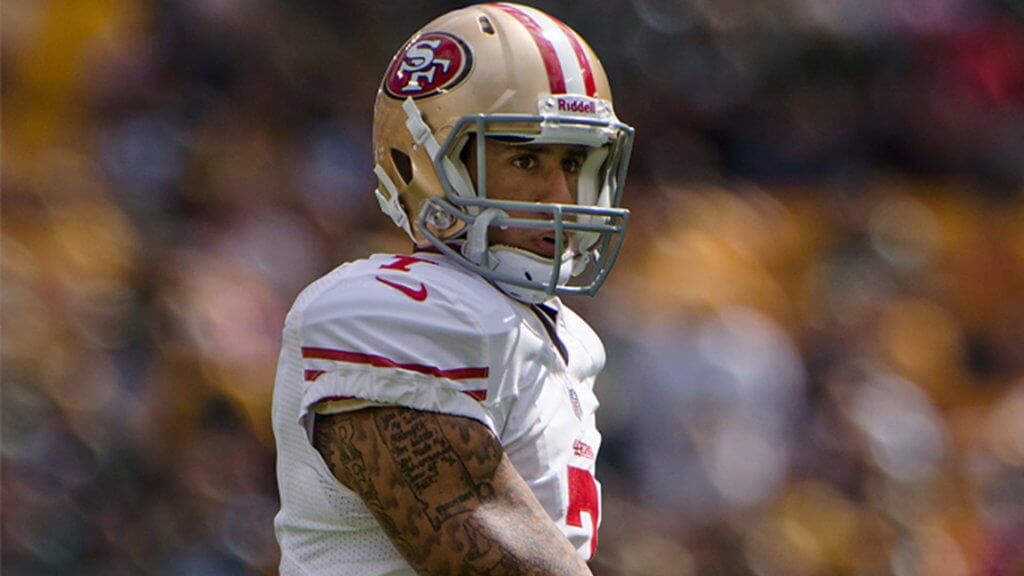 Colin Kaepernick Early Career
It's hard to believe Kaepernick entered the league just four years ago. The quarterback caused a stir when he started for the first time during a nationally televised Monday Night Football game against the storied Chicago Bears on Nov. 19, 2012. While fans expected the game to be a battle, Kaepernick helped his team win a decisive victory of 32-7. Moreover, the young QB drew national attention with his 16 completions, 243 yards and two touchdowns.
Later that year, Kaepernick faced off against the Patriots, led by quarterback Tom Brady and coach Bill Belichick, in what was only his fifth NFL start. He surprised many by destroying the New England defense and leading San Francisco to victory with four touchdown passes.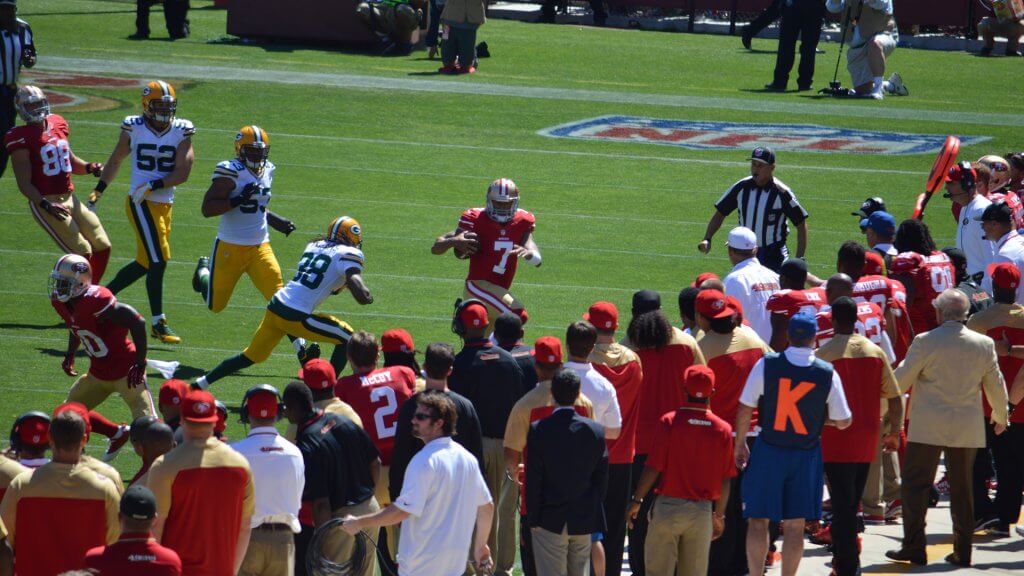 Colin Kaepernick Career Highlights
Kaepernick's first year as a starter featured numerous achievements. In the divisional playoff game against the Green Bay Packers, Kaepernick put on a hall of fame-worthy performance, throwing for 263 yards and two touchdowns, and leading the team with a staggering 181 yards rushing.
After just seven regular season starts, Kaepernick was the starting quarterback in Super Bowl XLVII. The road to the big game featured not just his amazing performance against Green Bay but also an NFC Championship game that saw Kaepernick come back from a 17-point deficit to beat the Falcons 28-24. The 49ers lost to the Ravens in the Super Bowl, but Kaepernick threw for 302 yards and ran for 62. And he nearly scored a touchdown that would have won the game.
Kaepernick's third year was equally impressive. He led San Francisco through the regular season and a playoff run that culminated in a trip to the NFC Championship game, which the 49ers lost to the Seahawks.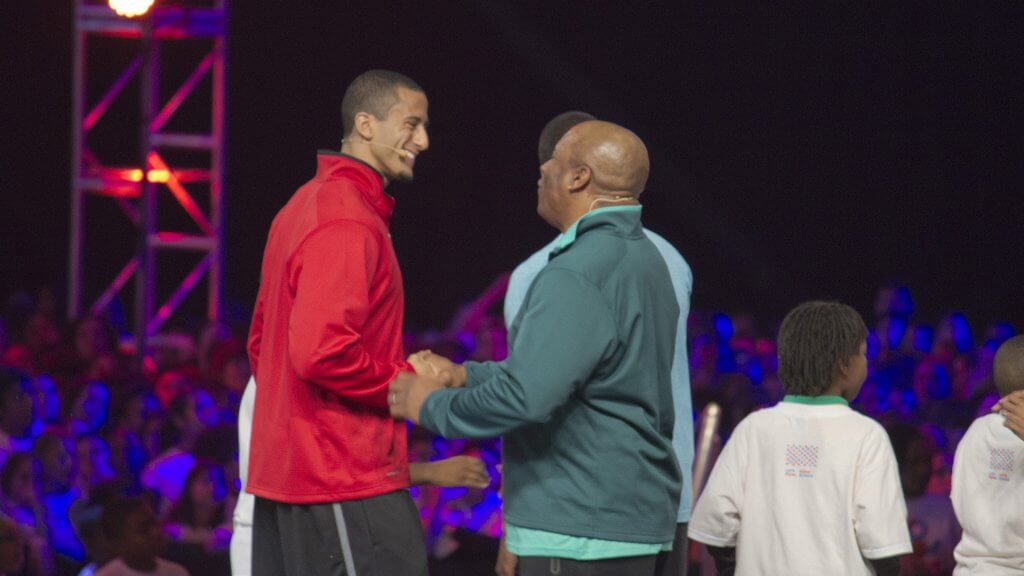 Colin Kaepernick Awards and Accolades
Reflecting on Kaepernick's career in 2016, NBC Sports wrote, "If the 49ers had beaten the Ravens, Kaepernick would have been the Super Bowl MVP." However, the player received numerous awards before he even entered the NFL.
Kaepernick was arguably the best player in college football in 2010, when he passed for more than 3,000 yards and rushed for more than 1,000 yards at the University of Nevada. Not only was he an elite passer, but he also had an amazing 7.0 yards per carry.
His efforts also earned him the Western Athletic Conference Offensive Player of the Year award in 2008 and 2010, and the 2008 Humanitarian Bowl MVP. In 2013, Kaepernick won an ESPY for Breakthrough Athlete of the Year.
Kaepernick will celebrate his 29th birthday as one of the most controversial — and wealthiest — athletes in the world. His play has declined a bit as of late, but due to his off-the-field activism, his star is shining as bright as ever.
Keep Reading: The Richest Defensive Linemen This NFL Season