College Football Conferences With the Best TV Deals — And How They Might Make Even More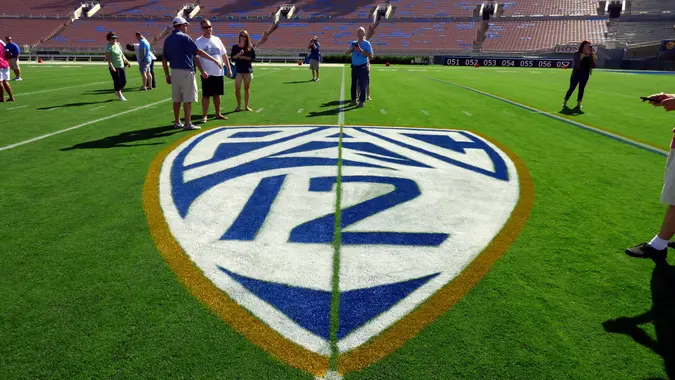 ©pxhere.com
An earthquake rocked the college football world this summer when the Big Ten Conference announced it was adding two West Coast schools, USC and UCLA, for the 2024 season.
That seismic move not only sparked talk of more realignment among conferences; it also has impacted contract negotiations for new TV deals. Just two months after the Big Ten announced its additions, the conference signed a seven-year, $7 billion deal with FOX, CBS and NBC that will give the conference three marquee games every Saturday.
That huge TV rights contract sets up the Big Ten as one of two "super conferences" in college sports, along with the Southeastern Conference. (The additions of USC and UCLA also have been seen as a response to the SEC's plundering of Oklahoma and Texas from the Big 12.)
So in this new landscape of college football, where do the other conferences stand in terms of TV deals? And what's ahead?
TV Talks Ongoing
The Big Ten is obviously squared away, and the SEC begins a 10-year, $3 billion deal with ESPN/ABC next season.
The next two conferences that have media rights expiring are the Pac-12 and Big 12. The Pac-12 is currently negotiating with ESPN, according to the Sports Business Journal; the sides are more than $1 million apart, the New York Post reported.
Those talks are happening in tandem with discussions the Big 12 is having. The conference's TV deal with ESPN and FOX ends in 2024.
Realignment Creates Uncertainty
The shadow hanging over the TV rights negotiations is possible realignment. Big 12 Commissioner Brett Yormark has said his conference is "open for business" regarding expansion, with some reports saying the conference wants to poach the "four corner schools" of Arizona, Arizona State, Colorado and Utah from the Pac-12. That would increase the conference's value in any media negotiations.
Make Your Money Work for You
The Pac-12 also reportedly is considering expansion, including perhaps San Diego State, BYU and/or SMU. Adding a Southern California market such as San Diego State would be a plus, as would the Dallas market with SMU.
Or could the Pac-12 fall apart entirely, with schools such as Oregon, Washington, Stanford and California joining the Big Ten?
The other Power 5 conference is the Atlantic Coast Conference, which is currently in the middle of a 20-year, $4.8 billion deal with ESPN. With the soaring media rights values for other conferences, this contract is now seen as a mistake because it ties up the conference for so long.
Of course, if there's further realignment, such as a merger between the ACC and Pac-12, then that could change.
Another target for expansion is Notre Dame, which has steadfastly remained independent in football. It helps that the Fighting Irish have an exclusive TV deal with NBC that runs through 2025. And, of course, they're included in any playoff discussion.
Expansion Would Grow Playoff TV Rights
The other big factor in terms of college football TV rights is what happens with the College Football Playoff. ESPN currently pays $470 million per year for a four-team playoff, but that deal is scheduled to end in 2026. However, the conferences have agreed to expand the playoffs to include 12 teams, and they are in talks to possibly do that before the current contract ends.
That certainly would involve tearing up the current deal with ESPN, and it's expected that the conferences would open up negotiations to include other networks. That would drive up the value.
Make Your Money Work for You
"Everybody understands we need to talk to multiple networks," College Football Playoff director Bill Hancock told reporters. "We have 11 games. We'd like to talk to multiple broadcasters about televising those. Whether multiple people televise them or not is to be determined. Might happen, might not. We all see an advantage in having multiple partners."
That price tag could increase to $1.6 billion for each year, CBS Sports reported.
What About Other Conferences?
OK, what about the other conferences? In most cases, they have deals with ESPN, FOX or CBS. But they're certainly on the outside looking in when it comes to playoff discussions, and these conferences aren't candidates to add major schools to become more attractive to networks. Here's a breakdown of the other conferences:
The AAC has a 12-year contract worth nearly $1 billion with ESPN.
Conference USA's current deal with ESPN, CBS Sports Network, NFL Network, Facebook and Stadium will expire next year. It's worth around $5.5 million per year.
The Mid-American Conference's deal also ends in 2023. It's worth about $8 million per year with ESPN and CBS Sports.
The Mountain West Conference's deal is with CBS Sports and FOX, running through 2026 and paying $270 million per year.
The Sun Belt Conference has a deal with ESPN that runs through 2031. Most of the games are on ESPN+ and the deal pays $7 million per year.
More From GOBankingRates