Fantasy Football Leagues With the Best Payouts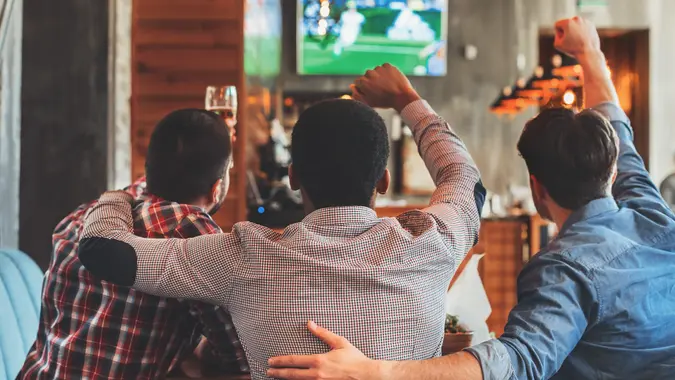 Milkos / Getty Images/iStockphoto
When you sign up to test your skill in a fantasy football league this season, keep in mind that not all of the money you pay to join goes into the prize pool. Commissioners fees, transaction fees, league management fees and the rest can gobble up such a big piece of the pie that in some leagues, less than half of the combined entry fee is left over for prize payouts in the end. 
See: How Rich Are Tom Brady, Aaron Rodgers and 18 Other Past NFL MVPs?
Check Out: 27 Richest No. 1 NFL Draft Picks
The best fantasy leagues, however, return 70%, 80%, 90% or more of the total entry fee in the form of winner payouts. The best payout percentages are always reserved for the high-stakes leagues with the big prizes, but the best sites let winners on even the lowest price tiers keep more of their money. 
The following is a roundup of the leagues with the very best payout percentages. 
Keep in mind that states have laws that require fantasy leagues to include regulatory fees in their pricing structures, but those fees vary by state and are not factored into the payout percentages that fantasy leagues advertise. 
Make Your Money Work for You
Take a Look: The 25 Richest NFL Team Owners
DataForce
DataForce runs an oil painting of a website that would look comically primitive even if the company hadn't been in the software industry since 1987, but looks can be deceiving. 
Its prize returns bottom out at 80%, even way down in the small-money leagues that start at $20 and $50. A $100 buy-in gets you payouts of 90%-91%, $200 gets you 94%, $350 is good for 96%, and buy-ins of $500-$3,000 deliver payouts of up to 98% in the high-stakes leagues. 
Check Out: 13 NFL Players Who Lost Millions
You'd be hard-pressed to do any better in any league on any website.
DataForce has done an excellent job of trimming the fat to make its high prize returns possible. It offers eight contest levels, with flat-rate commissioner fees that start at just $5 for the $20 leagues at the bottom. If your league is run on MyFantasyLeague.com, you'll pay a $6 hosting fee, but beyond that, every single dollar goes into the prize fund. 
Make Your Money Work for You
For smart fantasy players, ugly websites with pretty payout percentages will do just fine.
Fuzzy's Fantasy Football
Not to be outdone by DataForce's circa 2005 website, Fuzzy's Fantasy Football (FFF) maintains a site that's at least as bad or possibly worse. Here, too, however, beauty is only skin deep. 
It can't match DataForce's impressive top-tier payout percentages, but FFF delivers payouts above 90% at the highest buy-ins. Each format pays out differently for each place and first-prize winner, but the percentage remains the same across the league. For example, weekly stud playoff leagues pay out the following percentages:
$25 leagues:

70%

$50 leagues:

80%

$75 leagues:

Above 85% 

$150 leagues:

90%
FFF offers nine different leagues with the following costs of entry: $25, $50, $75, $100, $150, $250, $500, $1,000 and $1,500. There's also a $2.95 league management fee per user per league, but other than that, there are no transaction fees or hidden charges of any kind.
RealTime Fantasy Sports
RealTime Fantasy Sports is one of the oldest, most trusted and most popular names in the fantasy game. It doesn't deliver the highest payout percentages you can find, but it's close — and with 14 money leagues to choose from, RTFS offers more variety than just about any other service you'll find online. That variety runs the gamut of potential winnings.
Make Your Money Work for You
The All-American league, for example, pays $200 on a $30 buy-in. Then there's a high-stakes league, which comes with a grand prize of up to $12,000 on buy-ins of between $125-$2,000. At the tippy top is the Fantasy Championship, which comes with a grand prize of $300,000. In between are plenty of middling options, as well.
At the higher echelons, payout percentages reach 92%, according to CheatSheet War Room.
Apex Fantasy Football Money Leagues
Apex is not shy about advertising its payout percentages — lots of sites make you dig — which it claims are "an industry-leading percentage of league buy-ins." Across its six price points,  Apex pays out an impressive average of 88%, compared to: 
Masters:

80%

BFFL:

75%

CBS:

52%
The entry fees in Apex's six different leagues range from $72.95 to $1,002.95. First prize payouts range from $465-$7,550. 
The commissioner's fee is charged at a flat rate of $9.95, which is included in the cost of entry — a rarity. On top of high payouts, low fees and transparent pricing, Apex often "enhances" many leagues by kicking in extra money to first-place winners.
More From GOBankingRates
Last updated: Sept. 10, 2021
Make Your Money Work for You