How Large Is the Sports Gambling Industry in America?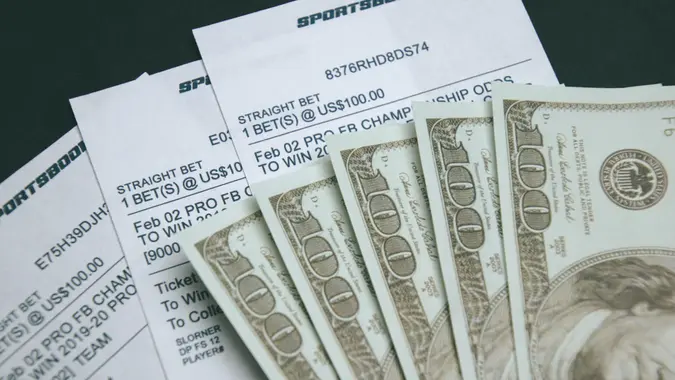 Seth Love / Getty Images/iStockphoto
Sports gambling has always been a huge industry in the United States. As long as games have taken place, someone has wanted a little action on who will win.
See the List: The Richest Athletes in the WorldRead More: How Rich are Michael Jordan, Alex Rodriguez And 13 More Incredibly Wealthy Retired Athletes?
Go back all the way to gladiators battling and chariots racing in the Coliseum, and Romans placing wagers on who would emerge victorious. From those humble beginnings, sports gambling has grown into a gigantic industry. In 2019, Nevada alone handled a total of $5.32 billion in sports bets, LegalSportsBetting.com reported.
The History of Gambling
As professional and college sports have surged in popularity in the United States, legal (and illegal) betting has risen, too. Americans were betting $150 billion on sports every year when it was illegal outside of Nevada, the American Gaming Association reported.
Going back to 1993, the Professional and Amateur Sports Protection Act banned sports wagering in all states except Delaware, Montana, Nevada and Oregon. Only Nevada had an extensive gambling infrastructure in place so it was effectively the only place that allowed sports betting.
In 2018, however, the Supreme Court overturned the PASPA by a 6-3 vote, and now more than 20 states allow some form of legal sports betting, SportsHandle.com reported. Approximately 50% of the U.S. will live in a state with legal sports betting by 2024, LegalSportsBetting.com reported.
How Much Money Is Being Gambled and Made
Although the figure is considered conservative, LegalSportsBetting.com estimates that a whopping $165 billion is bet legally in the United States. That results in a projection of a staggering $44 billion in gambling revenue for 2021, Forbes reported.
Make Your Money Work for You
That also leads to a hefty tax windfall for states. From June 2018 to November 2021, states brought in over $700 million through taxes, LegalSportsReport.com reported.
One big factor in the rise of sports betting is online betting sites, such as DraftKings or FanDuel. These allow bettors to place traditional bets such as who will win and what the point spread will be, but also in-game bets such as which team will score next.
With the growth of legal gambling, the subject is no longer taboo to discuss. We've come a long way from broadcaster Al Michaels' subtle hints that "Plenty of people are nervously watching now" when a team is about to cover the spread. Bookmakers spent more than $200 million on TV advertising, MediaRadar reported, and now it's common to hear ESPN's Scott Van Pelt or TNT's Charles Barkley mentioning points spreads and which team is the better bet.
Sports leagues have figured out they need to capitalize on this as well. NFL stadiums allow fans to place bets on the game in person, and the growth of mobile betting apps should allow users to place mid-game wagers, too.
The NFL has made Caesars Entertainment an official sports betting partner (it was already the official casino partner), along with DraftKings and FanDuel. DraftKings and FanDuel also are official sports betting partners of the NBA.
Most Popular Sports and Events for Betting
Not surprisingly, the most popular sport for betting in the U.S. is football. Americans bet around $100 billion at licensed sportsbooks during the regular season, with $486 million on Super Bowl LV, according to LegalSportsReport.com. Most impressively, that's up from $280 million in 2020.
Make Your Money Work for You
In Nevada alone, $136 million was wagered legally on Super Bowl LV, per Betfirm.com. That's down from $154 million in 2020, which is probably because COVID-19 kept visitors out of Nevada sportsbooks. Because we don't have numbers for historical betting across the U.S., the best way to see the explosive growth of Super Bowl betting is to look at past numbers from Nevada. In 1991, bettors wagered $40 million on the game. So in 30 years, that's a growth of 340%. Not bad.
Another huge event that draws massive betting is March Madness, the NCAA men's basketball tournament. Sports fans and bettors wager an estimated $10 billion each year, LegalSportsBetting.com reported. It's important to realize that's only an estimate, because who knows how many office and family pools are held each year, with $5-$100 as entry fees. Regardless, it's a lot.
More From GOBankingRates