How Much Do WNBA Players Make?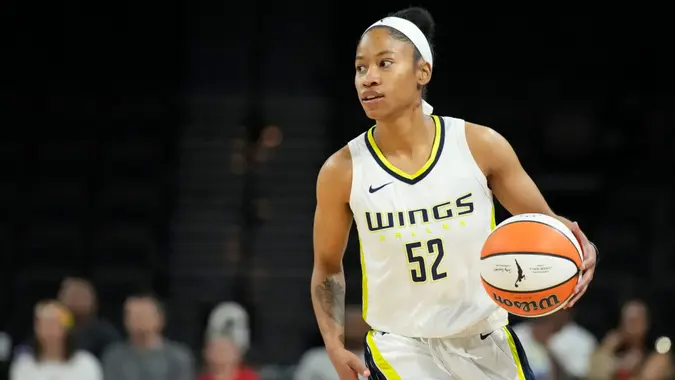 John Locher/AP/Shutterstock / John Locher/AP/Shutterstock
The subject of WNBA players' salaries has resurfaced recently as Phoenix Mercury star Brittney Griner languishes in a prison in Russia, sentenced to 9 years on drug charges. Griner – and many other WNBA players – have played in Russia and other overseas markets because they can make far more income there than with the WNBA.
SNAP Benefits: Can You Use EBT Card/Food Stamps To Purchase Hot Food?
Learn: 7 Surprisingly Easy Ways To Reach Your Retirement Goals
In fact, WNBA superstars Breanna Stewart, Jonquel Jones, Emma Messeman and Courtney Vandersloot are among the players who have signed contracts to play in Turkey next offseason where they will be able to make $300,000-$400,000, according to ESPN.
The average salary for WNBA players for the 2022 season was $128,369, HerHoopStats.com reported. That's an average of $4,012 for each game of the WNBA's 32-game season. Sportstrac.com reported that the maximum salary for WNBA players is $228,094, and only 14 players make more than $200,000.
As a comparison, the average salary in the NBA is $7.9 million per season, according to HoopsAddict.com. The regular WNBA season concludes this Sunday, Aug. 14, and the playoffs begin Wednesday, Aug. 17. Keep reading to learn more about how these female ballers make their money.
Make Your Money Work for You
More Lucrative To Go Overseas
With their NBA counterparts averaging over 34 times their maximum salary, it makes sense why more than three-quarters of WNBA players would go somewhere overseas to play and earn more money. However, that'll be more difficult starting in 2023 because a new agreement between the players' union and the league calls for "WNBA priortization." That means teams will be able to penalize players who show up late to WNBA training camps due to being involved in leagues overseas. Many European leagues conclude in April, when WNBA camps open, or even into May, ESPN.com reported.
"Prioritization is, like, the biggest topic of conversation in the WNBA for me, especially in the next couple of years," said the Seattle Storm's Breanna Stewart in February, according to ESPN.com. "With the prioritization, you're cutting off one of my sources of income."
In the NBA, the minimum salary is $925,258 — more than four times what top WNBA players make this season — and about the same for the top four-year WNBA deals. 
While making $200,000 to shoot baskets and collect rebounds sounds good, remember this: for the NBA's 2021-22 season, 10 players had contracts averaging more than $40 million a season. Stephen Curry of the Golden State Warriors will have the highest NBA base salary in 2022-23 with a take home of $48.07 million, NBCSports.com reported. 
Make Your Money Work for You
So just what is the net worth of a veteran player in each league? Diana Taurasi, 40, is in her 18th season in the WNBA — all with the Phoenix Mercury — and was the MVP in 2009. Her net worth is $2 million, WealthyPersons.com reported. And what about LeBron James of the Los Angeles Lakers, 37 and another veteran player who's in his 19th season with the NBA? His net worth is $570 million.
Take Our Poll: Do You Think You Will Be Able To Retire at Age 65?
Future Pay Scale
The WNBA and the players union reached a deal on an eight-year collective bargaining agreement through the 2027 season prior to the 2020 campaign. The agreement guarantees that the top players in the league will eventually earn in excess of $500,000 annually and that the average pay will reach $130,000.
But the lower end isn't all that impressive — at least for now.
Make Your Money Work for You
One of the players making a lower salary at $60,069 for 2022 is Katie Lou Samuelson of the Los Angeles Sparks. For a June 23 home game, Samuelson wore custom-made sneakers that said "Pay women athletes" in bold white letters on a black background.
More From GOBankingRates
Jami Farkas contributed to the reporting for this article.
Make Your Money Work for You