How Rich Are Aaron Rodgers, Tom Brady and More Big-Name 2023 NFL Stars?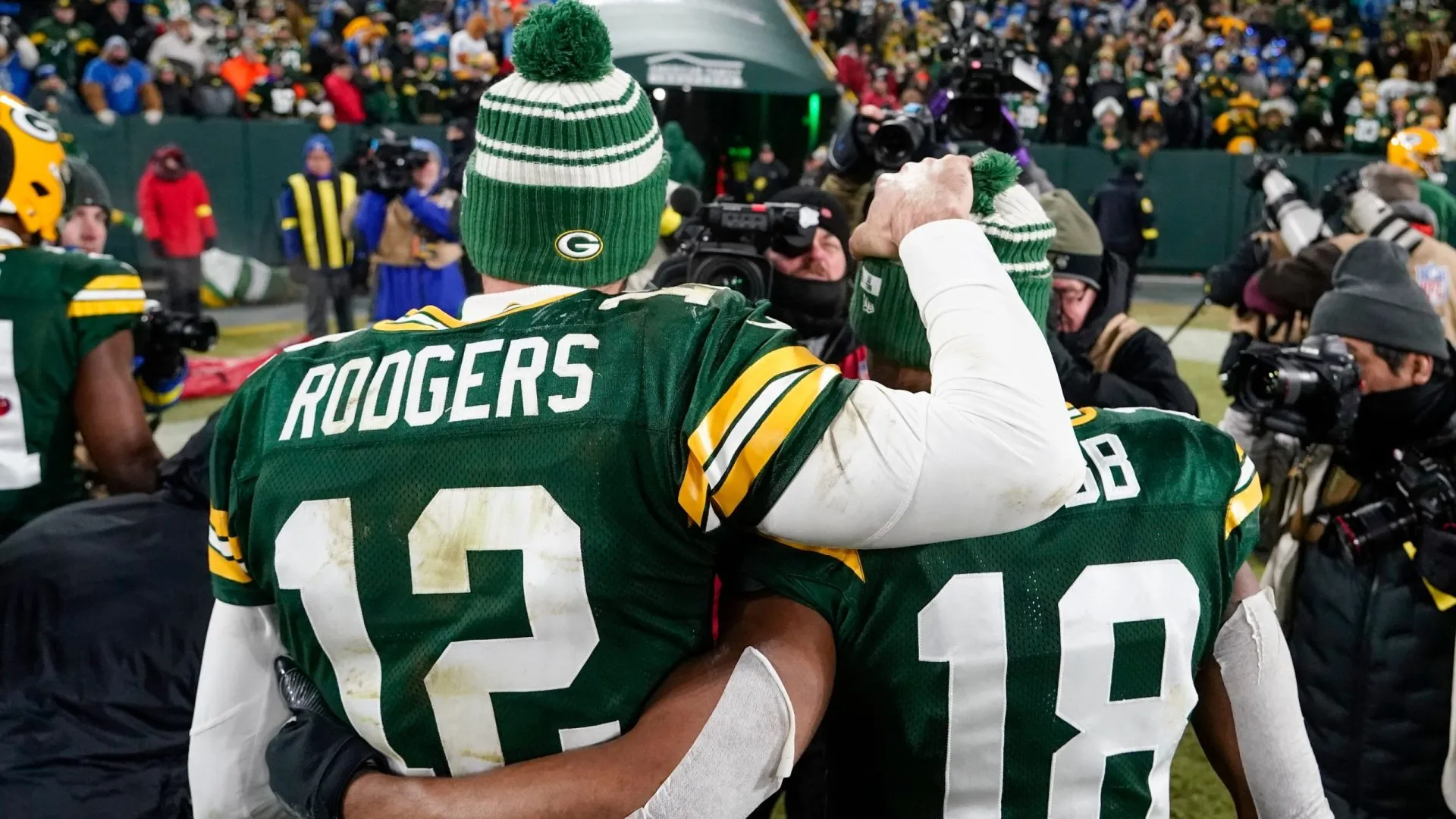 The NFL season isn't over, but teams aren't waiting until after the Super Bowl on Feb. 12 to look ahead to how their 2023 rosters will shape up. There's a lot to consider, especially how to fit 53 players under the league salary cap of what is expected to be a record high of about $220 million.
While that is an astronomical amount of money, the job for team money managers is made even tougher when you consider each team has a player or two who gobbles up a big chunk of the cash.
So just how much money do some of these big earners make? Top salaries in the NFL are approaching the $50 million per year range, which has contributed to significant net worths for some of the league's stars. Read on to find out just how rich some NFL players are.
Aaron Rodgers
Aaron Rodgers, the quarterback of the Green Bay Packers, won the 2021 NFL Most Valuable Player award, his fourth overall, after leading the team to a 13-3 record in the regular season. A first-round draft pick in 2005, it remains to be seen whether Rodgers will return for a 19th NFL season. While he is due nearly $60 million in 2023, per Spotrac, Rodgers didn't commit to playing next season following the Packers' final game of the 2022 season. He said he needs to take some time to ponder how he and the Packers would fit together next season and won't be influenced by money. 
"Money is energy. I have made a ton of it, and I'm very thankful of this organization, the generational wealth that they've offered me," he said after the season finale. "Hopefully they feel like I earned a lot of it. But, yeah, for sure, I could definitely walk away from it."
Make Your Money Work for You
Tom Brady
Tom Brady won six Super Bowl championships over 20 seasons with the New England Patriots, then repeated his magic in 2020 in his first year with the Tampa Bay Buccaneers. With seven Super Bowl titles, Brady himself has won more of the big games than any one NFL franchise. He briefly retired following the 2021 season, then changed his mind and returned to the Buccaneers – at age 45 – for a 23rd NFL season. He will become a free agent in March 2023, free to sign with another team. Should he walk away, he will have more time to work as an endorser, which earned him $52 million last year, according to Forbes. He also has a job waiting for him as the lead NFL analyst for Fox Sports, which has agreed to pay him $375 million for 10 years.
Patrick Mahomes
The MVP in his second year in the league in 2018, Patrick Mahomes has built up an impressive net worth in just six seasons, thanks to his nearly $77 million in career earnings thus far. But it will get much bigger in the coming years for the Kansas City Chiefs quarterback, whose 10-year, $450 million contract extension kicked in with the 2022 season. The deal includes $141.5 million in guaranteed money. He's invested some of his money in the city, buying a piece of the Kansas City Royals baseball franchise as well as soccer clubs Sporting KC and KC Current. He also joined an investment group to bring Whataburger restaurants to Kansas and Missouri. A native of Texas, where Whataburger is based, Mahomes wanted to bring a taste of his first home to his second home.
Make Your Money Work for You
Travis Kelce
Kansas City Chiefs tight end Travis Kelce signed an endorsement deal in August 2022 with Midwest grocery giant Hy-Vee that will run through 2025. While complete terms of the agreement were not announced, it will, in part, provide $1,000 for each touchdown Kelce scores this season to his 87 and Running charitable foundation. Hy-Vee also will stock exclusive Kelce-branded merchandise in the Kansas City area. Kelce, 33, has played 10 seasons – all with the Chiefs – and is a three-time All-Pro selection. Despite still being at the top of his game, his $14.3 million annual average salary ranks him just third on the pay scale for tight ends, according to Spotrac.
Russell Wilson
A third-round draft pick by the Seattle Seahawks in 2012, quarterback Russell Wilson signed a standard rookie contract: four years for $2.99 million. In the ensuing years, he led the Seahawks to a Super Bowl victory and missed only two games due to injury in 10 seasons. In 2019, he signed his second contract extension — this one for four years and $140 million, which at the time was the richest-ever NFL deal. Traded to the Denver Broncos before the 2022 season, Wilson and his new team agreed to a five-year, $242.6 million contract that included a $50 million signing bonus, $161 million in guaranteed money and an annual average salary of $48.5 million, per Spotrac. Wilson, 34, struggled in his first season in Denver, posting a 4-11 record in 15 games with 16 touchdown passes and 11 interceptions.
Make Your Money Work for You
Aaron Donald
In 2018, Aaron Donald signed a six-year, $135 million contract with the Los Angeles Rams that included a $40 million signing bonus and an average annual salary of $22.5 million, and four years later, he inked a three-year $95 million extension. Donald is the highest-paid defensive tackle in the NFL with an annual average salary of $31.7 million – more than $10 million a year better than any other player at his position per Spotrac. He has proved to be worth the investment. He's been named a first-team All-Pro seven times and is a three-time Defensive Player of the Year. In 2021, he ranked No. 40 on the list of the world's highest-paid athletes, put together by Forbes, which said he had endorsement deals with Dick's Sporting Goods, Electronic Arts and Panini.
Davante Adams
Wide receiver Davante Adams spent seven seasons in Green Bay as the favorite target of Packers quarterback Aaron Rodgers before being traded to the Las Vegas Raiders following the 2021 season. In his first season in Las Vegas, Adams led the NFL in touchdown receptions with 14 and was third in receiving yards with 1,516. His performance showed the Raiders they hit the jackpot when they signed him to a massive contract following the trade: five years for $140 million, including a $19.25 million signing bonus and guaranteed money of about $65 million. During his career, he's also made money off the field through endorsements with Nike, Pepsi, Head & Shoulders and Associated Banc-Corp.
See what his net worth adds up to.
More From GOBankingRates