O.J. Simpson's Net Worth as He's Granted Parole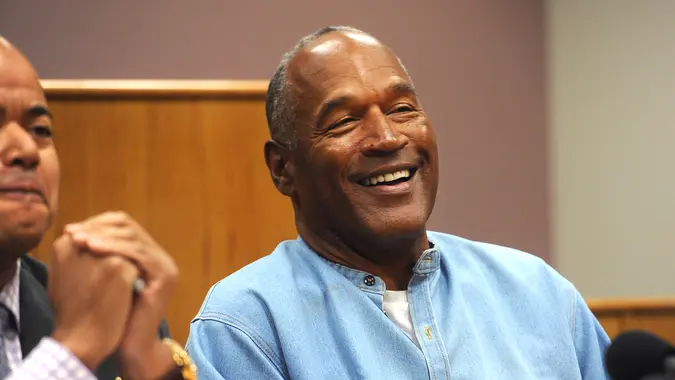 Pool / Getty Images
O.J. Simpson has been incarcerated at Nevada's Lovelock Correctional Facility since December 2008, but now "The Juice" is loose. On July 20, 2017, he was granted parole after serving nearly the minimum of a nine- to 33-year sentence for armed robbery in Las Vegas.
Now that he's a free man, Simpson plans to return to Florida, where he lived before he went to prison. Get the details on O.J. Simpson's net worth, his 1995 murder trial and what he might earn during and after his parole.
What Is O.J. Simpson's Net Worth?
His bank account was once flush, but O.J. Simpson now has little money left from his days has a high-earning football star. His net worth today is $3 million. Celebrity Net Worth reports O.J. Simpson's net worth was $10.8 million when he and Nicole Brown Simpson divorced in 1992. That sum is equal to more than $19.2 million as of August 2017.
The divorce settlement revealed Simpson was earning $55,000 per month in 1992 — more than $97,000 in August 2017 dollars. Much of this income was from car rental company Hertz, for which he served as spokesperson for nearly 20 years. Simpson was earning $550,000 per year from the company at the time of his divorce, according to The Washington Post.
Money has seemingly been tight for Simpson since the Nicole Brown and Ron Goldman murder trial. Despite being acquitted in the famous criminal case, O.J. Simpson was found guilty in a subsequent civil suit and ordered to pay $33.5 million to the Brown and Goldman families in February 1997. In a 2014 interview with CNBC, Goldman's sister Kim said the family has collected less than 1 percent of the judgment.
Make Your Money Work for You
Also in 1997, Simpson defaulted on the mortgage of his estate in the Brentwood neighborhood of Los Angeles, and the property went into foreclosure. Simpson purchased the 6,200-square-foot mansion for $650,000 in 1977. The new owner paid $4 million for the house before demolishing it.
Don't Miss: 24 Athletes Who Lost Their Huge Endorsement Deals
O.J. Simpson's Life and Money After Parole
After being released from prison, some inmates struggle to pay the bills, but money shouldn't be an issue for O.J. Simpson. He's believed to have waited until age 65 to start collecting his NFL pension, which inflated his monthly benefit to an estimated $10,565. Even if he started taking pension payments at age 55, he would still be collecting approximately $4,034 monthly.
Simpson was in jail for his 65th birthday on July 9, 2012, meaning at least 62 months of payments have been left untouched. This means he earned roughly $427,604 to $655,030 while incarcerated.
Simpson's personal value has been speculated to be between $2 million to $5 million by various media outlets, and he reportedly receives a Screen Actor's Guild pension of roughly $1,700 per month, according to CelebrityNetWorth. He'll also be able to collect up to $3,538 in monthly Social Security benefits, according to CNN.
By law, the Brown and Goldman families are unable to touch these funds to settle the civil judgment against Simpson. The former football star is believed to have moved to Florida in 2000 to take advantage of the Sunshine State's asset protection laws, which provide 100 percent protection of individual retirement accounts, annuities and the cash value of life insurance. The state also has notably stringent homestead laws that protect a homeowner's primary residence from creditors.
Make Your Money Work for You
At the O.J. Simpson parole hearing in July 2017, he told authorities he planned to return to Florida if released. His living arrangements haven't been revealed, but he'll have to find a new home, because his 4,148-square-foot Miami home went into foreclosure in 2012. He purchased the property for $575,000 in 2000 and, as of July 2017, it was back on the market for $1.3 million.
More Celebrity Crime Drama: 14 Celebrities Convicted for Tax Evasion
Simpson's Life In and Out of the Spotlight
Simpson's athletic career earned him early fame that led to lucrative endorsement deals on TV and in films. His notorious white Bronco chase and murder trial were also televised, continuing his life in the spotlight, and even his most recent parole hearing was televised. Public interest in his saga shows no signs of waning, but Simpson's net worth does as he has fewer sources of potential income and ongoing legal debts.
O.J. Simpson Football Career and Acting Highlights
O.J. Simpson's football career is legendary. The Heisman Trophy winner made a name for himself as a member of the University of Southern California football team when he pulled off a jaw-dropping 64-yard run against UCLA. He was chosen by the Buffalo Bills as the first pick in the 1969 NFL draft. Simpson played for the team for nine seasons.
In 1973, the running back made history as the first NFL player to rush more than 2,000 yards in a season. Simpson retired from the NFL in 1979 after spending his final two seasons with the San Francisco 49ers. He was inducted into the Pro Football Hall of Fame in 1985.
Make Your Money Work for You
Also an actor, Simpson appeared in nearly three dozen films and television shows from 1968 to 2008. Some of his most high-profile works included playing Nordberg in "The Naked Gun" movie franchise and T.D. Parker in the television series "1st and Ten: The Championship."
Super Successful Movies: 'Harry Potter,' 'Jurassic Park' and Other Multi-billion Dollar Movie Franchises
Nicole Brown Murder Trial
In June 1994, Nicole Brown Simpson and her friend, Ronald Goldman, were found stabbed to death outside her Brentwood condominium. Days later, O.J. Simpson was charged with the murders. After promising to turn himself in, Simpson famously led police on a 60-mile, low-speed chase in a white Ford Bronco. He eventually surrendered at his Brentwood home.
Regarded as the trial of the century, the O.J. Simpson trial ran from Jan. 24, 1995, to Oct. 2, 1995. Judge Lance A. Ito allowed cameras in his courtroom, granting the public a front-row seat. Approximately 150 million viewers tuned in to watch the reading of the not-guilty verdict, making it one of the most watched events in TV history. The country is still divided regarding the O.J. Simpson trial and verdict today.
The Nevada parole board did not consider the 1994 murders in its 2017 decision.
O.J. Simpson Court Case
Simpson's parole hearing stems from his conviction in a trial regarding a September 2007 robbery, during which Simpson and five other men forced their way into sports memorabilia collector Bruce Fromong's Las Vegas hotel room and robbed him at gunpoint. Simpson said he was trying to reclaim personal items stolen from his home years ago.
Make Your Money Work for You
"I only went there to retrieve my own property," he told the parole board.
The guilty verdict in this Simpson court case came on the 13th anniversary of his double-murder acquittal. The former athlete and his co-defendant were found guilty on 12 charges, including conspiracy to commit a crime, robbery, assault and kidnapping with a deadly weapon.
Simpson was sentenced to nine to 33 years in prison. Prior to the July 2017 hearing, he previously went before the parole board on five of his charges in July 2013 and was granted parole on those offenses.
O.J. Simpson in Popular Media
Simpson has been serving time since 2008, but he has not faded into oblivion, thanks to the public's ongoing fascination with the Nicole Brown murder trial.
In 2016, FX debuted the 10-episode miniseries "The People v. O.J. Simpson: American Crime Story." The cast featured numerous Hollywood heavyweights such as Cuba Gooding Jr., Sarah Paulson and John Travolta and swept the 2016 Emmys with nine wins.
The ESPN documentary "OJ: Made in America" was also released in 2016. Directed by Ezra Edelman, the five-part series covered Simpson's rise to fame and subsequent fall from grace. In 2017, it won the Oscar for best documentary feature.
Falls From Grace: The Slippery Slope That Led These Celebrities From Riches to Rags