What is Suni Lee's Gold Medal Worth?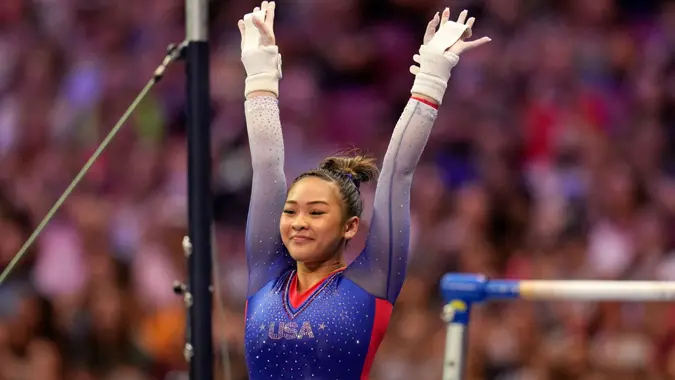 Jeff Roberson/AP/Shutterstock / Jeff Roberson/AP/Shutterstock
Sunisa Lee, known as Suni, won the all-around women's gold at the Tokyo Olympics on Thursday — a gold medal some say is worth around 7 figures. "This is such a surreal moment. I just feel like I could have never been here ever. It doesn't even feel like real life," the 18-year-old said as she extended the United States' 17-year winning streak in that competition by winning gold, reports CNN.
Find Out: Celebrity Endorsement Deals With Insane Payouts
Learn More: Most Successful Athlete From Every Decade
"She represents hope and aspiration, and that's massively valuable. She is the holy grail of consumers, the target for nearly every marketer in America. It's a dream scenario," said Vince Thompson, founder and CEO of sports and marketing agency MELT, said in an interview and as reported by Sportico. The U.S. Olympic and Paralympic Committee value the gold medal at $37,500, according to Sportico, which Lee will take home as well as $22,500 for the silver she helped Team USA earn and any other prize money she may earn in the individual events. 
Make Your Money Work for You
Discover: Injuries Cost These 13 Athletes a Fortune
However, Lee's immediate earnings may be in the million-dollar range and her gold may be worth as much as $10 million over her lifetime, Rick Burton, Syracuse University professor and former chief marketing officer of the USOPC, told Sportico. 
Find Out: The Cost of the Olympics in the Year You Were Born
Just as sponsors did with Biles after her 2016 win, Sportico noted that sponsors will be lining up to work with Lee. Her win could be used to leverage endorsement deals and she'll also profit from her appearances for the foreseeable future. Burton also added that as an Asian American athlete, Lee brings diversity to the table — a valued attribute to today's marketers who will pay a hefty price due to her demand which "creates a sustainable revenue stream" for Lee's future, Burton explained to Sportico.
More From GOBankingRates
Last updated: July 30, 2021
Make Your Money Work for You