How to Become a Member of Mutual 1st Federal Credit Union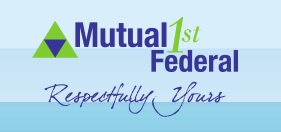 Whether you need a free savings account option or you're looking for low-cost mortgage loans, Mutual 1st Federal Credit Union can help achieve all of your financial goals.
The decision to build a relationship with a bank or credit union is a personal one; and though some people prefer banks because they typically have several locations throughout their city and state, and perhaps nationally, others favor the community feel and personable service of a credit union. Credit unions certainly give other financial institutions a run for their money, but unlike going to a bank, not everyone can walk into a credit union and open an account.
Mutual 1st Federal — like all credit unions — has members, not customers. And although the exclusiveness of these institutions might seem a bit intimidating, becoming a credit union member is easier than you think.
Who Is Eligible to Become a Member of Mutual 1st Federal?
If you're thinking about making the switch from a bank to a credit union in Omaha, opening an account or applying for a loan with Mutual 1st Federal might be the solution to your financial needs. The credit union extends membership to anyone who lives, works, attends school or worships in the Omaha Metropolitan Area.
Membership isn't limited to those in Omaha, however. People who live, work, attend school or worship in the following counties in Nebraska and Iowa also are eligible for membership:
Cass County, Nebraska
Douglas County, Nebraska
Sarpy County, Nebraska
Washington County, Nebraska
Pottawattamie County, Iowa
The credit union also extends membership to the relatives of current members related either by blood or through marriage. In addition, spouses of deceased members are eligible for membership.
How to Get Started with Mutual 1st Federal
Because members are the shareholders of credit unions, these financial cooperatives can typically afford to charge less interest on loans and lines of credit as well as offer higher savings account rates. These offerings are major benefits if you're looking to qualify for the cheapest rates on auto and home loans, thus increasing your purchasing power, or if you want to take your savings account to another level.
Getting started with Mutual 1st Federal is simple and convenient. In fact, you can submit your application online through the credit union's website. To become a member, you'll first need to open a free share savings account, which features no monthly fees and no minimum balance requirement.
Products and Services for Mutual 1st Federal Members
Once your share savings account is up and running, you're free to take advantage of the credit union's vast selection of financial products and services, including but not limited to the following:
Free checking
Rewards checking
Auto loans
Personal loans
Secured loans
Mortgage loans
Online services
Online services include online bill payer, remote deposit capability, electronic statements and mobile banking. The credit union also offers members access to more than 75 free ATMs.