Social Security: Can Non-Citizens and Immigrants Receive Benefits?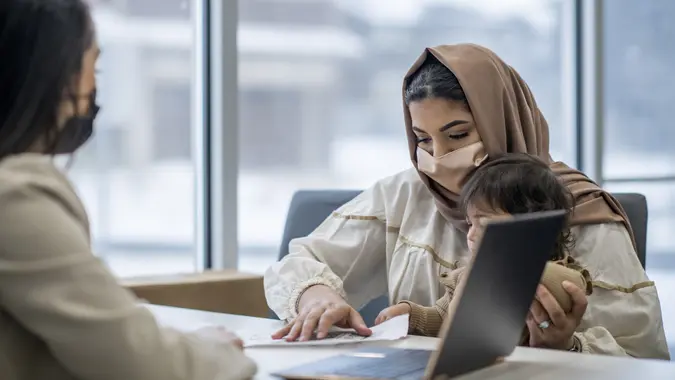 FatCamera / iStock.com
Social Security is meant to provide certain benefits, such as retirement and disability payments, to qualifying individuals. But for the purposes of Social Security, are non-citizens and immigrants considered "qualifying individuals?" The short answer is yes, in many cases.
Learn: 3 Ways To Recession-Proof Yor Retirement
As Social Security rules and regulations can get complex, it's worth looking at what qualifies a person for Social Security benefits, and how non-citizens and immigrants can oftentimes participate.
Getting a Social Security Number
No one can get Social Security benefits without obtaining a Social Security number first. Although some believe that only citizens can have a Social Security number, that is incorrect.
The Social Security Administration (SSA) has set up a process whereby noncitizens can apply for a Social Security number as part of the immigration process. Typically, immigrants will simultaneously apply for both a Social Security number and work authorization, which are separate transactions. Having a Social Security number alone isn't enough to authorize work in America for immigrants. However, once an immigrant obtains lawful permanent resident status, a work permit is no longer required.
Qualifying for Social Security Benefits
Immigrants who have work permits — or those who acquire lawful permanent resident status — can qualify for Social Security benefits in the same manner as U.S. citizens. In other words, you'll need to earn 40 credits of coverage in order to qualify for benefits.
Are You Retirement Ready?
As of 2023, each $1,640 you earn grants you one "quarter of coverage," with a maximum of four being issued every year. While you can generally simplify Social Security qualification by saying that you need to work for 10 years to earn 40 quarters of coverage, that's not technically the whole story. If you earn $6,560 in a single year, you automatically earn your four quarters of coverage for that year, even if you earned it in a single week. So while it may take you 10 years to amass 40 quarters of coverage, it doesn't mean that you need to work full-time for 10 years to do so.
An important note for immigrants is that if you have worked in a country that the U.S. has a "totalization agreement" with, you may be able to use your foreign work credits to help qualify for U.S. Social Security. The countries that currently have such an agreement with the U.S. are:
Australia
Austria
Belgium
Brazil
Canada
Chile
Czech Republic
Denmark
Finland
France
Germany
Greece
Hungary
Iceland
Ireland
Italy
Japan
Luxembourg
Netherlands
Norway
Poland
Portugal
Slovak Republic
Slovenia
South Korea
Spain
Sweden
Switzerland
United Kingdom
Uruguay
Supplemental Security Income for Noncitizens
In addition to traditional Social Security retirement benefits, non-citizens may qualify for Supplemental Security Income as well. This program provides income for children and adults with blindness or a disability with income and resources below certain levels. As a non-citizen, you must fall into one of these Department of Homeland Security classifications:
Lawfully admitted for permanent residence
Granted conditional entry
Paroled into the United States.
Admitted as a refugee
Granted asylum
An alien whose removal is being withheld
A Cuban or Haitian Entrant
Admitted as an Amerasian Immigrant
Admitted as an Afghan or Iraqi Special Immigrant
Admitted as an Afghan humanitarian parolee or Afghan Non-Special Immigrant Parolee
Admitted as a Ukrainian humanitarian parolee
Are You Retirement Ready?
You must also meet one of these Social Security-specific requirements:
You were lawfully residing in the United States on Aug. 22, 1996, and you're blind or develop a disability
You were receiving SSI on Aug. 22, 1996, and you're lawfully residing in the United States
You were lawfully admitted for permanent residence and you have a total of 40 credits of work in the United States. (Your spouse's or parent's work also may count)
You're a veteran or active duty member of the United States Armed Forces, or a spouse or dependent of a veteran or active duty member of the United States Armed Forces
You're an American Indian born in Canada
You're a noncitizen member of a federally recognized Indian tribe
You're a victim of severe forms of human trafficking
Noncitizen SSI benefits may continue for as long as seven years. They may continue if you become a citizen. Note, however, that if you were admitted as a lawful permanent resident, you may not be eligible for SSI benefits for the first five years.
The Bottom Line
Social Security and immigration are two of the most complex areas of U.S. law. If you're a noncitizen or immigrant and you're looking to get detailed answers that apply specifically to your personal situation, it's best to consult with an attorney specializing in these areas.
More From GOBankingRates
Are You Retirement Ready?