Social Security COLA Still Too Small? Save Money with DIY and These AARP Tips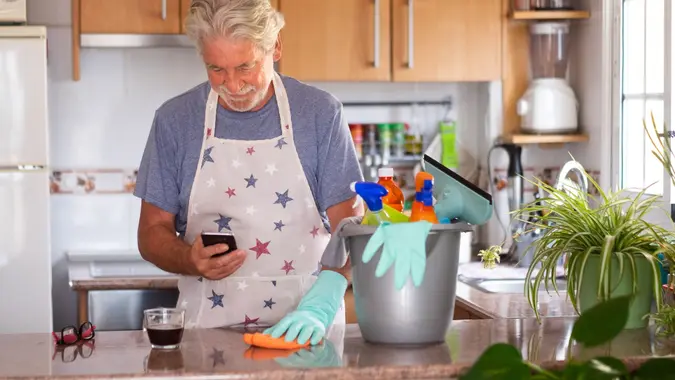 lucigerma / iStock.com
The Social Security Administration has made its annual cost-of-living adjustment (COLA) for 2023. Recipients of Social Security and SSI are receiving an additional 8.7% on their monthly benefits as of January payments. For SSI recipients, these payments began Dec. 30.
Social Security Inflation Tips: AARP Offers 7 Ways To Save Money on Travel
See: With Recession Looming, Make 3 Retirement Moves To Stay On Track
Learn: Could Higher Social Security Payment Lead to Reduced SNAP Benefits?
However, not everyone will receive the full 8.7% increase since adjustments are made based on a formula used to calculate your primary insurance amount (PIA). For those who do receive that amount, benefits will rise by an average of $140 per month, GOBankingRates previously reported.
While the extra cash is sure to help during these uncertain times, the Consumer Price Index for food has gone up by 12% between November 2021 and 2022, according to data from the USDA. Americans have seen some relief in gas prices at the pump, with the cost of regular unleaded falling from a high of $4.41 in June 2022 down to $3.08 in December 2022, according to figures from the U.S. Energy Information Administration.
Ultimately, many Americans — including those on Social Security — are looking to reduce their living expenses in 2023. AARP has offered some tips to cut costs in a variety of areas this year, from cleaning products to appliances.
Make Your Own Household Cleaners
Did you know you can make safe, effective, environmentally friendly household cleansers with items you probably already have around your house? To make window and glass cleaner, use half of cup distilled vinegar, four cups warm water, 10 drops of essential oil or lemon juice. Save on paper towels by scrubbing glass with old newspaper for a streak-free shine. You can also use a microfiber cloth, according to WebMD.
Additionally, two cups of baking soda and one cup of water can help remove baked on food from your stove. You can also mix in a few drops of dish soap for tough stains.
Unclog Drains the Easy Way
The average price of a visit from a plumber is $330, although job costs typically range from $177 to $483 for tasks such as installing a faucet or fixing a toilet, according to BobVila.com.
There are certain plumbing tasks you don't want to tackle yourself, but you can fix a clogged drain with household products. Simply put ¼ cup baking soda down the drain, and then follow up with ½ cup white vinegar, WebMD recommended. Cover the drain and let it sit for 15 minutes, then pour eight cups boiling water down the drain. If the blockage isn't cleared, you may need to use a plumbing snake to knock the residue around the pipes loose.
Take Our Poll: Are You In Favor of More Inflation Relief in 2023?
Keep Your Appliances Clean
Keeping appliances clean can help prolong their life, eliminating the need to replace pricey household goods during these inflationary times. To clean your coffee maker, run a cycle using just distilled vinegar and water. Follow up with two or three cycles of water only to remove the vinegar taste.
After using your toaster, don't forget to clean out the crumbs by opening the bottom "crumb door." Don't turn the toaster upside down and shake it, as crumbs can get lodged into the heating elements or other crevices.
Make Your Own Mouthwash
In addition to making your own household cleaners, you can make your own mouthwash with sage leaves and Himalayan sea salt. Dissolve the salt in 5 ounces of boiling water and then pour over the leaves.
Customize Bath Oils
A warm bath is an affordable way to help reduce stress. Consider making your own custom bath oils by combining a few drops of your favorite perfume, or even essential oils, to ¼ cup of baby oil. Homemade bath oils even make a great party favor or gift idea.
Use Shopping Apps To Save More Money
Of course, it's virtually impossible to avoid spending money altogether. Even if you opt to make many essential household items and cleaning products, you'll still need to buy the raw materials at some point. Use comparison shopping apps to find the best prices at stores near you or order online for savings.
Social Security Money Tight? 10 Ways AARP Recommends Saving on Food
Discover: 4 Social Security Myths That Are Costing You Money
Rely on AARP for Added Savings
Did you know AARP offers savings on necessities like car insurance and prescription medicine, as well as expenses like travel and entertainment? You can become an AARP member at any age to take advantage of savings and benefits.
More From GOBankingRates