7 Money-Saving Travel Tips From Flight Attendants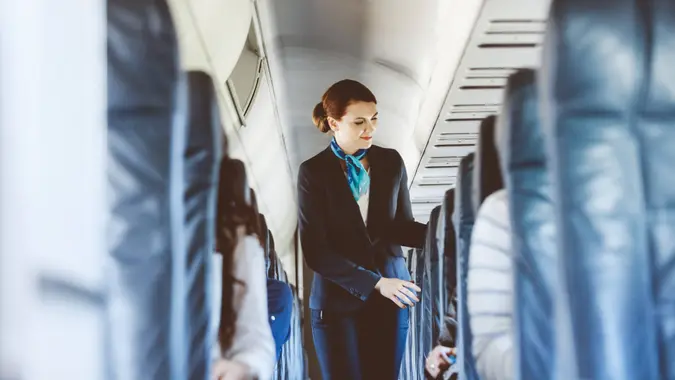 izusek / Getty Images
With summer fast approaching, you might be starting to look at places to travel. Unfortunately, airfare for many destinations is still high, making it difficult to have the vacation of your dreams. Luckily, there are secrets on how to score the best deals for your next trip.
We asked travel experts and flight attendants from around the world to weigh in. Their insider tips can help ensure you get the most out of your money as you jet-set this summer and throughout the year.
Book Early To Save Big
Jane Jones, a flight attendant and guide with See Sight Tours, said, "One of the best ways to save money on travel is to book your flights as early as possible. This can help you lock in lower prices before they increase closer to your travel date."
Kimberly Shaw, a flight attendant at New York Stewart International Airport, agrees. She said, "It's generally a good idea to book your flight at least six weeks in advance to get the best price."
While there are some deals for last-minute shoppers, it's a risk you might not want to take. A 2023 CheapAir.com study found that the best day to book a flight for less is around70 days before your desired departure date. The study of nearly 1 billion airfares also found that the price of a ticket changes 49 times on average. Therefore, setting an alert may be worthwhile to get the lowest fare.
Make Your Money Work for You
Embrace Flexibility
Being flexible may prove critical in saving you money on your flight. 
"If you're able to be flexible with your travel dates and times, you may be able to find better deals," Jones said. "This is especially true if you can travel during off-peak times."
Day of the Week Might Matter
"One of the most important things to keep in mind is the timing of your flight purchase," Shaw said. "Many airlines release their best deals on Tuesdays, so it's worth keeping an eye out for sales on that day."
Jones agrees that shoppers may want to avoid booking on certain days of the week.
"As for the best day/time to purchase flights, there isn't a definitive answer," she said. "However, many experts suggest that booking on a Tuesday or Wednesday can be cheaper than booking on other days. Additionally, try to avoid booking flights on weekends, as prices tend to be higher during those times."
Compare Before You Buy
As with anything else, you will want to shop around before you commit to buying from a particular site.
"Don't settle for the first price you see," Jones said. "Shop around and compare prices on different websites to find the best deals."
Bundling Isn't Always Better
All of our travel experts agree that bundling isn't always better.
"When it comes to bundling versus booking separately, my advice is to always do your research," Shaw said. "Sometimes bundling can save you money, especially if you're booking a vacation package that includes flights, accommodations, and activities. However, in other cases, booking each component separately can be cheaper. So, it really depends on the specific trip you're planning."
Make Your Money Work for You
Jones added, "Whether you should bundle or book separately depends on your specific travel plans. Bundling your flights, hotel and rental car can sometimes save you money, but it's not always the case. Be sure to compare prices for both options before making a decision."
Utilize Rewards Programs
"If you travel frequently, consider signing up for rewards programs with airlines and hotels," Jones said. "This can help you earn points and rewards that you can use to save money on future trips."
"One of my favorite tips is to sign up for airline loyalty programs," Shaw said. "These programs can offer everything from priority boarding to free checked bags, so it's definitely worth joining if you're a frequent flyer."
Tips for Perk Seekers
Retired flight attendant Susan Fogwell said, "Flight attendants provide perks to loyal customers, which are more like thank-you gestures. These are the customers who literally fly as much as flight crews. In first or business class, we would give them a bottle of wine or perhaps a selection of minis. If a customer with 1K status was seated in economy, the customer would receive food or alcohol gratis." 
Shaw said being polite to the airline employees can pay off.
"Be friendly with the airline staff," she said. "Flight attendants and gate agents have the power to upgrade your seat or offer you other perks if they like you. So, it pays to be polite and kind when you're interacting with them.  
Make Your Money Work for You
"Don't be afraid to ask for upgrades or perks. Sometimes all it takes is a simple request to get a better seat or a complimentary meal. Just be respectful and courteous when you're asking, and you might be pleasantly surprised by what you receive."
More From GOBankingRates