130 of the Best Ways to Save Money in 2013 and Add to Your Savings Account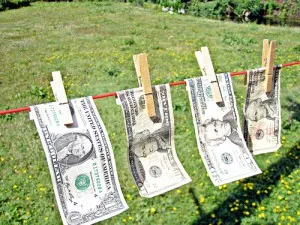 Tomorrow is the first day in a new year, and I bet you've set a goal or two that you'd like to accomplish in 2013. If any of your resolutions center around saving more money for a savings account, debt repayment, or simply to put an end to mindless spending, below are 130 different ways you can save an extra buck (or more) and hit that 2013 goal head on.
130 of the Best Ways to Save Money in 2013
1. Start your New Year's resolution off right and save $1 by skipping the bacon and/or cheese on your sandwich. 2. Brew your own coffee at home today. 3. Opt for a generic instead of name brand product. 4. Skip the second cocktail and have a glass of water. 5. Replace your roll of paper towels with a dishcloth. 6. Get your next trim at a beauty school. 7. Freeze tonight's leftovers so they don't go bad. 8. Buy produce from the local Farmer's market. 9. Wash your own car. 10. Sign up for your grocery store's club membership. 11. Put on a sweater instead of turning up the thermostat. 12. Replace an expensive cleaner with vinegar and baking soda. 13. Stick to the dollar menu on your next trip to the drive-thru. 14. Check under your couch cushions for spare change. 15. Buy dried beans instead of canned. 16. Hand dry your clothes. 17. Take home mini hotel shampoos and soaps. 18. Check your pockets for change and cash before doing laundry. 19. Sign up for Bank of America's Keep the Change program. 20. Rent your next movie from Redbox. 21. Borrow a book, magazine, movie, TV show or CD from your local library instead of buying it. 22. Get free shipping on your next online order. 23. Compare prices among several stores before going grocery shopping. 24. Bring your own beverage to the movies. 25. Get your restaurant order to-go and avoid paying a tip. 26. Keep your car tires fully inflated to the recommended PSI. 27. Go out to lunch instead of dinner. 28. Switch to a cash-back rewards credit card. 29. Cancel your subscription to a magazine you never read. 30. Pay your bills on time and avoid late fees. 31. Dye your own hair this month. 32. Quit smoking. 33. Share a Netflix account. 34. Don't run the dishwasher until it's full. 35. Search for a coupon code before buying online. 36. Keep snacks at work to avoid the vending machine. 37. Use an in-network ATM. 38. Bring a refillable mug to Starbucks. 39. Take your cans and bottles to a paid recycling center. 40. Sign up for your movie theater's rewards program. 41. Split an entree with a friend at dinner. 42. Take advantage of student, AAA, military or senior discounts. 43. Listen to music for free on Pandora. 44. Grow your own herbs and spices in your kitchen. 45. Maintain your bank account's minimum balance to have the monthly maintenance fee waived. 46. Replace one meat dish with a vegetarian option. 47. Buy movie tickets at Costco. 48. Request for your gym membership, cell phone or other sign-up fees to be waived. 49. Cash in a rebate for something you purchased. 50. Buy your next item of clothing from a second hand store. 51. Keep your windows, doors and curtains closed to improve insulation. 52. Turn off that light in the other room. 53. Go grocery shopping on a full stomach. 54. Repair an item of clothing yourself rather than getting rid of it or taking it to a tailor. 55. Carpool. 56. Video chat instead of calling. 57. Use a coupon. 58. Open a high-yield savings account. 59. Buy frozen produce instead of fresh. 60. Swap light bulbs for energy-efficient alternatives. 61. Ask your credit card issuer to lower your interest rate. 62. Fill up on freebies like bread or chips and salsa and order a smaller entree. 63. Clean your car's air filter. 64. Do laundry when you have a full load. 65. Buy 2-liter bottles of soda instead of cans. 66. Turn your heater down three degrees. 67. Use a laptop instead of a PC to save on power. 68. Cancel a premium cable channel. 69. Avoid rush hour traffic to prevent using up gas. 70. Unplug your electronics and chargers when not in use. 71. Switch to a lower-cost insurer. 72. Ride your bike instead of driving. 73. Or just walk. 74. Get rid of your landline. 75. Pack last night's leftovers for lunch. 76. Open up windows and doors instead of turning on the AC. 77. Use a water filter instead of buying plastic bottles. 78. Read the news online instead of buying a paper. 78. Take shorter showers. 79. Use cloth napkins. 80. Bring your calculator when you go shopping to pinpoint the best deals. 81. Shut down your computer at night. 82. Ask for first-time customer discounts at restaurants, salons and other retailers. 83. Install low-flow shower heads. 84. When ordering dinner, also ask for a to-go box and put half of your meal away to take home. 85. Go to a matinee instead of an evening movie. 86. Order prescription glasses online. 87. Remove the junk out of your car to improve fuel efficiency. 88. Or you can lose weight to save money on the cost of gas. 89. Use a Soda Stream instead of buying carbonated beverages. 90. Save plastic bags from the grocery store for cleaning up after pets. 91. Wash and reuse to-go containers from places like Boston Market for storing leftovers. 92. Wear jeans several times before washing. 93. Save and use napkins from fast food restaurants. 94. Same goes for ketchup packets. 95. Make a grocery list and stick to it to avoid extra impulse buys in the checkout lane. 96. Ask for the money you lent a friend to be paid back. 97. Search restaurant cushions and payphones for loose change. 98. Switch to a credit card with no annual fee. 99. Download Redlaser to ensure you're getting the lowest price. 100. Wring out paper towels and reuse a couple of times to get more mileage out of your roll. 101. Send an e-card instead of a greeting card. 102. Use weather stripping to seal drafts and eliminate the need to turn on the heater. 103. Switch to a free checking account. 104. If you're driving under 40 mph, open your car windows and turn off the AC. 105. Ask for a discount on slightly defective items at stores. 106. And don't be afraid to ask for a deal on products that are just fine, too. 107. Shop at local ethnic grocery stores. 108. Raise your car insurance deductible. 109. Use travel sites to get deals on flights and hotels before booking your next vacation. 110. Take your children to restaurants where kids eat free during special hours. 111. Turn down the temperature on your water heater. 112. Follow coupon sites on Twitter to stay on top of the latest deals. 113. Use eggs or mayonnaise to condition your hair. 114. Trade in your old cell phone. 115. Plug electronics into power strips to cut down on energy usage. 116. Download the I Love Free Things app to find items you need at no cost. 117. Switch to paperless billing. 118. Start a compost pile and never have to buy fertilizer for your lawn or garden. 119. Buy heavily-used items in bulk. 120. Switch to a prepaid wireless provider. 121. Check the back of grocery store receipts for discounts at gas stations, dry cleaners and more. 122. Appeal your home appraisal to save on property taxes. 123. Cancel your PMI once you reach 20 percent equity in your home. 124. Sell gift cards you don't plan to redeem. 125. Cancel your DVR service and watch your favorite shows on Hulu. 126. Use freecycle.com to find furniture you need. 127. Switch to term life insurance. 128. Call your cable provider and ask for a discount on your monthly bill. 129. Negotiate your rent. 130. Learn to DIY.
Do you know of any more ways to save $1? Share them in the comments below.
Photo: Images_of_Money