How Much Does The Average Funeral Cost?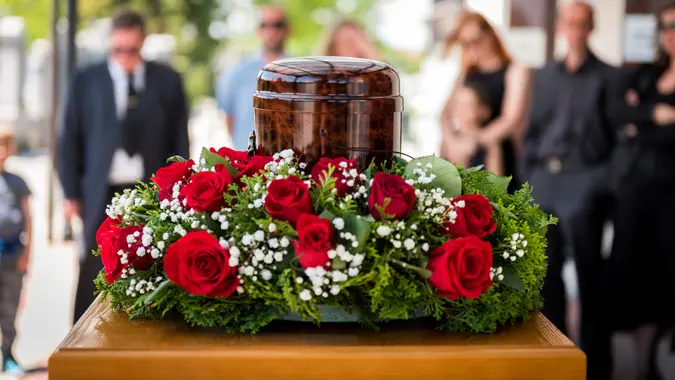 _jure / Getty Images/iStockphoto
No one wants to think about it, but it will happen someday — someone you love will pass away, and you'll have to provide them with a funeral. The last thing you want as you are grieving your loss is a surprise expense that's much greater than you thought it would be, so it's helpful to know how much the average funeral will cost, what that cost includes and how to pay for it.
Here's what you need to know.
How Much a Funeral Costs
The average funeral costs between $7,000 and $12,000. This includes a viewing, funeral service, preparation, transportation, a casket and burial. It does not include the cemetery plot, flowers or a headstone.
For a funeral with cremation, the average cost is $6,000 to $7,000. Again, this does not include flowers or the burial of the remains.
What Is Included in the Cost of a Funeral
The Federal Trade Commission has a detailed list of funeral expenses on its website. Here are some of the things that are included.
Basic Services Fee
These are the things that the funeral home provides for every funeral. It includes planning the funeral, obtaining the permits required, obtaining copies of the death certificate, preparing the notice of the death, taking possession of and keeping the body, and coordinating with whoever will provide the burial or cremation.
Merchandise and Other Services
Optional services may include fees for transporting the body; embalming or otherwise preparing the body; the viewing, ceremony or memorial service; the graveside service; the limousine or hearse; a casket; and cremation or burial. The funeral home may also arrange for flowers, an organist or soloist, obituary notices, clergy and so forth. You may pay for these items directly, or the funeral home may obtain them on your behalf.
Make Your Money Work for You
The National Funeral Directors Association estimated the following costs for a funeral with burial and for a funeral with cremation in 2021:
| Funeral With Burial | |
| --- | --- |
| Basic services fee (required) | $2,300 |
| Transfer of remains to funeral home | $350 |
| Embalming | $775 |
| Preparation of the body | $275 |
| Viewing (staff, use of funeral home) | $450 |
| Funeral ceremony (staff, use of funeral home) | $515 |
| Hearse | $350 |
| Service car or limousine | $150 |
| Printed materials (program, prayer card, etc.) | $183 |
| Metal casket | $2,500 |
| Vault | $1,572 |
| | |
| Total | $9,420 |
| Funeral With Cremation | |
| --- | --- |
| Basic services fee (required) | $2,300 |
| Transfer of remains to funeral home | $350 |
| Embalming | $775 |
| Preparation of the body | $275 |
| Viewing (staff, use of funeral home) | $450 |
| Funeral ceremony (staff, use of funeral home) | $515 |
| Hearse | $350 |
| Service car or limousine | $150 |
| Printed materials (program, prayer card, etc.) | $183 |
| Cremation fee | $368 |
| Cremation casket | $1,310 |
| Urn | $295 |
| | |
| Total | $7,321 |
These costs are averages, and the specific requests you have may change the cost. For example, the casket is the largest single expense of a funeral, and there are many options for caskets. You may choose a more expensive casket, which could cost as much as $10,000. Or you may opt for a plainer casket, which may cost less than the average.
The cost of a funeral can also vary depending on where you live. According to the NFDA, the average cost by region is:
| Region | Cremation | Burial |
| --- | --- | --- |
| New England (Maine, New Hampshire, Vermont, Massachusetts, Connecticut, Rhode Island) | $7,069 | $7,881 |
| Mid-Atlantic (New York, New Jersey, Pennsylvania) | $7,463 | $8,093 |
| South Atlantic (Delaware, Maryland, Virginia, West Virginia, North Carolina, South Carolina, Georgia, Florida) | $7,070 | $7,800 |
| East South Central (Kentucky, Tennessee, Alabama, Mississippi) | $6,314 | $7,271 |
| West South Central (Arkansas, Louisiana, Oklahoma, Texas) | $6,405 | $7,334 |
| East North Central (Illinois, Indiana, Michigan, Ohio, Wisconsin) | $6,953 | $7,868 |
| West North Central (Iowa, Nebraska, North Dakota, South Dakota, Minnesota, Missouri, Kansas) | $7,560 | $8,500 |
| Mountain (Idaho, Montana, Utah, Colorado, Wyoming, Arizona, New Mexico, Nevada) | $5,694 | $6,888 |
| Pacific (California, Alaska, Hawaii, Oregon, Washington) | $6,028 | $7,225 |
Make Your Money Work for You
Even though you are going through the grieving process while you are planning your loved one's funeral, don't feel that you need to spend extra money for the fanciest casket or huge bouquets of flowers. Think about what your loved one would want — they probably wouldn't want you to spend extra money on their funeral expenses.
There are additional costs not listed above that you may encounter. Costs for things like flowers, a headstone and a burial plot can vary widely.
How To Pay for a Funeral
There are several things to keep in mind when it comes time to pay for a funeral for a loved one.
The funeral home expects to be paid up front. If you plan to pay the funeral expenses with the proceeds from a life insurance policy, for example, or from the deceased's assets, you may be surprised that the funeral home will not wait for the insurance claim to be processed or for the estate to be settled. You will need to pay the funeral home at the time, and then settle up with the estate once it is resolved.
If you have the time to plan your finances to cover a funeral, consider setting aside money in a specific savings account or — to save your loved ones' the difficulty – a payable-on-death account. It's also a good idea to have a general emergency fund, whether you end up using it for a funeral or another unexpected expense.
Prepaying
Some people choose to prepay for their funeral. This takes the financial burden off of the heirs and also ensures that the funeral is carried out in the way the deceased would have wanted it. To pay for your funeral in advance, you will meet with the funeral director to discuss your wishes, and they will provide you with pricing for how much your funeral would cost.
The funeral home then has you purchase a life insurance policy on your life, with the funeral home listed as the beneficiary. The amount you pay depends on your age and the services and products you select. When you pass away, the life insurance policy pays the funeral home to cover the cost of your funeral.
Takeaway
Losing a loved one is difficult, and planning — and paying for — a funeral can be an added burden. Knowing the costs upfront and being prepared for what is likely to happen when the time comes may make this difficult time a little bit easier.
FAQ
Planning a funeral is difficult and can be overwhelming. Here are the answers to some common questions about funeral expenses.
Is $10,000 enough for a funeral?

Yes, $10,000 is enough to cover the costs of an average funeral in many places. Note that if your selection of casket, flowers, headstone or cemetery plot are more expensive than average, the overall cost of the funeral may be higher than average. It's important to know your budget when making these decisions.

What is the average amount to give at a funeral?

Between $50 and $100 is a typical amount to offer for condolences

– an amount close to the cost of a bouquet of funeral flowers.

What type of funeral is cheapest?

Cremation is generally the least expensive option for a funeral.
If you're so inclined, you could also donate your body for research and save the cost of cremation or burial, while also doing some good.
Our in-house research team and on-site financial experts work together to create content that's accurate, impartial, and up to date. We fact-check every single statistic, quote and fact using trusted primary resources to make sure the information we provide is correct. You can learn more about GOBankingRates' processes and standards in our editorial policy.