7 Best Electric Vehicles for Elderly Drivers in 2023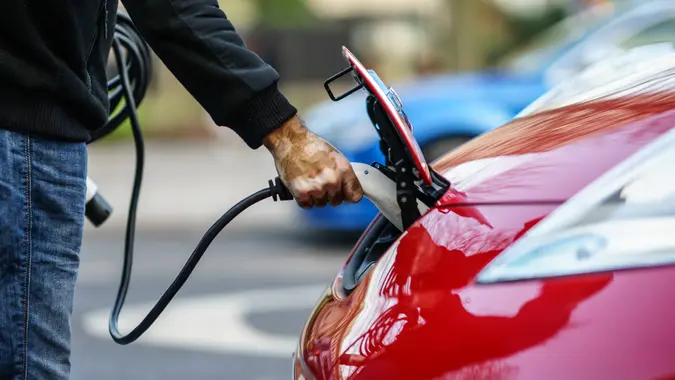 nrqemi / Getty Images
In recent years, the auto industry has seen a seismic shift towards electric vehicles (EVs). As innovation accelerates, the choices for buyers, especially senior citizens, have become broader and more tailored to specific needs.
Also: 3 Ways To Recession-Proof Your Retirement
In 2023, manufacturers have provided elderly drivers with electric vehicles that prioritize comfort, safety, and accessibility–all without breaking the bank. Here's a curated list of the top seven EVs that senior drivers should consider:
1. Nissan Leaf
Starting at an affordable $29,000, the Nissan Leaf promises not just cost-effectiveness but also a comfortable driving experience. With a maximum range of over 200 miles on a single charge and spacious interiors, it's perfect for those longer drives with family. Its hatchback design and elevated driving position make entry and exit a breeze.
2. Chevrolet Bolt EV
Offering a blend of affordability and efficiency, the Chevrolet Bolt EV has a starting price of $27,500. With an impressive all-electric range of over 250 miles and agile urban driving dynamics, it's suitable for city-dwelling seniors.
3. Hyundai Kona Electric
Priced at $35,000, the Hyundai Kona Electric is an SUV that combines sporty looks with practicality. Although it feels like driving a hatchback due to its zippy acceleration, its higher ground clearance and excellent visibility ensure an ease of driving cherished by older drivers.
4. Kia Niro EV
The Kia Niro EV, with a starting price of $40,800, is tailored for those who seek more room without compromising on drive quality. The vehicle's spaciousness, combined with its safety features and extended range, makes it a top pick.
Make Your Money Work for You
5. Hyundai IONIQ 5
At $41,000, the Hyundai IONIQ 5 is the epitome of style meeting functionality. It not only boasts a futuristic design but also ensures driver comfort with its roomy interiors and advanced safety features. The dual-screen navigation is intuitive, making tech adjustments straightforward for its users.
6. Volkswagen ID.4
Volkswagen's ID.4, priced at $40,300, is a luxurious experience without the exorbitant price tag. Its roomy interiors, combined with impeccable safety ratings, ensure that senior drivers not only drive in style but also in security.
7. Kia EV6
Kia's EV6, starting at $48,700, is a testament to modern technological advances. With a quick-charging feature and a maximum range of 310 miles, it ensures longer trips with fewer charging interruptions. The inclusion of safety features like parking assist and automatic emergency braking guarantees an added layer of protection for its drivers.
2023 has brought a plethora of electric vehicle options suitable for elderly drivers. These cars promise safety, comfort, and convenience, ensuring that senior citizens can enjoy the benefits of modern automotive technology while feeling confident on the road.
As incentives and rebates are continually evolving, potential buyers should consult with local dealerships and relevant government websites to get the most updated information on potential savings.
Editor's note: This article was produced via automated technology and then fine-tuned and verified for accuracy by a member of GOBankingRates' editorial team.
More From GOBankingRates
Make Your Money Work for You