From Toyota to Tesla: Buy These 5 Affordable Cars That Will Last Long After 100,000 Miles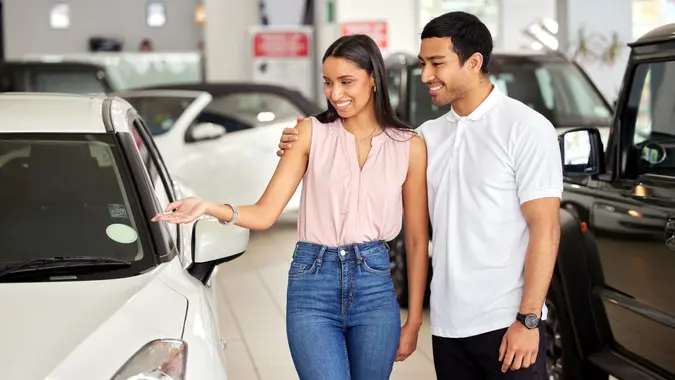 PeopleImages / Getty Images/iStockphoto
It's always good to buy an affordable car — unless you sacrifice long-term dependability for that low MSRP. So, when you head to the dealership, remember that cost and reliability don't have to be mutually exclusive concepts.
The following cars are within reach of average buyers, and if those buyers change the oil, rotate the tires and keep up with other regularly scheduled maintenance, they won't have to worry about their cars failing them for well beyond the six-figure mileage mark.
If you're looking for a car you can afford and expect to cruise past 100,000 miles, these contenders should have a place on your shortlist.
Nissan Versa
The Nissan Versa is the last sub-$16,000 vehicle on the market and the cheapest new car that money can buy. Even the wimpy three-cylinder, 78-horsepower Mitsubishi Mirage starts at $16,695.
Most industry publications review the Versa with similar pros and cons. It's underpowered and brimming with cheap, plastic-y materials, but it has plenty of room, handles well, is good on gas, and most importantly, it's reliable.
Make Your Money Work for You
How reliable? According to Jerry Insurance Agency, "With proper care and maintenance, your Nissan Versa can last for 200,000 miles and 13 years."
Kia Rio LX or S
The Kia Rio LX joins the Nissan Versa and Mitsubishi Mirage as one of the three most affordable cars on the road. Even the upgraded S package starts at just $17,390.
The Rio is economical in a few ways. First, it gets an exceptional 41 highway mpg, and second, it's built to last, guaranteed. Even if your Rio happens to die before 100,000 miles, Kia has you covered with a best-in-class 10-year, 100,000-mile warranty — but there's no reason to think you should need it.
Both J.D. Power and RepairPal rank Kia among the three most reliable car brands out of 32, and the Rio ranks as the brand's most reliable model. According to CoPilot, you can expect Kias, in general, to last for 200,000 miles, with many owners cruising past 250,000 miles without issue.
Hyundai Venue SE
Not only is the Hyundai Venue SE among the rare handful of models that still start under $20,000, but in 2022, it earned a 5-year, cost-to-own award from Kelley Blue Book (KBB) for the third year straight.
Make Your Money Work for You
On top of that, it's built to go 100,000 miles and then do it all over again without major issues. Firestone Complete Auto Care says, "With the right maintenance at the right time, your Venue could be on the road well past the 200,000-mile mark."
Hyundai of Fort Worth, Texas, agrees, stating, "On average, they have a life expectancy of 100,000 to 200,000 miles. However, a well-maintained Hyundai can easily exceed the 200,000-mile mark. In fact, some Hyundai owners reported getting up to 500,000 miles out of their vehicles."
If anything expensive goes before you hit six-figure mileage, don't worry — chances are good it will be covered under Hyundai's 10-year, 100,000-mile powertrain warranty.
Toyota Corolla
The fabled Toyota Corolla became the best-selling car in the world in 1997 and retains the crown to this day. In August 2021, KBB announced that Toyota had sold its 50 millionth Corolla.
The reason America and the world continues to trust the Corolla can be boiled down to one word — reliability. RepairPal gives it an excellent 4.5 out of 5 reliability rating, earning it first place out of 36 subcompact models. In terms of durability over time, the Corolla defines peace of mind — it's one of those models that owners buy expecting not to worry about well into six-figure mileage.
Make Your Money Work for You
According to Sam Leman Automotive Group, "With regular service and maintenance, the Toyota Corolla has a life expectancy of up to 10 years or 300,000 miles." Woburn Toyota adds, "With proper care and maintenance, some Toyota models can last as long as 500,000 miles."
Tesla Model 3
If you're hoping to squeeze 100,000 miles out of your next vehicle, consider this — that milestone represents only about 20% of the extraordinary half-million-mile tally you can expect to get from a Tesla Model 3, Y, S or X.
In an article explaining why Teslas tend to depreciate more slowly than other vehicles, EnergySage wrote, "One of the main reasons why Teslas retain their value even several years after initial purchase is their mileage range. Most Teslas will last over 500,000 miles, while the average person drives only 13,500 miles yearly."
With a purchase price of $40,240, the Model 3 is the only Tesla that could reasonably be described as "affordable." But after federal tax credits and estimated gas savings, Tesla says the true cost is more like $29,740 — and that price could fall even more depending on where you live. For example, in New Jersey, the price after estimated savings and incentives is $25,740, which isn't too far ahead of models like the Corolla.
Make Your Money Work for You
More From GOBankingRates