7 American Cars That Are Sneaky Great Deals Right Now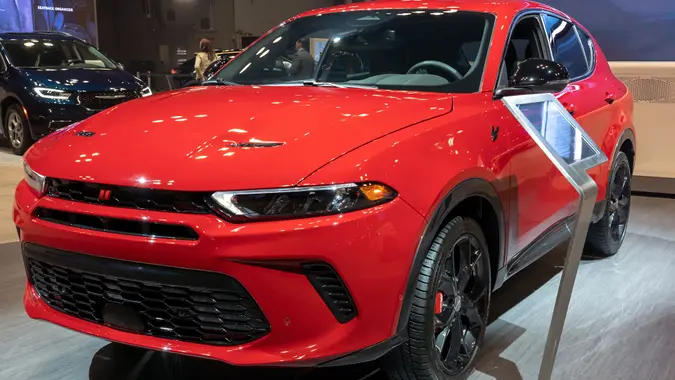 Ron Adar / Shutterstock.com
Finding deals on new cars has been a major challenge in recent years, as global supply-chain issues have contributed to low supplies and high prices. The market is a little more forgiving now, though only by a little.
The average price Americans paid for a new vehicle in September 2023 was down 3.4% from the start of the year thanks to higher inventory and more incentives, Cox Automotive reported.
The bad news is, the average transaction price of a new vehicle in September was still a very hefty $47,899, according to Cox subsidiary Kelley Blue Book. On the bright side, that was $360 less than the previous year, and down $227 from the previous month.
"Dealers and automakers are feeling price pressure, and with auto loan rates at record highs and growing inventory levels, new-vehicle prices continue to ease," Cox Automotive Research Manager Rebecca Rydzewski said in a statement. "Assuming the UAW strike is short-lived, current inventory levels are healthy enough to prevent any significant impact on consumer prices."
In terms of the kinds of cars that carry the best deals right now, that honor falls to luxury vehicles. Average luxury transaction prices in September fell 6.2% from the prior year to $62,342, and have declined nearly 7% since the start of 2023 — mainly due to "aggressive price cuts" at electric vehicle leader Tesla.
Average prices of non-luxury cars in September actually rose 1% from a year earlier to $44,626.
Make Your Money Work for You
If you're looking for a deal on an American car, several models have been selling for below the Manufacturer's Suggested Retail Price ("MSRP"), otherwise known as the sticker price. TrueCar analyzed vehicles whose Starting Market Averages — prices based on actual recent transactions — came in below the MSRP.
Here's a look at seven American cars where you might find great deals right now:
2024 Chevrolet Blazer EV
Starting MSRP : $53,195
Starting Market Avg. $52,697
Avg. savings off MSRP: $496
2024 Buick Encore GX
Starting MSRP: $26,895
Starting Market Avg: $26,273
Avg. savings off MSRP: $622  
2023 Ford Super Duty F-250
Starting MSRP: $45,965
Starting Market Avg. $45,406
Avg. savings off MSRP: $559  
2023 Ford Super Duty F-350
Starting MSRP: $47,010
Starting Market Avg.  $46,828
Avg. savings off MSRP: $182  
2023 GMC Canyon
Starting MSRP: $38,395
Starting Market Avg. $37,912
Avg. savings off MSRP: $483  
2024 Dodge Hornet
Starting MSRP: $32,330
Starting Market Avg. $31,973
Avg. savings off MSRP: $357  
2024 Cadillac CT5-V
Starting MSRP: $52,890
Starting Market Avg. $51,961
Avg. savings off MSRP: $929
More From GOBankingRates