Gas Prices 2023: How To Combat Unpredictable Costs at the Pump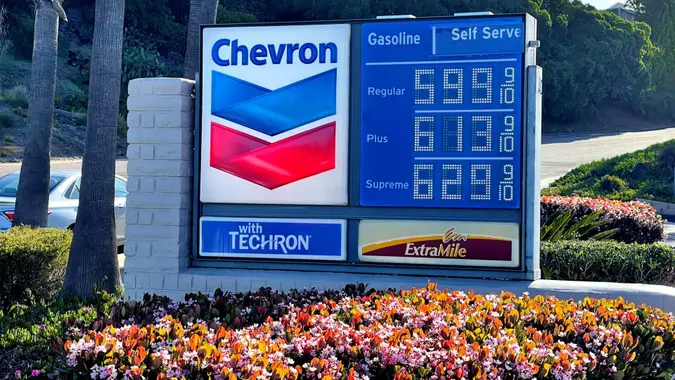 skodonnell / Getty Images
The current national average gas price is $3.55 per gallon, according to AAA, with much of the South barely over three bucks. That's not terrible, historically speaking — and it's certainly better than one year ago when it was $4.16 and quickly racing toward its June 14 peak of $5.
Although that difficult time is nearly a year in the rearview mirror, it's still fresh in people's minds.
"Those steep 2022 gas prices — and higher food, housing and clothing prices — forced many Americans to cut expenses," said Laura Adams, MBA, a personal finance expert with Finder.com. "Consumers who rely on fuel for commuting or running their businesses were financially hurt the most. They may have stopped investing for retirement, dining out, traveling or purchasing extras. In some cases, Americans carry more credit card debt due to higher prices at the pump."
Few commodities are as volatile as gas, yet few purchases are more non-negotiable than the fuel that gets us from point A to point B. Here's what that means moving toward the busy summer travel season in a year where the price of anything is far from certain.
Make Your Money Work for You
If Prices Rise Again at the Pump, Expect Them To Rise Everywhere
Many Americans learned a difficult lesson during the peak of inflation last summer — when gas is more expensive, so is everything else.
"Higher fuel prices affect more than prices at gas stations," said Adams. "They impact many industries, such as travel, hospitality and local transportation, such as Uber prices. That means travel plans got canceled or paused as gas prices skyrocketed."
Companies like UPS and FedEx that ship your stuff from Amazon and Etsy pass increased fuel prices onto you, as do the restaurants that get their ingredients from those same trucks or others just like them.
The result was not just pain at the pump, but genuine financial duress that felt like it was coming from everywhere. 
"Those who couldn't offset the cost by using less fuel had to take money from other places," said Melanie Musson, a finance expert with BuyAutoInsurance.com. "The consumers least impacted had a cushion they could draw from, but some had to eliminate savings to pay for fuel. Others had to cut activities out of their budget to make room for higher prices."
Make Your Money Work for You
Take Our Poll: Would You Move for a Job That Paid You a $10,000 Signing Bonus?
Emergency Funds and Flexible Budgets Are the Only Antidotes
No one can control the many geopolitical forces that influence gas prices. But they can prepare — and 2022 only reiterated the need for an emergency fund.
"Setting up an emergency fund with three to six months' of expenses should be a high priority to ensure you aren't relying on high-interest credit cards in case of unexpected expenses," said Colin Palfrey of the personal finance management company Crediful.
And yes, rapidly rising prices can count as an emergency — but the hard lessons of 2022 snapped many people out of complacency regarding their household spending plans.
"Despite the difficult decisions that people had to make, some managed to find a bright side," said Kyle Marquardt, CPA, a financial specialist and founder of Homestead Brands. "For many, this meant learning to budget for the first time."
If the Price Per Gallon Spikes Again, Shop Around
Affordable electricity provider Payless Power surveyed 1,000 drivers of gas-fueled cars about their fuel-budgeting habits and shared the results exclusively with GOBankingRates.
Make Your Money Work for You
The study showed that 55% of Americans choose gas stations based on whichever has the lowest price. On average, Americans drive two miles to get gas, but those who favor cost over convenience were willing to drive an average of six miles to find the cheapest fuel.
Their willingness to wander largely paid off.
Overall, drivers saved an average of $2.86 per tank, or $0.19 per gallon, by filling up at the lowest-priced gas station. Those willing to drive the farthest — six miles — saved an average of $3.17 per tank, or $0.21 per gallon.
Driving Behavior Matters, But Your Work Location Matters More
The study also revealed that some people used loyalty rewards programs to save money, while others opened their windows instead of cranking the AC, combined trips and drove conservatively.
But the biggest savings of all came from working remotely. If your employer doesn't offer at least hybrid scheduling, propose it as an option.
Remote workers were 38% more likely than on-site employees to say they hadn't filled up their tanks for at least four months.
Make Your Money Work for You
Gas Apps Can Make the Search Easier and More Fruitful
You can probably save time and money by using a gas app when shopping for the lowest price. For example, Upside offers up to $0.25 cash back per gallon at more than 25,000 filling stations across America, including all of the big-name brands like Mobil, Exxon, Conoco, Valero, BP and Shell. That's $0.04 more than even the farthest-driving bargain hunters could find on their own in the Payless Power study.
Other top gas apps include:
GasBuddy
Gas Guru
Trunow
Waze
More From GOBankingRates
Make Your Money Work for You