Gas Prices 2023: 8 Ways To Save and Spend Less This Spring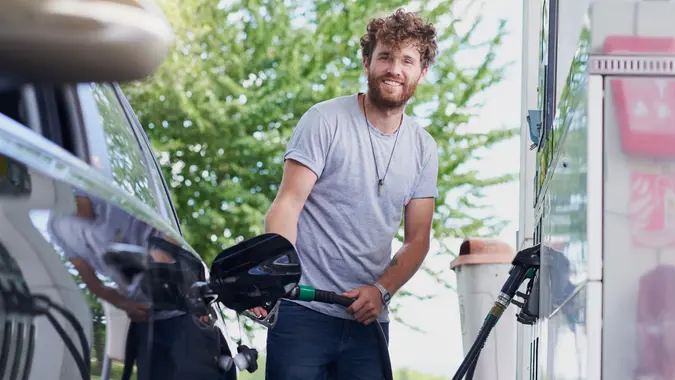 Adene Sanchez / iStock.com
Gas prices are on the rise again.
As happens every spring, gas prices are increasing due to an increase in demand and a switch to summer-grade gasoline blends. The increased production costs are passed down to consumers, typically causing prices to be the highest in the summer months.
While gas prices are lower than a year ago, we may see $4 per gallon once again at the pumps very soon. To save on gas and spend less on fuel this spring, we've put together the top eight tips to protect your wallet from rising gas costs.
Take Advantage of Cash Discounts
Many gas stations offer a discount for paying with cash. This is because using a credit or debit card requires the gas station owners to pay merchant fees which can be quite costly. If you have some cash available, going into the gas station to prepay can save you up to $0.10 per gallon — and sometimes more.
It's sometimes hard to know if a gas station offers this discount, though, as the advertised price on the sign may not be indicative. Ask the attendant if there is a lower price offered for using cash before committing to it.
Make Your Money Work for You
Use a Rewards Credit Card
There are many credit cards that offer extra cash-back rewards for filling up at a gas station. If you want to reduce the pain at the pump, consider signing up for a rewards card that earns you 3x to 5x in cash-back rewards.
For example, the Sam's Club Mastercard offers 5% cash back at gas stations up to $6,000 per year. It doesn't have to be at a Sam's Club gas station either. This means at $4 per gallon you get the equivalent of $0.20 per gallon discount.
Take Our Poll: Would You Move for a Job That Paid You a $10,000 Signing Bonus?
There are several gas-station specific cards (like the Citi Shell credit card), but this limits you to only Shell gas stations to earn rewards. Instead, get a standard rewards card that offers rewards multiplier at any gas station.
Use a Gas App
There are several gas apps that show you the cheapest gas stations in your area, and are updated in real-time as prices change. GasBuddy is the most popular, and offers a rewards program too, earning you "GasBack" rewards for using their app. The app is free to download for both iOS and Android devices.
Make Your Money Work for You
To use the app, you simply open it up, allow it to track your location, and it will show you nearby gas stations with prices listed for each type of fuel. The prices are user generated, and may not always be 100% accurate, but it gives you a good idea of where the cheapest gas is. You can quickly choose a station and it will open your maps application to guide you there.
Sign Up for Gas Station Rewards
Most gas stations offer a free rewards program that you can sign up for and earn rewards and discounts at the pump. Most programs give you anywhere from $0.02 per gallon up to $0.05 per gallon discounts, and some even let you convert the regards into cash back.
Here's a list of the most popular gas station rewards programs:
BPme Rewards
Pilot Flying J myRewards Plus
Shell Fuel Rewards
Circle K Easy Rewards
Exxon Mobil Rewards+
Signing up can typically be done online, and some even offer an app that you can use to earn extra rewards.
Get Gas on Monday
According to data gathered by GasBuddy, gas prices fluctuate during the week. This means you actually pay more on certain days than others. After several years of data collection, it was determined that Monday is the cheapest day to buy gasoline.
Make Your Money Work for You
In contrast, the worst day to buy gasoline is Thursday in most states. So if you can plan your fill-ups on a weekly basis, try to fill up on Mondays to save the most amount of money. If you can't wait until Monday, Sunday is the second-cheapest day to fill up, so you do have options.
Program Your Driving App for Efficient Routes
Most cell phones come with built-in navigation, whether it's Google Maps, Waze or Apple Maps. But Google Maps specifically has a feature that allows you to select the most fuel-efficient route, allowing you to preserve your gas tank a little longer. The feature takes you on less congested routes, as stop-and-go traffic is a gas burner.
If you're using Apple Maps, you can use the "Predict Route" feature to plan your trip ahead of time,a dn find the least-trafficked route available, and the optimal time to leave. This helps you avoid extra traffic, and save on gas.
Take Advantage of Public Transportation
Public transportation is a tried-and-true method of saving money on gas. Using a local bus route or carpooling service can help you ditch gas stations entirely, but it does require more advance planning to make sure you can get where you want to go.
Make Your Money Work for You
Options have expanded as well, and using an electric bike or e-Scooter service can also help you get around town without having to fire up your fuel-hungry vehicle. The key with any public transportation option is to be flexible and plan ahead, otherwise it can become a headache.
Buy an Electric Vehicle (EV)
This option may seem obvious, but buying an EV can eliminate gas costs entirely. And with more and more options becoming available, you can take your pick from top manufacturers. There are also government credits available, giving you up to $7,500 back on your tax return if you purchase an EV.
Charging does cost money at stations, but most EV charging is done overnight at home, and the costs are much lower than gas costs, with average drivers only spending an extra $45 per month on their electric bill. Electric vehicles are becoming more widely available, and can help you ditch the gas pump altogether!
More From GOBankingRates
Make Your Money Work for You
Make Your Money Work for You