New Car Market: A $7,500 Tax Break Makes Some Electric Vehicles Cheaper Than Comparable Gas Cars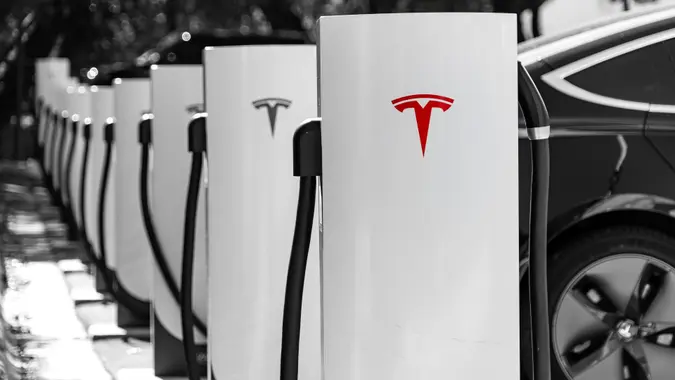 RoschetzkyIstockPhoto / iStock.com
On April 17, the U.S. Treasury Department updated its list of electric vehicles that qualify for $7,500 in tax credits for 2023, with U.S. brands such as GM and Tesla likely to get the biggest lift.
The new credits are effective April 18, 2023 and last until 2032. They were originally included in the 2022 Inflation Reduction Act and aim to encourage more Americans to transition away from gasoline-powered cars, though some gas-electric hybrids are also eligible for credits.
The following EVs qualify for the full $7,500 federal tax credit, according to USA Today:
Cadillac Lyriq
Chevrolet Blazer
Chevrolet Bolt
Chevrolet Bolt and EUV
Chevrolet Equinox
Chevrolet Silverado
Chrysler Pacifica PHEV
Ford F-150 Lightning
Lincoln Aviator Grand Touring
Tesla Model 3 Performance
Tesla Model Y (All-Wheel Drive, Long Range All-Wheel Drive and 2022 Performance)
In addition, these vehicles qualify for a partial ($3,740) tax credit:
Ford Escape Plug-in Hybrid
Ford E-Transit
Ford Mustang Mach-E
Jeep Grand Cherokee PHEV 4xe
Jeep Wrangler PHEV 4xe
Lincoln Corsair Grand Touring
Tesla Model 3 Standard Range Rear Wheel Drive
"The great news here is that based on [first-quarter 2023] sales volumes, more than 90% of vehicles that were eligible for the credit before April 18 are still eligible, with the vast majority eligible for the full credit," Albert Gore, executive director of the Zero Emission Transportation Association, said in a statement. 
Make Your Money Work for You
In some cases, the tax credits will push EV car prices below those of comparable gasoline-powered cars. As The New York Times reported, Tesla recently cut the price of its Model 3 sedan by $1,000 to $41,990 because that version qualifies for only a partial tax credit. With the credit, many buyers will pay a little more than $38,000 — about as much as a top-of-the-line Honda Accord and cheaper than an entry-level BMW 3 Series sedan.
As GOBankingRates previously reported, in some cases the money you save by not having to gas up can add up over time. Here's an example of how much it cost to power or fuel comparable EV and gas cars back when average national gas prices averaged around $3.80 a gallon (they have since dropped closer to $3.60):
2022 Honda Accord Sport (ICE): $1,929 in fuel costs over 15,000 miles
2022 Kia EV6 Wind (EV): $605 in electricity costs over 15,000 miles
The EV tax credit is available to both individuals and their businesses as long as you meet certain requirements. These include buying the EV for your own use instead of resale, and using it primarily in the United States, according to the IRS. In addition, your modified adjusted gross income (AGI) cannot exceed $300,000 for married couples filing jointly; $225,000 for heads of household; and $150,000 for all other filers.
The new rules also mean that some EVs and hybrids no longer qualify for the tax credit. CBS News mentioned nearly a dozen models, including those made by BMW, Nissan, Volvi, Audi and Volkswagen.
Make Your Money Work for You
"Some models that qualified as recently as last week are now off the list, which adds some confusion," Doug DeMuro, a YouTube car reviewer and founder of Cars & Bids, told GOBankingRates in an email.
See: 8 Electric Cars You May Regret Buying
Learn: How Much Does It Cost To Charge an Electric Car?
That confusion extends not just to consumers, but to car manufacturers, some of which will "see EV sales fall as a direct result of their vehicles no longer qualifying for tax credits," DeMuro added.
More From GOBankingRates
Make Your Money Work for You