Are You Really Saving Money by Commuting to Work?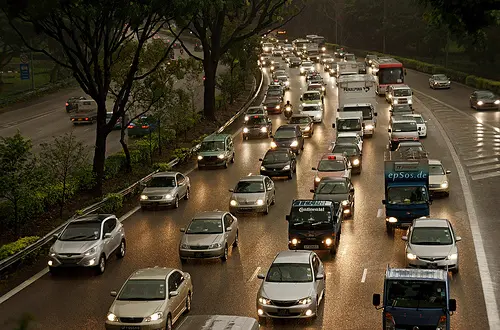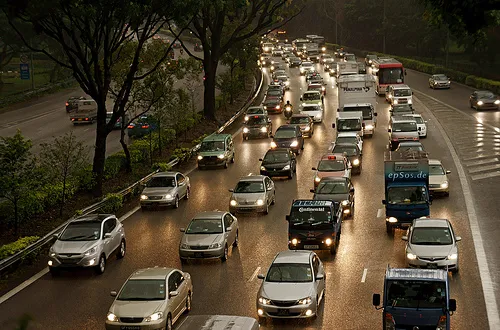 Waking up every weekday would be easier if all it took to get from Point A (your home) to Point B (your workplace) was a quick stroll across the street. For a majority of Americans, however, commuting to work is a necessary — and dreaded — daily routine.
The U.S. Department of Transportation's National Household Travel Survey states reveals that the total number of U.S. commuters is at 128.3 billion, and the latest U.S. Census Bureau data states that approximately 10.8 million people commute an hour or more to work one way.
While I'm no super-commuter, my 32-mile highway commute — which is supposed to take about 38 minutes according to Google Maps — turns into an hour-long ordeal in the mornings and a two-hour nightmare going home thanks to rush hour traffic.
I've weathered this commute for almost two years now, despite recommendations from friends and relatives to move closer to work. But the high-cost housing of the surrounding area and my current rent-free living situation is what compels me to brave the commute.
The financial decision to refrain from relocating also has its repercussions, which can have an affect on savings and health, according to some medical experts. For this reason, it's important to understand the benefits and disadvantages of commuting to work versus the cost of moving.
Cost of Commuting to Work in U.S.
The cost of commuting to work may be as significant as the cost of moving closer to work, especially when looking at the broader picture. Here are some factors that are included in commuting cost:
Gas. AAA reports that the current national average is at $3.654 per gallon for regular unleaded fuel. Along my commute, gasoline is often closer to $4 per gallon, and I typically pay approximately $200 on gas per month (thank goodness for my car's great mileage).

Insurance. The more you're on the road, the more of a risk you are to auto insurance companies and the more they'll charge you for coverage. Why? Simply because a longer commute time means a greater possibility of getting into an accident.
Vehicle Maintenance. Putting more miles on a car means having to service it more frequently. For example, I typically get my vehicle's oil changed every 5,000 miles (sometimes I push it to 7,000 miles), which I reach every three months. Each visit I pay about $50, so my annual expense just for an oil change is $200, not to mention accelerated costs of other part replacements like tires, timing belts, etc.
Injuries. Prolonged commuting to work can result in deteriorated health, including obesity, fatigue, high blood pressure and a higher risk of heart attacks, according to College@Home.
Make Your Money Work for You
In addition to these expenses, the cost of commute time takes away valuable time (think of all the productive things you would be doing otherwise) and consequently takes a toll on your relationships — 40 percent of couples are more likely to get a divorce when one partner has a 45 minute or longer commute.
The cost of commuting to work may look incredible, yet there are many others like me who have yet to take the plunge and relocate. One such person is Jim Kemp, a communications manager at a Portland-based software company. His commute to work starts from his home in Washington state and ends after 37 miles and one hour and fifteen minutes of driving one way — and that's on a good day.
"My long commute costs me about $325 month in fuel, and there are many better ways this money could be put to use," notes Kemp. "For what I spend on gas going back and forth to work, I could buy a 3,000-mile round trip ticket to Hawaii every 3 months!'
In terms of relocating, however, he isn't quite ready to start packing. Kemp adds, "I have considered moving closer to work – and may do so in the future. I always seem to find excuses not to move, however, and stay put in my comfortable location. I've grown accustomed to the commute, and settled in my home. Hawaii will have to wait."
Cost of Moving
Relocating to a new home is significant, and so is the cost of moving. While a few obvious benefits to moving closer to work include saving money on gas, moving on to a new home takes a lot of commitment — and money. MyFirstApartment.com lays out the preliminary costs of moving out for someone with a $40,000 salary as follows:
Moving. Your stuff isn't going to haul itself. You'll need to plan for the cost of moving and packing, so think boxes, tape, U-Haul and dolly rentals, plus a few helping hands as the usual moving expenses.
Paying Rent. If you're like me and don't pay rent, you're in for a budget-buster here. In particular, the first time you move will not only require the monthly rent, but also an additional one month's rent to act as a security deposit.

Basic Equipment. It's the daily use items in the home that new movers often take for granted. Such household essentials, like trash cans, dishes and potholders are commonly overlooked.
Starter Pantry. Everyday kitchen items like cooking oil and salt and pepper are the basics to building a home-cooked meal, but these things cost money that you most likely will need to budget for.
Make Your Money Work for You
In total, My First Apartment estimates that the initial cash needed to move out for someone making $40,000 is approximately $3,960 — and that doesn't take high-cost housing markets into account either.
Comparing the costs of moving to the cost of commuting to work doesn't necessarily make finalizing a decision to move or commute easier, but it gives perspective that you may have not otherwise considered.
Sign up for my newsletter and check back for the next installment of the Breaking Up with Debt.
Follow me: @Go_Jenn
(Photo: epSos .de)