Should You Go Carless? These Are the Financial Pros and Cons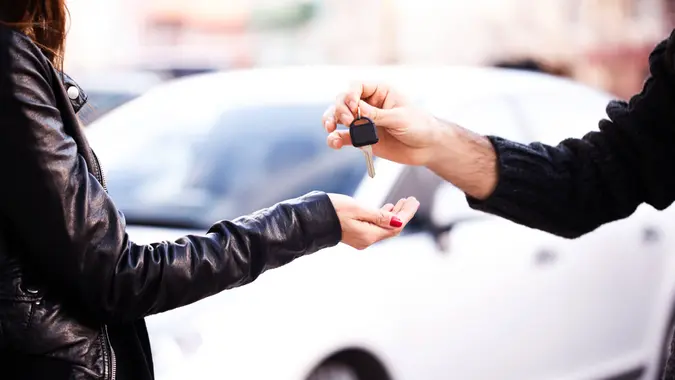 Xesai / Getty Images/iStockphoto
The global microchip shortage has led to a reduced inventory of new cars, leaving dealers scrambling to buy used cars to fill their lots. This is driving used car prices up, so dealers might offer you a big payout if you're willing to sell your car right now. If you have a second vehicle, selling your car might seem like a no-brainer. But what if selling your car now means going carless? Is a big payout worth it?
See: 15 Great Cars To Own for More Than 15 Years
Find Out: 30 Biggest Do's and Don'ts When Buying a Car
Before you decide to sell your sole vehicle, consider the financial pros and cons of going carless.
How You Can Save Money By Going Carless
Not owning a car means not having to worry about a monthly loan or lease payment. You also no longer have to pay for auto insurance. According to Value Penguin, the average cost of a car insurance policy is $876 per year, or $73 per month, for a policy that meets the minimum requirements of each state. Plus, you'll save on gas, which recently reached the highest prices in seven years, according to OilPrice.com. You may also save on parking and tolls, depending on where you live.
Make Your Money Work for You
Then, there are the costs you might not immediately be thinking about.
"The costs of owning a car often are not easily visible, so people do not account for them when they buy and use vehicles," said Fergus Hodgson, director at Econ Americas, who himself chose to go carless for five years. "In particular, the loss of value and the time associated with maintaining vehicles often go under the radar. Further, you almost always lose money on the churn, the buying and selling of cars, given all the tax, search and paperwork costs."
Remember: 20 Questions You Should Always Ask the Dealer
When all is said and done, the average costs of owning and operating a car total $8,558 per year, according to the latest available data from AAA.
Going carless can be an especially financially sound decision for those who have easy access to alternatives.
"For example, if you have a car-rental location around the corner, you can delegate all the elements of car ownership to the company and only use one when it is absolutely necessary," Hodgson said. "This can lead to tremendous savings. Keep in mind that the rental companies are experts at economizing vehicle ownership, so you enjoy their efficiency and essentially share new vehicles with other renters."
Make Your Money Work for You
You should also reevaluate why you bought your car in the first place.
"Many people feel compelled to own a car to keep up with the Joneses," Hodgson said. "This is a mistake, since it allows emotions and appearances to cloud sound financial judgment."
Find Out: Cars, Trucks and SUVs With the Best Gas Mileage
How Going Carless Can Cost You More
Not having a car means you will have to rely on rental cars, rideshares or public transportation to get around.
"When you do not have your own vehicle, you are vulnerable to the changing prices of the alternatives, be they car rentals or rideshare apps," Hodgson said. "If those go up, there is little you can do about it."
You also need to pay careful consideration to the alternatives that are easily available to you and what works with your lifestyle before deciding to forgo having a car. If you can easily walk, bike or take pubic transportation to work or to run daily errands, going carless may be a good option. If you only need to rent a car or use a rideshare service occasionally, it's probably a lot cheaper to give up your car. However, if you will end up needing to rely heavily on rental cars or rideshare services to get around, do the math to find out if it will actually pay off to go carless.
Make Your Money Work for You
It's probably best to do a trial period of getting by without a car before going cold turkey because if you end up changing your mind, it could end up costing you more.
"Buying a car in a hurry can lead to you paying too much," Hodgson said.
More From GOBankingRates
Last updated: Sept. 17, 2021
Make Your Money Work for You