Tesla, Toyota, Ford or Chevy: Which EVs and Hybrids Are the Best Buy for the Money?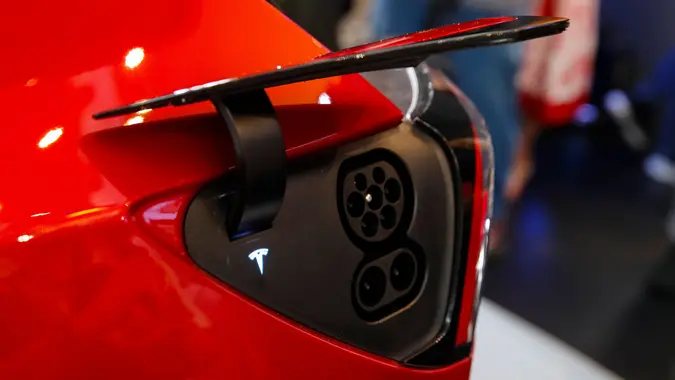 FAZRY ISMAIL / EPA-EFE / Shutterstock.com
Electric vehicle manufacturer Tesla recently beat out Toyota as the bestselling new vehicle in the state of California, based on recent data from the California New Car Dealers Association (CNCDA). In spite of this, Tesla's growth is down from its record 50% annual growth, and, at the company's third-quarter investor call, shareholders did not seem happy.
Tesla has managed to almost saturate the electric vehicle market. The U.S.-based manufacturer dominated the list of bestselling EVs in 2022, with the Tesla Model Y and Model 3, separately, outselling the other six brands of EVs on the list, combined.
In addition to the four bestselling Tesla models (S,3,X, and Y), the list includes the Ford Mustang Mach-E, the Hyundai Ioniq5, Volkswagen ID.4, Kia EV6 and Rivian R1T models.
Fortune reported that Tesla's massive sales numbers have left shareholders wondering what will happen to the company's growth when everyone who wants a Tesla — and can afford a Tesla — has already purchased one.
"We're just hitting a 'law of large numbers' situation here," Musk told shareholders during the meeting.
Advertising, or "customer education" as advocates call it since the Tesla CEO has often argued against paid ads, may not help. "Informing people of a car that is great but they cannot afford doesn't really help," Musk previously said, according to Fortune.
Make Your Money Work for You
He also explained during the meeting, "For the vast majority of people, buying a car is about the monthly payment."
But monthly payments are increasing for new car buyers as interest rates continue to rise, which makes the affordability of luxury vehicles like the Tesla Model S and X even more of a challenge. Tesla introduced the Model 3 and Model Y to provide vehicles at a lower price point. They are competitively priced to other top selling EVs (namely, the Ford Mustang EV) and even hybrid electrics. And, as pointed out earlier, they top the list of the bestselling EVs for 2022, just ahead of the Ford Mustang Mach-E.
No doubt, there are less expensive EVs on the market, although not many and not by much. But are they a better value?
Read on as we compare the Tesla models 3 and Y to the popular Mustang Mach-E, the Chevy Bolt, and to a handful of Toyotas.
Since Toyota has been emphasizing its plug-in hybrid electric vehicles (PHEV) over the bZ4X all-electric model, we included the 2023 Toyota Rav4 Hybrid and the 2023 Toyota Highlander Hybrid in our evaluation.
The Highlander, with its spacious cabin and third-row seating plus excellent gas mileage, could be considered a close competitor to the Tesla Model Y — at least, as close as anything else on the market today. We left the Model X and S out of the comparison since, as luxury vehicles, these fall into a different class.
Make Your Money Work for You
As a frustrated Musk told shareholders during the Q3 meeting, "If our car cost the same as a RAV4, nobody would buy a RAV4." But how much does the humble RAV4 Hybrid cost compared to a Model 3?
We compared the base model for each car in our evaluation and tried to correct for gas savings and federal incentives, when applicable.  
Tesla Model 3
Tesla vehicles beat competitors in range, with the entry-level Model 3 boasting a 272-mile range. According to the Tesla website, leases for a Model 3 start at $329 per month for qualified buyers with excellent credit.
If you have no incentives and don't factor in gas savings, the Model 3 has a sticker price of $38,990. Granted, this is a smaller vehicle not designed for large families or road trips. When you consider the fun and prestige of driving this vehicle — which provides amazing handling and a tech package second-to-none at this price — it's easily worth the cost.
Tesla Model Y
The third-row Tesla Model Y is an affordable family SUV. Not counting incentives and gas savings, the SUV has a sticker price of $36,490, which is less than the Mustang Mach-E, the Toyota Highlander Hybrid or even a RAV4 Hybrid. You can lease one for roughly $369 per month with excellent credit. The car has a range of 330 miles per charge, which is better than the other EVs we compared.
Ford Mustang Mach-E
An American legend, the conventional, gas-engine Ford Mustang falls somewhere between a luxury vehicle designed to turn heads and a well-loved sports car for the masses. With the Mustang Mach-E, Ford changed the styling of this beloved vehicle, but maintained the power and added an eco-friendly factor appealing to many.
Make Your Money Work for You
The base model has an MSRP of $42,995 and a range of 250 miles per charge, along with Ford BlueCruise hands-free driving. You can lease it at a minimum of $572, which makes it pricier than a Model 3 or Model Y if you qualify for various incentives and have excellent credit for the lowest interest lease. The sticker price is also higher than either of the lower cost Teslas.
Chevy Bolt EV/EUV
Rated as the fourth bestselling electric vehicle in 2022 (behind the Tesla Model Y, Model 3 and the Ford Mustang Mach-E), the Chevrolet Bolt EV and its sports utility sibling, the EUV, start at $27,495 and $28,795, respectively. If you're in the market for an affordable EV, the Bolt may be your best option.
The Bolt EUV has the stylings of a Chevy Equinox or Toyota RAV4, with more cargo space than the Bolt EV. The range for the EUV is 247 miles, while the Bolt EV goes roughly 259 miles on a single charge. This compares favorably to the Tesla Model 3 or Model Y.
Toyota bZ4X  
Coming in roughly the same price as the Mustang Mach-E — at $42,000 — Toyota's new bZ4X could be worth taking a chance on. Consider that the car experienced a massive recall and stop-sale in 2022, but the problem has since been fixed. The car has slightly less range than competitors, with various models going from 222 to 252 miles on a single charge.
Toyota offers 1.99% per month financing for 48 months or a 36-month lease at $576 per month with $3,226 due at signing. For most buyers on a budget, it seems a Model Y or Model 3 would be more within reach than Toyota's fresh-off-the-assembly-line EV.
Make Your Money Work for You
It's worth noting that, according to the Toyota website, this vehicle isn't expected to be available until late 2023, early 2024 in many markets. Car and Driver found a few hundred for all through a nationwide dealer inventory search.
Toyota Highlander Plug-in Hybrid
Following the recall and stop-sale of the bZ4X, Toyota continues to emphasize its plug-in hybrid line of vehicles. With a starting price of $40,620, the Highlander Hybrid comes in less than the Mustang Mach-E but more than the Model Y or Model 3.
Both the Model Y and the Highlander have third-row seating, making them great for road trips or larger families. While you can't compare range on a hybrid, the Highlander Hybrid has an estimated 36 mpg combined mileage. Toyota is offering a 4.99% APR for 48 months for highly qualified buyers or a lease at $589 per month, with $3,999 due at signing.
When it comes to EVs or hybrid vehicles for the family, Tesla is not the priciest game in town.
Toyota RAV4 Hybrid Plug-in
Let's address Musk's comment that if a Tesla cost the same as a RAV4, everyone would buy a Tesla. Perhaps he was addressing the prices of the higher-end S and X models, which are really in a different class of vehicle. With the Y and 3, Tesla sought to create an EV for the masses and, largely, succeeded. But, it turns out, a hybrid RAV4 is roughly the same price as a Tesla Model 3 or Model Y.
The sticker price for a base model RAV4 plug-in hybrid is $37,454. That's slightly more than a Tesla Model 3 or a Model Y, but you can't factor in the gas savings as easily with a hybrid electric vehicle. The overall cost of ownership may come in less for a Tesla.
Make Your Money Work for You
The lease price for the RAV4 Hybrid is also higher than the lower end Tesla models, with $3,171 due at signing for a 36-month lease and payments of $521 per month (for qualified buyers with excellent credit).
Bottom Line
It's clear from our research that if electric vehicle adoption is to accelerate to meet the country's carbon footprint goals, affordable EVs must be made available. But it would seem the onus isn't all on Tesla to lower prices.
Aside from the Model S and Model X, which are luxury vehicles and priced accordingly, the Y and 3 are priced competitively for their market. Consumers have a variety of options to choose from in EVs, PHEVs or even traditional gas vehicles.
More From GOBankingRates