6 Ways To Get a Cheap Deal on a Tesla Before the End of 2023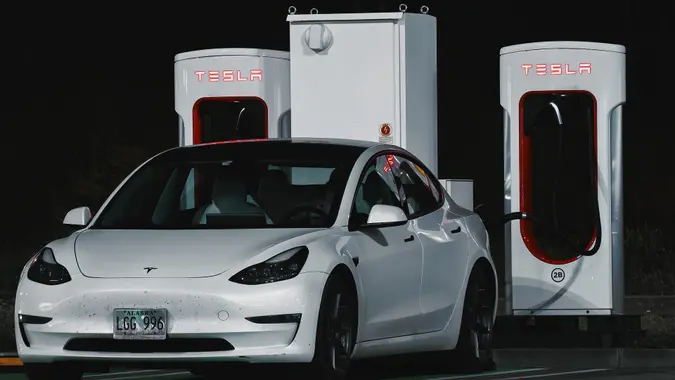 Kukurund / iStock.com
Getting a cheap deal on a Tesla before the end of 2023 can be challenging, as they tend to be considered premium electric vehicles with relatively high price points.
While some of its cheaper trims — versions that have a variety of features and equipment — can be compared to other automotive brands, cutting-edge technology, manufacturer details and brand identity make most of its models closer to the pinnacle of luxury… and price.
However, there are several strategies you can consider to potentially save money when purchasing a Tesla. Here are 6 things to consider if you're looking to buy a cheap(er) Tesla before the end of 2023.
1. Buy a Used Tesla
With certain exceptions, used cars are cheaper to buy than their newer counterparts, however, in recent times, used Tesla vehicles have actually been as expensive as their brand-new equivalents. But that seems to be changing. Tesla models tend to hold their value well, so buying a used design can offer significant savings compared to a brand-new one. You can find certified pre-owned Teslas from Tesla dealerships or look for private sellers.
2. Get a Federal Tax Credit
There will likely be reductions to the federal tax credit after Dec. 31, 2023, so jumping in before then might save you a good wad of cash. Depending on adjusted gross income (AGI) limitations and manufacturer's suggested retail price (MSRP) caps, these are the current tax credits for new and used Tesla models.
Make Your Money Work for You
New:
Model 3 Rear-Wheel Drive: $7,500
Model 3 Long Range: $7,500
Model 3 Performance: $7,500 
Model X Dual Motor: $7,500
Model Y All-Wheel Drive: $7,500 
Model Y Long Range: $7,500 
Model Y Performance: $7,500 
Used:
According to the Tesla site, for all used electric vehicle deliveries, eligible customers may receive a tax credit of up to $4,000, or up to 30% of the purchase price, whichever value is less.
3. Use Referral Programs
Tesla has a referral program that offers credits for referring a friend and buyer and loyalty benefits. Keep an eye on Tesla's website (especially the Terms and Conditions section), app or community forums for information on any active referral programs.
The EV automaker has extra incentives, called "Refer and Earn," available to buyers to get extra incentives through referrals from existing customers. The incentive is equivalent to $500 in cashback for buyers in the U.S. who purchase the Model 3 or Model Y and includes three months of its Full Self-Driving feature, per Reuters.
4. Explore Leasing and Financing Options
Leasing a Tesla will provide a lower monthly payment compared to purchasing, even though you won't own the car at the end of the lease. Shopping around for financing options might provide you with favorable interest rates, so take the time to look for lease specials or terms that fit your budget.
Some banks and credit unions may offer competitive rates for electric vehicle loans and there's no reason you can't negotiate on price or additional features, especially when purchasing a used model or during promotional events.
5. Purchase at Year-End
While some people will say that the best time to buy a car is when you need it and are ready to buy, there are times of the year when deals are more common. According to Edmunds, "If you're truly looking to get the best price on a used car, you'll want to shop in December." Dealerships, including Tesla, often have sales events at the end of the year to clear out inventory, make way for new models and hit quotas.
Make Your Money Work for You
Electric vehicle demand can fluctuate, so if you can't wait until December, you might find better deals during times when demand is lower, like when new models are about to be released.
6. Choose a Lower-End Model
While Tesla offers different vehicle models with varying price points, the Model 3 — a four-door sedan with rear-wheel drive — is already popular and is the least expensive model in Tesla's line and it's been price-slashed numerous times this year already. Opting for a more basic or lower-end model with fewer features and options can help reduce the overall cost.
Considered a luxury brand, affordable Teslas, especially the Model 3, can be found. Always do your research, compare prices and consider the total cost of ownership, including insurance and maintenance, when figuring out if you have the means to buy a Tesla. Additionally, like all car brands, Tesla's pricing and availability can vary by region, so it's a good idea to check with your local Tesla dealership or visit the Tesla website for the most up-to-date information and promotions specific to your area.
More From GOBankingRates