Is It Worth It To Buy an Electric Car If You're Making $50K a Year?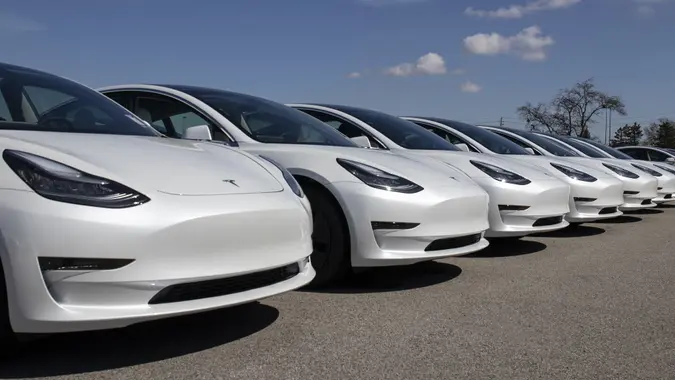 jetcityimage / iStock.com
The electric revolution is gaining steam, but America is still guzzling gas.
According to a new GOBankingRates survey of more than 1,000 adults, most people did not buy a vehicle within the last year — but the 35% of respondents who did preferred models that burn traditional fuel.
See: 9 Red Flags To Watch Out For When Buying a Used CarFind: 9 Best Hybrid Cars Under $30K If You're Unable To Go Fully Electric
Only 8% of car buyers opted for a new or used fully electric vehicle, compared to 23% who bought a hybrid and 69% who purchased a gas-powered car or truck. Considering the same study showed that most people saved either nothing or just a few hundred dollars this year, buyers might have thought they didn't earn enough to purchase and own an EV.
Are they right?
The average American earns $59,428 a year, according to Forbes, but thanks to the ultra-high salaries of the 1%, the real-world average is more like $50,000. So, is that enough to go electric? The answer depends on your understanding of the true cost of EV ownership and what you consider affordable.
EVs Win on Fuel, Maintenance and Tax Credits
A $50,000 salary is not enough to exclude you from the $7,500 federal EV tax credit. With a few affordable models starting in the high $20,000s, the credit puts entry-level EVs nearly on par with entry-level gas cars.
But the purchase price is just one consideration.
"You'll want to consider the ongoing maintenance costs that span the lifetime of the vehicle," said Matt Smith, deputy editor for CarGurus. "While it's true that the upfront cost of an EV tends to be higher — even after factoring in federal tax credits and state incentives — an EV's total cost of ownership over time can end up significantly lower."
Make Your Money Work for You
Electricity Is Far Cheaper Than Gas, but Prices Are More Volatile
Electricity is not free, but charging a battery is much cheaper than filling a gas tank.
"Whether it makes sense for someone earning $50,000 a year to buy an electric car, we've got to look at both the cost of electricity and the upfront price," said Robert Luterzo, automotive engineer and editor of Automotive Widget. "Electric vehicles are cheaper to fuel because the average cost of electricity in the U.S. is around $0.12 per kilowatt-hour (kWh). On average, an electric car can go about 3.5 miles on one kWh of electricity, so driving 100 miles costs you about $3.60."
Gas currently costs an average of $3.81 per gallon and the EPA says the average gas vehicle gets just 25.4 mpg, which means you'd spend $15.28 to cover that same 100 miles burning fuel.
The tradeoff is that electricity prices are all over the map, and steep fluctuations can make it hard to budget for charging. According to CNET, if electricity were gas, fuel would cost $2.40 a gallon in Idaho, $5 in California, and $7.50 in Hawaii.
EVs Pay You Back in Maintenance Costs Starting Year 1
There's no such thing as a maintenance-free vehicle, but trips to the shop are rarer and cheaper for EV owners.
"Cost savings are also in large part due to EVs having fewer mechanical components compared to traditional internal combustion engine (ICE) vehicles," said Smith. "To paint a picture, the average annual maintenance cost to keep a vehicle powered by an internal combustion engine in top condition every year is approximately $949. For EVs, it would cost approximately $330 less every year, which makes sense when you consider the individual systems required to keep an ICE running versus the common systems that both EVs and ICEs share. For example, EVs save money on brake jobs and oil changes, but both types of vehicles need other wear-and-tear items, such as tires."
Make Your Money Work for You
Electric Cars Have Unique Upfront and Ongoing Expenses
While EV drivers cash in on tax credits, charge on the cheap and enjoy slimmed-down maintenance costs, they contend with other expenses that ICE drivers avoid.
The Cheapest Way To Charge Is at Home — but That'll Cost You
The more you charge at home, the cheaper and more convenient EV ownership becomes. But in-home charger installation is part of why EVs have higher upfront costs.
"The cheapest way out is to have a 220V plug wired either in your garage or outside the house, the way you would for an electric dryer," said Smith. "Costs vary based on location, but figure the electrician's labor cost will likely start around $500. Then there's the cost of the Level 2 charger itself. Prices vary from below $400 to over $800, depending on the model, and they can be purchased on Amazon and at big-box retailers like Lowes."
EVs Shed Value Faster Than Gas Cars
According to EV charging solutions firm Lectron, the average EV loses 52% of its value in the first three years compared to 39.1% for the average ICE vehicle.
According to CNET, a Subaru Forester, which retains a little over 84% of its value over five years, loses $3 per day to depreciation. On the other hand, a Tesla Model 3, which holds less than 73% of its value, loses $9 per day.
Electric Cars Cost More To Insure
According to Insurify, the average gas vehicle costs $248 per month to insure compared to $357 for EVs. That's a 44% difference in premium costs. The reason is that EVs have fewer collision and property damage liability claims, but they tend to be more severe and expensive when they occur.
So, Is $50,000 Enough To Go Electric? Yes, If You're Not Picky
An average salary warrants the cost of ditching gas for most drivers because they'll spend less in the long run — but they have to be willing to compromise to get over the hump of upfront costs.
"In my professional opinion, someone earning $50,000 per year can absolutely afford the maintenance costs of owning an electric vehicle," said Hank Treadwell, owner of Tire Care 101. "The bigger consideration is being able to afford the upfront purchase price of the EV itself. As long as you can swing the initial cost, the long-term savings on gas and reduced maintenance makes owning an EV worthwhile even on a $50,000 salary."
How Much Car Does $50,000 Buy?
Your monthly income determines how much car you can afford, regardless of whether that car runs on gas or battery power. The 10% rule provides an easy formula.
"If you can afford to spend 10% of your income on an auto loan payment, earning $50,000 a year — or about $4,167 a month — means paying just over $400 on a new, used, or leased EV," said Laura Adams, MBA, an award-winning personal finance author and expert with Finder.com.
By that standard, just one credit-eligible electric car has a low enough MSRP to make a sensible loan possible on a $50,000 salary.
"The only EV that could make financial sense at that income level is the Chevy Bolt, which starts at $26,500," said Emily Dreibelbis, a PCMag reporter specializing in electric vehicles. "It qualifies for the $7,500 federal tax incentive, bringing the price below $20,000 and more in the range of other cars that person might consider."
In 2024, the tax credit becomes applicable at the time of purchase, bringing a Bolt's price down to $19,000. Presuming a 10% down payment, 5% sales tax and 7% interest, a 60-month loan would give you a $357 monthly payment, which is comfortably within the $417 maximum a $50,000 earner can afford.
More From GOBankingRates