The Best Time of Day To Get Gas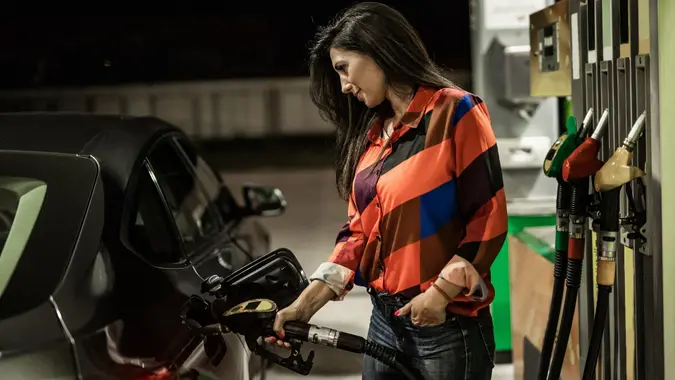 freemixer / iStock.com
Gas prices are rising as we enter the summer months.
If you're looking to take the sting out of filling up your tanks, there are some tried-and-true methods that can help. Like using a gas app, signing up for fuel rewards or planning your route more efficiently.
But did you know that the time of day you fill up can affect how much you end up spending on fuel?
We've reviewed the data to find out when the best time of day is to fill up on gas to save the most amount of money.
Fill Up in the Morning or Late at Night (Temperature Matters)
Filling up your gas tank in the morning or late at night might save you a few bucks over time. This is due to how temperature affects the gas stored at the pump.
Take Our Poll: Do You Think AI Will Replace Your Job?
Make Your Money Work for You
Gasoline can expand when it becomes heated up. If you are filling up in the middle of a hot day, the gasoline may expand, causing you to get less gasoline in your vehicle, which means you pay more for less.
Filling up in the morning when it is cooler can help ensure the gasoline has contracted, and you get a larger amount of fuel for the same price.
Now, it's important to note that fuel is stored underground, where the temperature may not fluctuate as much. But if you are using a pump handle that has been sitting in the sun, it can expand the liquid and cause you to get less in your tank.
Get Gas on a Monday
GasBuddy is one of the top fuel-saving apps that helps you find the cheapest gas nearby. It also has a huge database of gas prices and has studied them over the years.
The people behind the app have determined that gas prices fluctuate on a day-to-day basis, and Monday is the cheapest day to get it. In addition, avoid the pump on Thursday (if possible), as that is the most expensive day.
Live in One of These States for Cheaper Gas
Prices vary wildly from state to state due to taxes and local regulations around fuel. While places like California and Hawaii charge the most, if you live in one of these five states, you can save quite a bit on fuel:
Mississippi
Arkansas
Louisiana
Oklahoma
Alabama
Make Your Money Work for You
Compared to the $4.50 (or more) per gallon charged in the most expensive states, these five states are currently averaging less than $3.25 per gallon.
These Metropolitan Areas Offer the Cheapest Gas
If you want to find the best neighborhood to live in for the cheapest gas prices, research put together by GasBuddy shows that these 10 metro areas have the lowest average gas prices:
Jonesboro, Arkansas
Tyler, Texas
Gulfport-Biloxi, Mississippi
Hattiesburg, Mississippi
Beaumont-Port Arthur, Texas
South Haven-Olive Branch, Mississippi
Lake Charles, Louisiana
Longview, Texas
Waco, Texas
If you're near these locations, gas prices are currently hovering just over $3 per gallon, which is $2 cheaper than the most expensive places in California.
Speaking of, these are the five most expensive metro areas in the country (they are all in California):
San Rafael
Hanford-Corcoran
Santa Rosa
San Luis Obispo
Napa
Gas Prices Go Up in the Summer
Filling up in the summer months is more expensive due to the increased cost of summer-grade gasoline blends. This can increase the cost by up to $0.15 per gallon.
Make Your Money Work for You
But there is also an increased demand at the pump in the summer months. With kids out of school and summer road trips underway, fuel costs rise simply due to the fact that there is a higher demand for gas.
Combine that with our earlier mentions of heat expanding the gasoline at the pump, and you'll end up spending more and filling less into your tank during the hot summer months if you fill up in the middle of the day. 
Bottom Line
While you can't control the price of gas on a given day, you may be able to squeeze out a few extra nickels by filling up very early in the morning or late at night when the temperature is cooler. The effect of heating up gasoline can cause it to slightly expand, and you will get less fuel for your money.
But the incremental increase is very small, so don't expect a huge savings by filling up your tank at 3 a.m. You will find better savings by downloading a gas app, by filling up on Mondays (and not Thursdays) or simply by driving less.
Make Your Money Work for You
Editor's note: All prices listed as of April 17, 2023.
More From GOBankingRates
Make Your Money Work for You