The Average American Spends This Much on Their Car — See How You Stack Up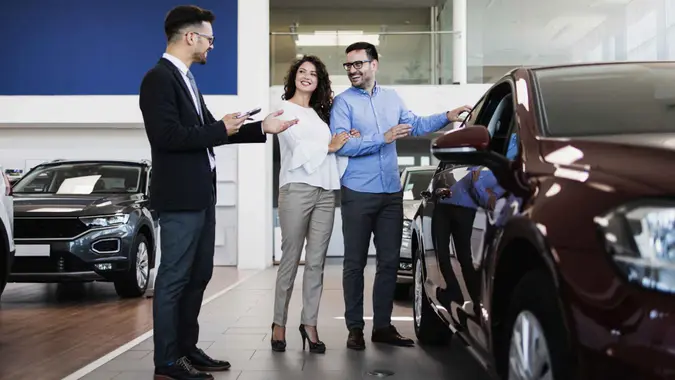 DuxX / Getty Images/iStockphoto
If you're in the market for a new set of wheels, hopefully you've been saving your pennies.
Using Kelley Blue Book (KBB) data, GOBankingRates found that the average buyer paid $48,284 for a new car between April and July. The picture wasn't much prettier in the used market, where the average was $27,058.
See: 6 American Cars To Stay Away From BuyingBe Aware: 6 Used Cars To Stay Away From
In both cases, prices stayed fairly close month to month and didn't establish a clear pattern of rising or falling. Those numbers would have been painfully cost-prohibitive even when car loans were cheap. However, with MarketWatch reporting that average interest rates across all credit scores are 5.07%-14.18% for new vehicles and 7.09%-21.38% for used, car ownership is one big-ticket purchase that has gotten much bigger.
Car Ownership Is Important — and Out of Reach for Many 
GOBankingRates spoke with several experts who explored the reasons for today's high MSRPs, but for those who are priced out of the market, the effect is more important than the cause. 
"Vehicle affordability continues to be one of the largest barriers to car ownership as Americans making the national median income need to save for 42.1 weeks to purchase an average new car, according to Cox Automotive," said Kevin Filan, senior vice president of marketing at auto lending enablement firm Open Lending and a former leader at Ford and Cox Automotive (Cox owns KBB).
That reality "unfortunately puts car ownership out of reach for many deserving buyers," said Filan. 
Make Your Money Work for You
Those shut out of the market face consequences beyond just convenience or disappointment. "55% of non-car owners have had to turn down a better job or promotion due to not owning a car," said Filan, citing his organization's Vehicle Accessibility Report.
And the bad news for buyers doesn't stop at high prices — lenders are also tightening their standards.
"As auto loan rejection rates reached a record high of 14.2% in June 2023, according to the Federal Reserve Bank, and auto loan rates continue to skyrocket, vehicle accessibility becomes a growing challenge," said Filan.
American Car Buyers Have Gone Big — and Big is Expensive
Richard Brauns, a former car dealer and current senior partner and co-founder of JKR Automotive Advertising in Orlando, Florida, is not surprised by the figures. 
"First and most obvious, the price of almost every item imaginable has risen sharply in recent years, so the price of an automobile should be no different," he said. "But on top of that, you have to remember that since 2015, consumer demand for sedans and entry-level cars has decreased significantly. Instead, they're now gravitating to SUVs, which are more expensive to manufacture."
Mike Hagley of car subscription service provider Carbar, agrees.
"I find the research unsurprising given the ongoing trend toward larger vehicles like SUVs and trucks," he said. "The average price of $48,000 for new cars reflects the fact that many consumers are willing to invest in larger, more feature-rich vehicles. SUVs and trucks often come with higher price tags due to their increased size, advanced technology, and additional capabilities like off-road prowess and towing capacity. This shift is largely driven by consumer preferences for spacious, versatile and perceived safer vehicles. Automakers have adapted to this demand by focusing their efforts on producing larger vehicles with higher profit margins. This further contributes to the overall increase in new car prices."
Make Your Money Work for You
In the Used Market, Demand Plays a Bigger Role Than Size
Both buyers and manufacturers are focusing on larger vehicles that nudge up the average price. On top of that, even standard models are now more likely to be tricked out with higher-end features.
"Higher prices for new vehicles are likely a result of advancing technology and improved standards in safety regulations becoming more prevalent," said John Lin, owner of JB Motor Works. "New models are packed with features and technology that were once only found in luxury models, which drive up their cost. In addition, stricter emission standards and added safety features are contributing factors." 
But in the used market, prices aren't high because today's previously owned vehicles are bigger and better equipped. According to Consumer Reports, new inventory has improved from the record shortages that plagued the industry in 2021 — but demand still far outpaces supply in the used market.
"For used cars, lower supply together with high demand again led to increased prices," said Peter Jones, founder of MotorAndWheels. "People held onto their used cars longer during the pandemic, reducing supply in the used market." 
In fact, prices are so high, inventory is so scant and loan rates are so much higher in the used market that many one-to-three-year-old models are barely any cheaper than they were brand new. Consumer Reports concludes that unless you're buying an older, high-mileage vehicle, you'd probably be better off springing for a lower-priced new car over a comparable gently used model.
More From GOBankingRates