COVID-19's Economic Impact on Education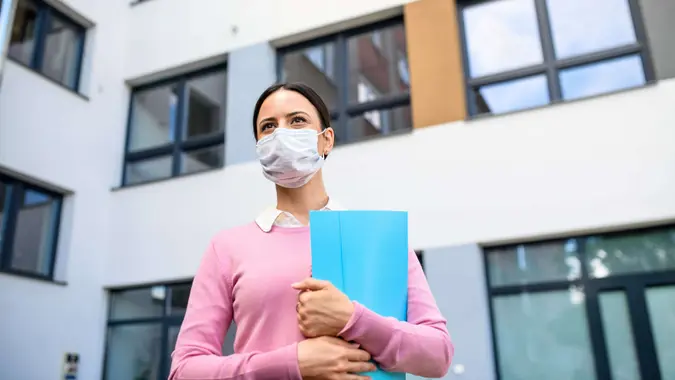 Halfpoint / Getty Images/iStockphoto
The pandemic uprooted life as we know it, especially when it comes to education. Public health mandates began to shut down primary schools in the U.S. as early as March 2020. Colleges soon began to follow suit. This threw families into a scramble as they figured out how to school young children at home, and it had college students questioning whether it was worth the cost of higher education if they were doing it from their bedrooms. A year-plus since the pandemic began, the U.S. is seeing the true costs to education, both financially and on the lives of students now and into the future. Here are some of the biggest costs.
COVID's Financial Impact After 1 Year: See All Our Coverage
Schools and Colleges Are Losing Money
With the inability to school on campus for much of the pandemic, many universities are seeing reduced enrollment and loss of income related to tuition, plus room and board fees in dorms. According to PBS, freshman attendance at colleges and universities dropped by an "unprecedented" 13.1% during the pandemic, with more than 560,000 undergraduates choosing not to return to school in the fall of 2020, translating to a loss of $120 billion and counting.
Make Your Money Work for You
Read More: The Unexpected Costs of Remote Learning for Families
According to Forbes, several university systems have lost millions. One such system is the Pennsylvania State System of Higher Education, which includes 14 universities and is projecting a $100 million loss. Additionally, the University of Wisconsin at Madison estimates a $100 million loss due to COVID-19.
These losses have also meant more staff layoffs and cutting of athletic team programs.
See: Colleges That Have Cut Athletics Due to Budget Constraints
College Tuition Hikes Are Inevitable
Huge losses like these will have to be recouped somehow. The most immediate way for colleges to do this is through tuition hikes, though many states and college/university systems have imposed temporary moratoriums or commitments not to do so for now (unlike Stanford, Harvard, Yale, Dartmouth and Brown, which all raised tuition on undergrads during the pandemic). College tuitions were already steadily climbing for decades, according to a study by BrokeScholar, which found that the average cost of tuition and fees — adjusted for inflation — at both private and public schools has more than tripled from the academic year 1971-72 to 2019-2020.
Learn More: These Elite Colleges Went Virtual — But Raised Tuition Anyway
In the interim, colleges and universities will have to engage in serious cost-cutting measures, such as staff layoffs, benefits reductions, hiring freezes, pauses in building projects and more, all of which could have negative impacts on student's educations.
Education Losses Impact the Economy and Individuals' Earning Power
These education losses translate into more than just financial losses for the universities. According to a study by the Organization for Economic Cooperation and Development (OECD), academic losses related to the pandemic may cost the U.S. economy somewhere between $14 trillion and $28 trillion or more over time. And this will impact the earning power of individuals. The researchers suggest that K-12 students will experience a 3% lower income over their lifetimes directly related to education losses, with disadvantaged students being hit the hardest. This translates to a 1.5% lower gross domestic product (GDP) for the U.S. and adds up to an economic loss of $14.2 trillion.
Make Your Money Work for You
Read: 15 College Degrees That Won't Make You Money
Education Losses Trickle Down to Families in Other Ways
School closures have other nonfinancial costs on families and students. Numerous children in the U.S. rely upon school lunch programs to get free or subsidized breakfasts and lunches. With school closures, though many attempted to continue food-to-go programs, a survey of mothers with young children by the Brookings Institution found that 17.4% of mothers with children ages 12 and under reported that they could not afford enough food to eat. Other families with means also saw their food budgets increase by as much as 17% as a result of having children at home, even with online ordering, according to a press release by PR Newswire.
Read: 20 Jobs That Aren't Worth Their Education Requirements
Both primary and secondary schools provide other important services ranging from mental health support to socialization, and those losses are harder to calculate.
Ultimately, it may take the U.S. decades to recover from the costs of the COVID-19 pandemic on education.
More From GOBankingRates
Make Your Money Work for You
Last updated: March 23, 2021
Make Your Money Work for You