Colleges That Have Cut Athletics Due to Budget Constraints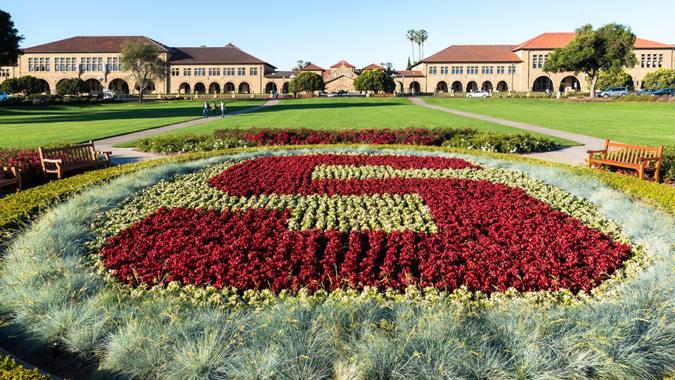 SpVVK / Getty Images
The COVID-19 pandemic caused shockwaves that have rippled through every segment of society, including the world of sports.
Read: Colleges Asking for Donations To Cover Lost Money From Athletics
With seasons canceled or shortened and games played without fans in attendance, professional and college sports teams have suffered revenue losses since the pandemic began in March 2020. But college sports have faced additional financial pressures because colleges also had to deal with the expenses of setting up remote learning. Smaller schools didn't receive the payouts they would normally get for traveling to face Power Five programs, donations dried up and the cancellation of the NCAA men's basketball tournament meant that schools didn't receive any of that revenue stream.
See: The Richest College Football Programs
Most college athletic departments lose money, the NCAA reported. In the top five conferences (ACC, Big Ten, Big 12, SEC and Pac-12), schools' median revenue was $7 million below expenses. At the other Division I schools, the difference was $23 million on average.
So it should be no surprise that when the pandemic hit, many schools' finances suffered even more, and many athletic departments had to take drastic actions. According to numbers from businessofcollegesports.com, colleges have cut 85 Division I sports since the pandemic started, affecting at least 1,300 athletes. Including NAIA and NJCAA (junior college) schools, more than 300 sports programs have been eliminated, ncaasports.org reported.
Make Your Money Work for You
Find Out: The Highest-Selling Football Memorabilia of All Time
The biggest shocker was the move by Stanford University to cut 11 varsity sports, including men's volleyball and men's and women's fencing. The programs produced 20 national championships and 27 Olympic medals. The university cited the pandemic's effects on the athletic department's finances, projecting it would have had a $25 million deficit, but critics pointed out the school has a $27 billion endowment.
Other major schools that have made cuts include Iowa, Clemson, Michigan State, Minnesota and Cincinnati. Colleges say they are honoring scholarships and allowing students to transfer.
More: These Universities Profit the Most Off Their Student-Athletes
All of the sports cuts are considered "non-revenue" sports, meaning they don't bring in much money. No school cut football or basketball, which often support other programs.
Read: States That Produce the Richest Athletes
Supporters of some programs that have been cut are trying to save them through fundraising. At the University of Iowa, alumni have raised more than $3 million to support the cut sports, the Iowa Gazette reported. Hampton is also fundraising, and Bowling Green, Alabama-Huntsville and Brown are among schools that have reinstated some sports that were cut.
Make Your Money Work for You
Even if a few programs are brought back, many of the cuts are permanent and the face of college athletics has changed substantially.
See: How Esports Is Primed To Take Over Traditional Sports — For Good
Here's a breakdown of Division I schools that have cut programs:
Akron: Men's cross country, men's golf, women's tennis
Alabama-Huntsville: Tennis
Alaska-Anchorage: Men's ice hockey, men's skiing, women's skiing, women's gymnastics
Find Out: The Most Valuable Sports Empires — And the Teams That Make Them Rich
Appalachian State: Men's soccer, men's tennis, men's indoor track and field
Boise State: Baseball, women's swimming and diving
Brown: Men's fencing, men's golf, women's golf, women's skiing, men's squash, women's squash
Central Michigan: Men's indoor and outdoor track and field
More Sports: 18 Sports Leagues That Failed Miserably
Chicago State: Baseball
Cincinnati: Men's soccer
Make Your Money Work for You
Clemson: Men's cross country, men's indoor track and field, men's outdoor track and field
Connecticut: Men's cross country, men's swimming and diving, men's tennis, women's rowing
Read: The 5 Best NFL Players When It Comes to Money
East Carolina: Men's swimming and diving, women's swimming and diving, men's tennis, women's tennis
Fresno State: Women's lacrosse, men's tennis, men's wrestling
Furman: Baseball, men's lacrosse
George Washington: Men's indoor track, men's tennis, men's water polo
See: High-Paying Jobs for People Who Love Sports
Hampton: Men's golf, women's golf
Iowa: Men's gymnastics, men's tennis, men's swimming and diving
LaSalle: Baseball, men's swimming and diving, men's tennis, women's tennis, men's water polo, softball, women's volleyball
Michigan State: Men's swimming and diving, women's swimming and diving
Find Out: Insanely Expensive Sports Memorabilia
Minnesota: Men's gymnastics, men's tennis, men's indoor track and field, men's outdoor track and field
Northern Colorado: Men's tennis, women's tennis
Old Dominion: Men's wrestling
San Diego State: Women's rowing
More: Athletes With Major Business Empires Outside of Sports
Southern Utah: Men's tennis, women's tennis
Stanford: Men's fencing, women's fencing, field hockey, women's lightweight rowing, men's rowing, coed sailing, women's sailing, women's squash, synchronized swimming, men's volleyball, wrestling
Wisconsin-Green Bay: Men's tennis, women's tennis
Wright State: Softball, men's tennis, women's tennis
Winthrop: Men's tennis, women's tennis
More From GOBankingRates
Last updated: March 16, 2021
Make Your Money Work for You