These Credit Cards Let You Turn Your Points into College Savings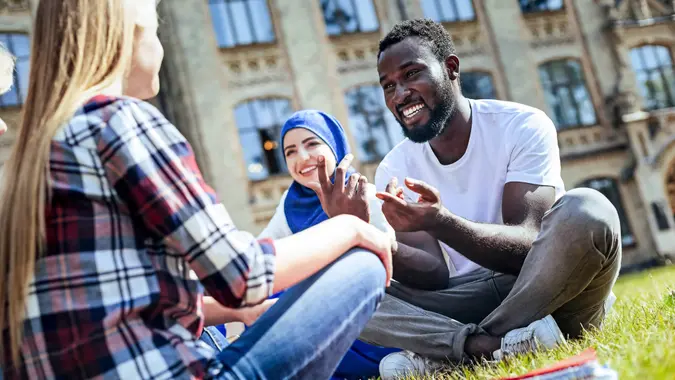 yacobchuk / Getty Images/iStockphoto
When most people think of credit cards, they tend to think of debt — not savings. That's understandable since about half of Americans will carry credit card debt at some point throughout the year. However, many credit card users earn valuable rewards in the form of points, miles or cash back — and there are even rewards cards that can help you (or you child) save for college.
Here are four options for credit cards that can help you save if you're planning to pay for further education:
1. The Upromise Mastercard from Barclays: This credit card is specifically designed to help you save for college expenses. It offers you 1.25 percent cash back on all purchases, within no limits. Also, the Upromise Round Up feature lets you round up your purchases to the nearest dollar, based on the threshold you set — anywhere from $1 to $500. The total Round Up Amount is considered a purchase and also earns 1.25 percent cash back. You also receive a 15 percent cash-back bonus when your Upromise Program account is directly linked to an eligible 529 college savings plan. In fact, you earn the 15 percent bonus on your total cash back, including the Upromise Round Up amounts.
This card is interest-free for 15 months. Other benefits include free online access to your FICO® credit score, free two-day shipping and free return shipping on eligible purchases with your complimentary ShopRunner membership. And best of all, there's no annual fee for this card.
Know: 10 Best Student Credit Cards
2. Fidelity® Rewards Visa Signature® Credit Card: This card offers you unlimited 2 percent cash back on all purchases. You can then deposit your qualifying Fidelity Investments account or divide them into multiple accounts. Eligible accounts include Fidelity-managed 529 plans as well as brokerage accounts, cash management accounts and retirement accounts. There's no annual fee for this card.
3. Do it yourself with a cash-back card: Aside from the cards that offer rewards deposited into college savings accounts, there are many cards that offer generous amounts of cash back. For example, the Citi Double Cash offers 1 percent back at the time of purchase and 1 percent back when you pay for your purchases. You can redeem your cash back for checks or for statement credits. If you choose to receive your cash back as a check, then you could endorse that check to any 529 savings account you choose. The disadvantage of this strategy is that it requires you to stick to your plan to invest all of your credit card's cash-back rewards, as well as requiring an extra step.
Make Your Money Work for You
Check Out: Surprising Uses for Your Credit Card Rewards
4. Use Citi ThankYou points to pay back student loans: Citi offers several credit cards that let you earn points in their ThankYou rewards program. These points can be redeemed for gift cards, merchandise or travel reservations, but there's another intriguing option. You can redeem your points for one cent each toward student loan repayments, which is double the rate that you get if you just ask for cash back. Of course, you must already have student loans, so it's not truly a savings option. However, by using your credit card rewards to pay off your student loans early, you'll be saving money on interest charges.
Click through for budgeting tips for college students once you're there.
More on Saving Money on Education
We make money easy. Get weekly email updates, including expert advice to help you Live Richer™.