Trade School vs. College: Which Offers a Better Financial Future?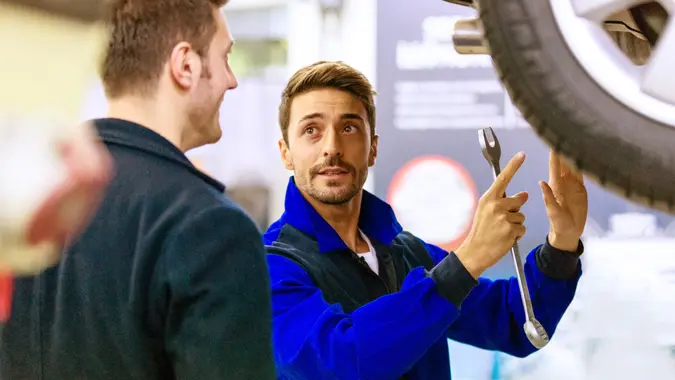 graphixel / Getty Images
When trying to decide between trade school versus college, you might be focusing on which path will help you earn more. Unfortunately, there's no clear-cut answer because there are various factors involved that can influence your earning potential in one way or another. It really depends on your educational and career goals as an individual. 
Read: How To Save $200 on Your Grocery Bill Every Month
To find out more, GOBankingRates consulted post-secondary education experts. 
What Is Trade School?
While you likely understand what college is, you might have some confusion about trade school. Melanie Scheet, Vice President of Student Success at Universal Technical Institute, said that these are these are the defining points of a trade school:
"Programs often can be completed in about one year.
Curricula includes courses specific to the student's career path.
Incorporates more hands-on applications (such as in a lab or shop environment).
Students can earn an associate degree, diploma, or certificate, depending on the school and program."
"A trade school often offers programs in conjunction with leading manufacturers and employer partners," Scheet said. "This means that companies create programs that teach the specific skills they look for when hiring technicians. Some Manufacturer-Specific Advanced Training programs are paid for by employers and can lead to job offers after graduation. 
For anyone seeking to become a technician, welder or machinist, these industry relationships can give you a graduate an advantage
Is It Better To Go to College Or Do a Trade?
Scheet noted that trade school equips students with the skills needed for a particular career path. 
Make Your Money Work for You
"For example, there are trade school programs for those who want to become technicians, welders, construction workers, dental hygienists or hairdressers," she said. "The goal of trade school programs is to provide hands-on skills needed to start working in your desired role soon after you graduate."
On the other hand, Scheet said that colleges tend to offer broader degree programs that function as a foundation for a particular career path. 
"For example, if you major in communications, you may later choose to work your way up in the world of journalism or even human resources," she said. "In addition to your education, you will need to gain work experience in the field you want to specialize in.
"Trade school is often best for those who have a specific idea of what they want to do in their career and are looking to enter the workforce within one to two years, while college may be best suited for someone who wants to get a broader education and explore different avenues."
Pros and Cons of Earning a Trade School Degree
According to Dr. Ronnie Gladden, tenured professor of English, former educational liaison, author and global diversity leader, here are the pros and cons of earning a trade school degree. 
Make Your Money Work for You
Pros
Much more affordable
Earn the diploma more quickly
Training aligns with in-demand skills
Training aligns with launching a business relevant to the trades
Excellent earning potential
Cons
Training is hyper-specialized and and the skills may not transfer to other types of work
Difficult to scale services — limited to completing one project at a time
Manual labor can be taxing on the body, especially as one ages
Potential occupational hazards
Pros and Cons of Earning a College Degree
Here's Dr. Gladden's take on the pros and cons of earning a college degree. 
Pros
Opportunities to train more broadly
You can apply skills to a variety of professions
Increased scholarship, grant and research opportunities
Expanded opportunities to study, work and network abroad
Pathways to graduate and professional careers
Cons
Generally more expensive
Longer time to earn the diploma
Competition from AI
Some majors have too many graduates and not enough jobs
Do Trades Make More Money Than College?
It depends on various factors. Here's what the experts have to say. 
Earning Potential With a Trade Degree
According to ZipRecruiter, the national average salary for someone with a trade school degree  is $66,465.However, that figure will vary depending on the actual trade school degree and geographic location.
Make Your Money Work for You
"Earning a trade degree puts students on a direct path towards a well-paying, in-demand job," said Andrew Shean, Ph.D., Chief Learning Officer at Penn Foster Group. "Skilled trade jobs have shown consistent year-over-year growth, and certificates can cost just $1,000 or lower and require zero federal student loans. At a time when many people are concerned about their jobs being threatened by AI, skilled trades can offer security as the industry is more AI-resilient than many other careers. As demand for skilled tradespeople is on the rise with an estimated 252,900 new jobs and a 4% growth rate from 2021 to 2031, there is ample opportunity for those looking to start a new lucrative career quickly, efficiently and cost-effectively.
"It's important to note that trade schools are highly specialized and do not offer the same level of flexibility for exploration as traditional colleges. Because these programs are geared towards a specific skillset, learners have to commit to a specific career path upon enrollment. Therefore, skilled tradespeople looking to make a career change down the line may likely need to return to school. Yet, within skilled trades there are still many paths, including owning a business or working for a large firm. If one takes the large firm path, many corporations offer tuition benefit programs allowing their employees to learn and earn simultaneously."
Make Your Money Work for You
Earning Potential of a College Degree
According to the Association of Public and Land-grant Universities, the median income for recent graduates reached $52,000 a year for bachelor's degree holders aged 22-27 in 2021.
"Yet, it's not uncommon for students to graduate college buried in a mountain of federal student loans with no clear career path ahead of them, as traditional colleges can be costly and time-consuming," said Shean. "While dedicated students may determine their career path during the span of their program, it is far from guaranteed that they will get a job in their preferred market upon graduation. Many graduates face an oversaturated job market and find difficulty differentiating themselves from students with comparable degrees."
How To Decide Between Trade School and College
If you are torn between attending trade school, technical school or college, here are a few questions from Scheet that you can ask yourself to help you decide. 
How long do I want to be in school?
In what type of environment do I learn best?
What am I willing to spend on my education?
Do I qualify for financial aid, grants, and scholarships?
Do I want to take general education courses, or just courses for my specific career path?
Do I know what career I want to pursue, or do I want to explore multiple paths?
What degree, diploma or certificate will I need for my career?
Make Your Money Work for You
Before deciding, here are some additional things to consider, according to Scheet:
Tour schools virtually or in person.
Do extensive "homework" and research many options.
Do not be too quick to make a decision that may not be best in the short or long term.
Speak to admission reps and career services counselors at trade schools and colleges.
Ask students and graduates of both trade schools and four-year colleges and universities about their opinions and experiences.
Consider transportation, housing and social needs in addition to financial requirements.
Takeaway
Overall, college is not for everyone and a trade school might be the best path to take. As far as  whether trade school or college will offer you a better financial future, various factors come into play, including the type of trade or college degree you get, your location and whether you work for an employer or start your own business. 
"When all is said and done, choosing the type of school to attend for postsecondary education is dependent on the individual and his or her goals for the future," said Scheet. "Take the time needed to explore all the options that may be available." 
Make Your Money Work for You
Our in-house research team and on-site financial experts work together to create content that's accurate, impartial, and up to date. We fact-check every single statistic, quote and fact using trusted primary resources to make sure the information we provide is correct. You can learn more about GOBankingRates' processes and standards in our editorial policy.