The Cost of Super Bowl Commercials Over the Years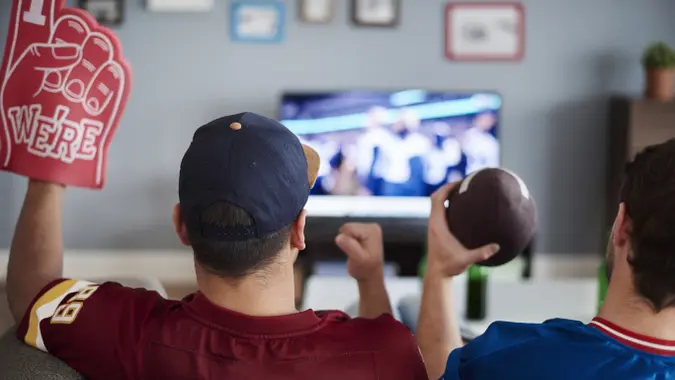 gpointstudio / Shutterstock.com
Somewhere in the vicinity of 100 million viewers will tune in on Feb. 13 to watch Super Bowl LVI, when Joe Burrow and the Cincinnati Bengals take on Matthew Stafford and the Los Angeles Rams. Everything about this matchup is big — big stakes, big hype, big new stadium and big ratings. And don't forget the big money companies will pay for commercial spots when the game airs on NBC.
Read: The Highest-Paid Player on Every NFL Team
Check Out: 21 Richest No. 1 NFL Draft Picks
In fact, the average 30-second commercial spot in Super Bowl LVI will cost $6.5 million, with some advertisers paying $7 million, The Athletic reported. With the Winter Olympics airing on NBC the same day, which is the first time both events have occurred simultaneously, the network stands to bring in more than $500 million in ad revenue on the day, per the report.
Make Your Money Work for You
And despite the record price, advertisers apparently were quick to purchase spots. Here's a breakdown of commercial costs through the years.
Find Out: The 25 Richest NFL Team Owners
Cost of a Super Bowl Commercial Over the Years
When the game made its debut in 1967, a Super Bowl ad could be had for what now seems like the modest price of $42,500. Adjusted for inflation, that's about $363,000 worth of buying power in today's market, according to the Bureau of Labor Statistics' CPI inflation calculator. But the big game isn't content to keep pace with inflation — far from it, in fact. In 2020, FOX Sports raked in $5.6 million per 30-second Super Bowl commercial. That breaks down to $186,666 per second of airtime. You read that right — the cost of an ad in the first Super Bowl couldn't even buy you one second of airtime at Super Bowl LIV.
With a few exceptions, each year has shown a rise in the cost of a Super Bowl commercial, which broke the $1 million mark in 1995. Here's an abbreviated look at the cost of ads for the big game through the past 55 years.
| | |
| --- | --- |
| Year | Cost of a 30-Second Ad |
| 1967 | $42,500 |
| 1970 | $78,200 |
| 1975 | $107,000 |
| 1980 | $222,000 |
| 1985 | $525,000 |
| 1990 | $700,400 |
| 1995 | $1.15 million |
| 2000 | $2.1 million |
| 2005 | $2.4 million |
| 2010 | $2.95 million |
| 2015 | $4.25 million |
| 2016 | $4.8 million |
| 2017 | $5.4 million |
| 2018 | $5.24 million |
| 2019 | $5.2 million |
| 2020 | $5.6 million |
| 2021 | $5.5 million |
| 2022 | $6.5 million |
See: How Much It Will Cost To Attend Super Bowl LVI — Plus $5K at Least for Tickets!
How Brands Benefit From Super Bowl Commercials
The cost of a Super Bowl commercial is staggering, but there's no bigger audience an advertiser can reach. After Super Bowl LIV in 2020 between the Chiefs and San Francisco 49ers, viewed by 99.9 million people on television and another 2.2 million who streamed the game, Super Bowls had been responsible for 10 of the 11 most-watched events in television history, CBS Sports reported. Only the series finale of M*A*S*H in 1983 broke into the Super Bowl stratosphere in terms of viewership.
Make Your Money Work for You
Those numbers just about guarantee that a brand gets seen by millions of people watching the Super Bowl. And that can provide a marketing boost that lingers well past Super Bowl Sunday, according to a 2018 study.
The study "Super Bowl Ads," co-authored by Wesley Hartmann of the Stanford Graduate School of Business and Daniel Klapper, dean of the School of Business and Economics at Humboldt University Berlin, found that the companies that advertising during the Super Bowl will recognize increased sales during other sporting events, such as the NCAA Men's Basketball Tournament, the NBA playoffs and major-league baseball games.
Their research also showed that when a company is the only advertiser in its category during the Super Bowls, its sales are even higher.
Related: What Is Tom Brady's Net Worth at the Time of His Retirement?
Post-Pandemic Advertising
Some of the brands with the most iconic ads in Super Bowl history declined to advertise during Super Bowl LV. Some companies decided to donate to charitable initiatives that came to the forefront in the wake of a tumultuous 2020 or to spend their money on urgent matters facing the country in the wake of the COVID-19 pandemic — such as promoting vaccine awareness.
Make Your Money Work for You
Among the brands staying on the sidelines with its flagship products were Kia, Hyundai, Coca-Cola, Pepsi and Budweiser, AdAge reported. The money that Budweiser parent company Anheuser-Busch InBev would have spent on a Super Bowl commercial instead was allocated to the Ad Council, which produced public-service announcements detailing the benefits of the vaccine, according to Variety.
But Anheuser-Busch is back in the ad game this Super Bowl, as are Kia and Hyundai. A new advertiser, Crypto.com, is among those who are dishing out big money for their ad spots. Others, according to AdAge, include General Motors, Expedia, Nissan, Google, Amazon, Taco Bell, Uber Eats, Doritos, BMW, TurboTax, Verizon, Draft Kings and E-Trade.
Some of the ads already have leaked, but there undoubtedly will be some surprises on Super Bowl Sunday. And there's the hope that the commercial spots will touch our emotions and leave us enlightened and also entertained.
More From GOBankingRates
Make Your Money Work for You